Fitfone - A Revolutionary New Mobile Phone Technology Launched
Fitfone, a revolutionary new mobile phone technology was launched today at NovaUCD by Irish rugby legend Keith Wood and award winning medical expert Dr Conor O'Brien. Downloadable on to mobile phone handsets, Fitfone is a cost-effective, easy to use application for anyone wishing to lose weight or increase their fitness levels.
It has been estimated by the American Medical Association that 250,000 Americans die each year directly because of the lack of regular exercise. In Ireland the comparable figure is 5,500. 18% of the Irish population is clinically obese - a figure that is increasing yearly given that Ireland has one of the highest daily calorie intakes in the western world.
Speaking at the launch at NovaUCD Fitfone's inventor, Dr O'Brien, said, "Given these serious mortality levels there is a widespread need to encourage people to exercise regularly and exercise properly. This is recognised by governments, health insurers and medical professionals and also increasingly by people themselves. However, translating this need into effective, directed exercise is difficult."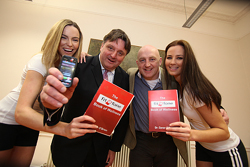 Dr Conor O'Brien and Keith Wood with models Sarah Morrissey and Baiba Gaile
Fitfone was the overall winner of NovaUCD's 2006 Campus Company Development Programme (CCDP). The aim of NovaUCD's CCDP, which has run annually since 1996, is to assist academic and research entrepreneurs in the establishment and development of new high-tech ventures to commercialise the output of their research activities. The Programme assists participants in defining, developing and transforming their innovative ideas into commercially feasible ventures and in preparing detailed business plans.
Keith Wood added, "Fitfone is simple and basic because in essence, that's what we all are. We all need a hand, a push, a guiding light, to set goals initially and then achieve them. Health, fitness, vanity, whatever the reason, needs a catalyst. Fitfone is a product, a lifestyle that can nudge you in the right direction and keep you fully appraised as to how you are getting on."
Dr O'Brien developed Fitfone to directly address this exercise problem by providing an easy to use, medically effective, secure and cost effective technology. Fitfone implements a revolutionary method of assessing and measuring people's fitness using a patented algorithm which uses a metric called Metabolic Equivalents. The algorithm is implemented within a software application that runs on GPS enabled mobile phones so people can conveniently carry the application with them, rather than having to use a separate device.
It is a pioneering health and fitness assessment system, which can be used to:
Measure your fitness level
Exercise for your maximum benefit, tracking your progress in real time
Analyse your fitness metrics on each step of the way
Everybody has their own personal fitness level, and this level will change over time as we exercise. Fitfone takes account of these differences, and can be used to customise exercise programmes around your fitness level and your personal needs. Fitfone uses Global Positioning System (GPS) technologies embedded in mobile phones, together with real-time analysis based on the latest sports and medical science.
For further information and to download the application, go to www.fitfone.ie.
Ends
December 15 2009
For further information contact Micéal Whelan, NovaUCD, e: miceal.whelan@ucd.ie, t: (01) 716 3712 .
Notes to Editors
The award-winning Fitfone system was developed by the leading Irish consultant neurophysiologist and sports physician Dr Conor O'Brien. Dr O'Brien is a former Irish Olympic team doctor. Dr Conor O'Brien is currently based in the Sports Surgery Clinic, Santry and the Blackrock Clinic.The Fitfone website and its services, including the information provided or implied and the mobile phone application, are not a substitute for professional or medical health advice, examination, diagnosis, or treatment.
Fitfone is working with O2 Ireland, the leading provider of mobile services, to launch this service on the Irish market and is available to download onto the Nokia 5800, 6220 and E66 handsets.