New Venture Developing Genetic Tests for Thoroughbred Horse Industry Wins NovaUCD 2009 Start-Up Award
Equinome, a new biotech company, has won NovaUCD's 2009 start-up award and a €5,000 prize after being named overall winner of the 14th NovaUCD Campus Company Development Programme.
Equinome, located in NovaUCD, is developing genetic tests to optimise decision-making in the breeding and racing of Thoroughbred horses. Equinome was founded earlier this year by Dr Emmeline Hill, a leading horse genomics researcher in UCD's School of Agriculture, Food Science and Veterinary Medicine, in partnership with Mr Jim Bolger, a leading Irish race horse trainer.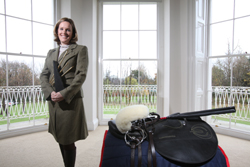 Dr Emmeline Hill, founder, Equinome
The Thoroughbred horse breeding and racing industry is an international, multi-billion euro business. While over 100,000 Thoroughbred foals are registered globally each year, breeding techniques have remained relatively unchanged for hundreds of years. Breeders currently rely on combining successful bloodlines together, hoping that the resulting foal will contain the winning combination of genes which have contributed to the success of the bloodlines to date.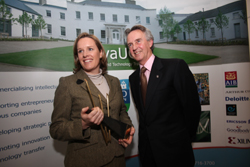 Dr Emmeline Hill and Jim Bolger
Until now, whether those winning genes have or have not been inherited, can only be surmised by observing the racing and breeding success of the horse over a period of three to seven years after its birth.
Equinome, launching commercially in early 2010, will become the first company to provide genetic tests for performance associated genes in Thoroughbred horses. Further details of Equinome's first product will be announced to coincide with the company's official launch.
Dr Emmeline Hill hails from a Co. Wexford family synonymous with horse racing and breeding in Ireland. She is the grand-daughter of Charmian Hill, the owner of Dawn Run, the only racehorse to have completed the Cheltenham Champion Hurdle (1984) and Gold Cup (1986) double.
She joined UCD in 2002 as a post-doctoral researcher. In 2004 she became a UCD principal investigator when she was awarded a Science Foundation Ireland President of Ireland Young Researcher Award. This award supported a five-year programme of research to investigate The genomics of performance in Thoroughbred horses, a project endorsed by the Irish Thoroughbred Breeders' Association.
Dr Hill maintains strong industry links with horse breeding and training operations in Ireland and internationally and is a member of the International Horse Genome Mapping Group and the International Horse Genome Sequencing Consortium. She graduated in 1995 with a BA (Genetics) from Trinity College Dublin and a PhD in Molecular Genetics in 2000.
The aim of the NovaUCD Campus Company Development Programme (CCDP) is to assist academic and research entrepreneurs in the establishment and development of new high-tech ventures to commercialise the output of their research activities. The Programme assists participants in defining, developing and transforming their innovative ideas into commercially feasible ventures and in preparing detailed business plans.
At the Awards Evening each of the fifteen ventures participating on this year's Programme delivered a short 'elevator pitch'. Four short-listed ventures, selected by an independent evaluation panel, then present their business plans in more detail to an audience comprising members of Ireland's research, state agencies, venture capital, industry and business communities. An overall winner was then selected by the evaluation panel.
156 new ventures and 235 individuals have now completed the NovaUCD CCDP, which has run annually since 1996 and former participants now collectively employ 750 people. Previous participants include BiancaMed, Celtic Catalysts, ChangingWorlds, CRDS, Haptica, Locumotion and TopChem.
Dr Pat Frain, Director, NovaUCD, said, "The CCDP is designed specifically to assist entrepreneurs in establishing new high-tech and knowledge-intensive ventures, predominantly to commercialise the innovative ideas arising from UCD research programmes." He added, "These new ventures are of critical importance, especially in the present economic climate, where there is an increasing need to generate opportunities for the creation of highly-skilled employment."
Equinome will also receive a new website valued at €2,000, designed by Ionic Business Systems, a NovaUCD resident company.
Two other ventures participating on this year's Programme, Novocept and bettie received runner-up awards, prizes of €3,000 and €2,000 respectively and six-months free desk space in NovaUCD.
Novocept is developing a suite of bioinformatic software packages for the biotechnology and pharmaceutical industries to assist them in reducing the time and costs involved in producing new drug candidates and in the re-design of industrial enzymes. The promoters of Novocept are Dr Jens Erik Nielsen and Dr Michael Johnston from UCD's School of Biomolecular and Biomedical Science; Dr Gianluca Pollastri and Dr Ian Walsh from UCD's School of Computer Science and Informatics, and Dr Martin Peters.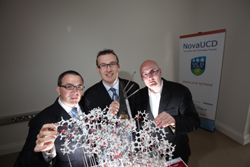 Dr Michael Johnson, Dr Martin Peters and Dr Ian Walsh, Novocept
bettie is a new communications device designed specifically for the ageing population to allow older people keep up-to-date and stay in touch more easily with family and friends. The promoters of bettie are Ben Arent, an interaction designer and Zoran Škrba, a senior software engineer, in UCD's School of Computer Science and Informatics, working in the TRIL (Technology Research for Independent Living) Centre.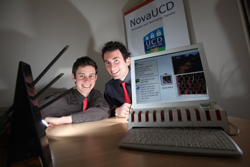 Ben Arent and Zoran Škrba, bettie
A fourth new venture, Nanolytic Laboratories, received a special commendation award of six-months free desk space at NovaUCD.
Nanolytic Laboratories is a new specialist imaging and material analysis venture. It is being established to provide imaging and material analysis for both the Research and Development and Quality Assurance departments of companies in the semi-conductor, medical device, aerospace, pharmaceutical and related technology sectors. The promoter of Nanolytic Laboratories is Dr Ian Reid, research manager of the Science Foundation Ireland funded Nano Imaging and Material Analysis Centre (NIMAC) in UCD's School of Chemical and Bioprocess Engineering.
Congratulating all the participants on this year's NovaUCD CCDP Tom Hayes, Manager, Enterprise Ireland's High Potential Start-Up Division, said, "Enterprise Ireland is delighted to continue to work in partnership with NovaUCD to assist in the establishment of new market-led businesses such as those which have completed this year's CCDP and which capitalise on innovative technology." He added, "Such companies are an essential element of realising the full commercial potential of the significant and ongoing investment in research and development being made by the Irish Government. Enterprise Ireland looks forward to supporting this year's participants in the future and to assist them to realise their full commercial potential."
ENDS
19 November 2009
For further information contact Micéal Whelan, NovaUCD, e: miceal.whelan@ucd.ie, t: +353 1 716 3712.
Editor's Notes
Other Participating New Ventures on NovaUCD's 2009 CCDP
Agri-Time is developing real-time, practical management support tools, delivered over the internet on mobile phones and computers, to assist farmers in running and managing their farms. Promoters: Professor Nick Holden, Agnieszka Piwowarczyk and Marian Hennessy, UCD School of Agriculture, Food Science and Veterinary Medicine.
Anura Therapeutics is developing a novel process for the identification of potent bioactive peptides for drug discovery. Promoter: Professor Stephen Pennington, UCD School of Medicine and Medical Science.
BedrockMaths is developing a suite of multi-media, web-based interactive assessment, teaching and learning support systems to assist students who have difficulties in learning mathematics. Promoters: Máirín Barry and Dr Ruichao Wang, UCD School of Education.
BoFinn Diagnostics will provide a bulk tank milk testing service to the dairy industry for the rapid and inexpensive diagnosis of infectious diseases. Promoter: Dr Mary Sekiya, UCD School of Agriculture, Food Science and Veterinary Medicine.
Cernam is a specialist digital investigations company developing unique software products in the area of online investigations. Promoter: Owen O'Connor, NovaUCD client company.
GliúMara is utilising biomimetic technology to produce adhesives that provide strong, rapid and biocompatible adhesion to wet surfaces for biomedical applications. Promoters: Dr Anika Mostaert and Professor Suzi Jarvis, UCD School of Biology and Environmental Science and UCD School of Physics.
Insite Analytics is developing automated, real-time analytics software to improve the performance of retail units in retail locations such as large shopping centres and department stores, by analysing shopper movements and behaviour. Promoters: Ross Shannon, Adrian K. Clear and Dr Aaron Quigley, UCD School of Computer Science and Informatics.
Inviver is developing novel diagnostics and vaccine products for infectious diseases in the veterinary health industry. Promoters: Dr Jarlath Nally and Pablo Rojas, UCD School of Agriculture, Food Science and Veterinary Medicine.
Retinostics is developing a novel ultra-high resolution scanning laser ophthalmoscope for diagnostics of the human eye retina. Promoters: Dr Brian Vohnsen and Dr Diego Jose Rativa-Millan, UCD School of Physics.
TraceHunter is developing easy-to-use, highly automated tools to revolutionise computer forensic investigations. Promoters: Dr Pavel Gladyshev, Yuandong Zhu and Joshua James, UCD School of Computer Science and Informatics.
VIDAS is developing peer-to-peer video distribution technologies for more efficient use of computer networks. Promoters: Dr Sean Murphy, Dr Hamid Nafaa and Professor Liam Murphy, UCD School of Computer Science and Informatics.
The NovaUCD Campus Company Development Programme (CCDP) is a nine-month, part-time programme designed to suit the busy timetable of researchers and academics. It offers a mix of monthly workshops, mentoring and one-to-one consultancy and is delivered by NovaUCD staff, with support from the NovaUCD sponsors, Enterprise Ireland, as well as other outside experts. It is designed to assist academic entrepreneurs in the establishment and development of knowledge-intensive enterprises by providing the skills necessary to transform innovative ideas into commercially feasible ventures via the development of a business plan. Participants on the programme have the opportunity to access NovaUCD's desk space and incubation facilities and associated services.
NovaUCD, the Innovation and Technology Transfer Centre, is the hub of knowledge transfer activities at University College Dublin. NovaUCD is responsible for the commercialisation of intellectual property arising from UCD research and for the development of co-operation with industry and business. NovaUCD has been funded through a unique public-private partnership that includes AIB Bank, Arthur Cox, Deloitte, Enterprise Ireland, Ericsson, Goodbody Stockbrokers, UCD and Xilinx.
The NovaUCD Campus Company Development Programme Award Trophy has been designed by Colm Brennan, Sculptor. The award consists of a black Kilkenny limestone arrow-head form pierced by three metal bars, which radiate upwards from an imagined core. The bars carry the colour register analogous to 'gold', 'silver and 'bronze'. The upward direction of the stone arrow-head is analogous with the drive or direction of a company while the three bars can be interpreted as flashes or streams brought to bear on a developing company.