Two NovaUCD Companies Short Listed for the 2009 David Manley Emerging Entrepreneur Award
Two NovaUCD companies, HeyStaks Technologies and RendezVu are among nine companies short listed for the 2009 David Manley Emerging Entrepreneur Award. HeyStaks and RendezVu have been short listed in the Business category. The two other categories are Arts and Social and three companies have been short listed in each category. The Awards carries a prize package worth more than €100,000.
HeyStaks has developed a revolutionary social Web search platform which enables searchers to better organise and easily share the resources they find while searching and browsing the Web. HeyStaks' technology enables key collaboration and organisational features to be added as a layer on top of existing mainstream search engines (e.g. Google, Yahoo!, Bing) so that users may benefit from social search enhancements without having to leave their favourite engine.
HeyStaks' patented, social re-ranking core technology was developed by company co-founders Dr Peter Briggs and Dr Maurice Coyle during their PhD research at UCD's School of Computer Science and Informatics. Professor Barry Smyth a leading UCD researcher in recommender systems and an experienced entrepreneur is the company's third co-founder.

Dr Maurice Coyle and Dr Peter Briggs
Dr Briggs and Dr Coyle are currently UCD postdocs in CLARITY, the Science Foundation Ireland funded Centre for Sensor Web Technologies, a joint initiative between DCU, Tyndall National Institute and UCD. Earlier this month HeyStaks won the inaugural, Europe-wide, UNICA Entrepreneurship Competition for Students and Young Researchers and a prize of €20,000.
RendezVu is an e-learning venture located in NovaUCD. There is currently no convenient way for most students learning languages to practise their language skills other than travelling to foreign destinations which can be expensive and impractical.
To address this issue in the learning environment RendezVu has developed a next generation learning platform to provide immersive education for languages and other subjects using virtual world and gaming technologies.
RendezVu was co-founded in 2008 by Paul Groarke and Garrett Hussey, both ex-Baltimore Technologies employees, and it was the overall winner of the NovaUCD 2008 Campus Company Development Programme.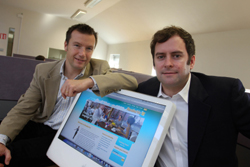 Paul Groarke and Garrett Hussey
The David Manley Emerging Entrepreneur Awards was established in 2003 and nurtures the enterprising spirit in Business, the Arts and in the Social community. The Award provides a €10,000 in cash to the overall winner and €1,000 to each of the other two category winners.
It was also the first Award scheme to offer "The Gift of Time", mentoring and business advice valued at €100,000 from leading experts in finance, law, accountancy, management consultancy, payroll & accounts software, corporate and brand identity and public relations. Membership of the Dublin Chamber of Commerce is also included. For the first time in the history of the Awards, all nine short-listed entrants will receive mentoring, courtesy of Enterprise Ireland.
The winner of each category will be decided on within the next few weeks and the overall winner will be announced at a ceremony in January 2010. The chairman of the judging panel is Alfie Kane.
HeyStaks Technologies and RendezVu were nominated for the Awards, as client companies, by NovaUCD, the Innovation and Technology Transfer Centre at University College Dublin.
ENDS
23 November 2009
For further information contact Micéal Whelan, NovaUCD, e: miceal.whelan@ucd.ie, t: +353 1 716 3712.
Editor's Notes
2009 David Manley Emerging Entrepreneur Award – Full Short List
Arts Category:
Arcana (Galway City), Johnny Donnelly; Serendipity (Bray, Co. Wicklow), Hedda Kaphengst and THISISPOPBABY (Donnybrook, Dublin), Jennifer Jennings & Phillip McMahon.
Business Category:

HeyStaks (NovaUCD), Dr Peter Briggs and Dr Maurice Coyle; RendezVu (NovaUCD), Paul Groarke and Garrett Hussey and XIT (Dublin), Kevin O'Shaughnessy.
Social Category:

The Bridge to College (B2C) (Fenian Street, Dublin), John Lawlor and Claire Conneely; Sudden Cardiac Death in the Young Support Group (Mount Merrion, Dublin), Mary Desmond Vasseghi and PPD – Psychological Centre (Dublin), Krystian Fikert.
The David Manley Award was established by a group of David Manley's friends in the Dublin Chamber of Commerce to honour his contribution to, encouragement and mentoring of SMEs during his short life time. David had been President of the Dublin Chamber of Commerce in 2000. The Friends of David Manley Committee features high profile Irish business people including Clive Brownlee, Frank Flannery, Alfie Kane, John McGuire, David Pierce and Peter Webster. Previous winners of the Award are Fred Hanna, SwifTXT (2003), Simon Factor, Moving Media (2004), Francis McKeagney, Innerworkings (2005), Emergent Events (2006), EirGen Pharma (2007) and Camara (2008).
NovaUCD, the Innovation and Technology Transfer Centre, is the hub of knowledge transfer activities at University College Dublin. NovaUCD is responsible for the commercialisation of intellectual property arising from UCD research and for the development of co-operation with industry and business. NovaUCD as a purpose-built centre also nurtures new technology and knowledge-intensive enterprises. NovaUCD has over 40 incubation units, including bio-incubation units, and provides innovators and entrepreneurs with the necessary support and knowledge to take their ideas from proof of principle to commercial success. NovaUCD has been funded through a unique public-private partnership that includes AIB Bank, Arthur Cox, Deloitte, Enterprise Ireland, Ericsson, Goodbody Stockbrokers, UCD and Xilinx.