NovaUCD Newsletter July 2009
Dear Colleagues and Friends
Welcome to the second issue of the NovaUCD Newsletter for 2009 in which we review activities and events which took place during the second quarter.
NovaUCD has announced its results for 2008 and for the 5-year period from 2004-2008 in its 2008 Annual Report. These results clearly demonstrate that the growth in public investment in R&D at UCD is yielding a significant return to the Irish economy and society.
Congratulations to HeyStaks, which is the overall winner of SUSSED!, UCD's €10K Entrepreneurship Competition. HeyStaks, a social web search company, will now go forward to represent UCD in the Europe-wide UNICA Entrepreneurship Competition for Students and Young Researchers which takes place later this year. HeyStaks' co-founders, Dr Maurice Coyle and Dr Peter Briggs are early-stage researchers in UCD's School of Computer Science and Informatics, and postdocs in CLARITY, The Centre for Sensor Web Technologies. HeyStaks' other co-founder is Professor Barry Smyth.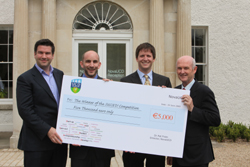 Eamonn Fallon, Daft.ie, a competition judge, Dr Peter Briggs, Dr Maurice Coyle and Dr Pat Frain
Given the current economic situation, it is not surprising that the visit of Professor Malcolm Gillis attracted a lot of attention. Professor Gillis, former President of Rice University, Texas, delivered a special lecture at NovaUCD which focused on the recent worldwide financial meltdown entitled Black Swans in a Perfect Storm.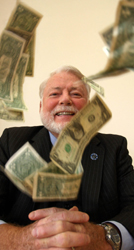 Professor Malcolm Gillis
In this newsletter we report on Innovation Dublin, a week long festival of workshops, events and showcases which will highlight and encourage innovation and creativity in Dublin. Innovation Dublin will take place from October 14 to October 20.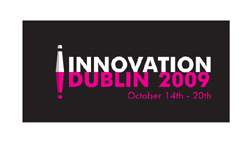 We also report on other recent developments for Enzolve Technologies, Socowave and Visor. These developments should not surprise us given the results of the GEM 2008 Report which are outlined on Page 8. We are, according to the Report, an entrepreneurial nation to the fore in Europe in terms of entrepreneurial activity.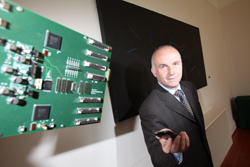 Joe Moore, Socowave
I would welcome any comments or feedback on this issue. Please contact Micéal Whelan on t: 01-716 3712 or e: miceal.whelan@ucd.ie.
Dr Pat Frain, Director

NovaUCD Newsletter: Issue July 2009 (1,287 kbs)