Issue October 2008
Dear Colleagues and Friends
Welcome to the October 2008 issue of the NovaUCD Newsletter.
In this issue we report on the visit of Dr Jimmy Devins TD, Minister for Science, Technology and Innovation to UCD. While at UCD the Minister visited NovaUCD and the UCD Conway Institute of Biomolecular and Biomedical Research.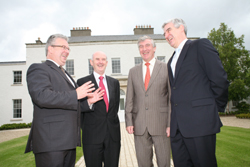 Dr Padraic Conway, Dr Pat Frain, Minister Jimmy Devins TD and Professor Mark Keane
NovaUCD has a new stock of laboratory notebooks available for UCD researchers to purchase at a special below cost price. For details on how to obtain these notebooks along with some best practices tips on keeping laboratory notebooks go to page 4.
The 11th NovaUCD 'Entrepreneurs Live!' seminar series has been launched by Dr Steve Collins, co-founder of Havok. Havok, a major player in the computer games industry was bought by Intel for $110 million in 2007. These seminars will continue each week until November 12 and further details of how to register are contained inside this newsletter.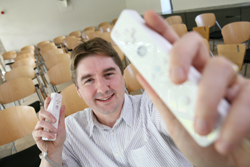 Dr Steve Collins, co-founder, Havok
Four new companies have joined NovaUCD's community of entrepreneurs bringing the total number of companies locating at NovaUCD to twenty-four. NovaUCD welcomes proposals from the promoters of high-quality, knowledge-intensive ventures who are interested in locating in NovaUCD.
In this issue we report on recent developments for ChangingWorlds, Duolog Technologies, Evolution, HeyStaks and Q-Validus along with the establishment of new links between UCD and industry.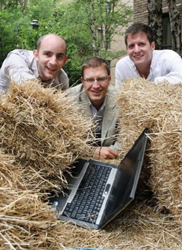 Professor Barry Smyth (centre) and Peter Briggs and Dr Maurice Coyle, co-founders of HeyStaks
NovaUCD has also recently established a NovaUCD 'LinkedIn Group' and details on how to become a member of this professional group are contained on page 9.
I would welcome any comments or feedback on this issue or any articles for inclusion in future issues. Please contact Micéal Whelan on t: 01-716 3712 or e: miceal.whelan@ucd.ie
Dr Pat Frain, Director

Complete October 2008 Newsletter (696 kbs)