October 2009 Newsletter
Dear Colleagues and Friends
Welcome to the third issue of the NovaUCD Newsletter for 2009 in which we review activities which took place during the third quarter and promote upcoming events of interest for our readers.
Click here to download the complete newsletter.
Innovation Dublin 2009, a week long festival of public events to showcase and encourage innovation and creativity in Dublin commences on October 14 and involves over 200 events.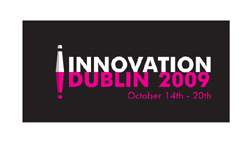 To coincide with Innovation Dublin 2009 the 13th NovaUCD 'Entrepreneurs Live!' seminar series, which is supported by the Dún Laoghaire-Rathdown County Enterprise Board, will be launched on October 14. Our guest speaker will be Dr Eddie O'Connor, founder and CEO, Mainstream Renewable Power. NovaUCD is also holding an Innovation Showcase on October 19 which will give visitors an opportunity to interact with NovaUCD companies and to meet with members of NovaUCD's community of entrepreneurs.
Congratulations to Nicola Mitchell, founder of Life Scientific and BioScientific Diagnostics who was presented with the NovaUCD 2009 Innovation Award. Congratulations are also due to BiancaMed, the UCD spin-out company, which has successfully raised €6 million in second round funding led by pan-European venture capital firm Seventure Partners.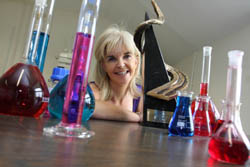 Nicola Mitchell, recipient of the NovaUCD 2009 Innovation Award
NovaUCD has recently produced a new 'pocket guide' which summarises the supports available from NovaUCD for innovation and technology transfer.
In this issue we report on recent developments for Alternative Energy Resources and Duolog Technologies. We also provide details of the next InterTradeIreland All-island Innovation Programme lecture series which takes place in November in QUB and NUI Galway and includes lectures by Professor Henry Chesbrough, Executive Director, Centre for Open Innovation, University of California.
We also report on the conclusions of a seminar held in NovaUCD investigating start-up opportunities available in information security and provide you with some networking tips which you may find useful.

Mathieu Gorge, CEO, VigiTrust, Cian Kinsella, CEO, Digiprove and Patrick Smith, CEO, FraudHalt
Incubation space is currently available at NovaUCD for new knowledge-intensive ventures, if you would like to find out more, contact ciara.leonard@ucd.ie.
I welcome any comments or feedback on this issue. Please contact Micéal Whelan on t: 01-716 3712 or e: miceal.whelan@ucd.ie.
Dr Pat Frain, Director

NovaUCD Newsletter: Issue October 2009 (799 kbs)