Issue June 2008
Dear Colleagues and Friends
Welcome to the June 2008 issue of the NovaUCD Newsletter.Click here for complete newsletter.
The NovaUCD 2007 Report has been published. The report highlights the increasing interest of UCD researchers in innovation. The 50 invention disclosures reported was particularly impressive. This represents an increase of 120% in the last two years.
During 2007, 26 patent applications were filed, 8 licence agreements were concluded and 4 spin-out companies were incorporated. These figures are indicative of the growing commitment of UCD and its researchers to the commercialisation of UCD research-generated intellectual property for the benefit of the Irish economy and society.
The NovaUCD 2008 Innovation Award was presented to Celtic Catalysts in recognition of its successful commercialisation of chiral synthesis research which took place over many year's in UCD's School of Chemistry and Chemical Biology. This is the first time that the NovaUCD Innovation Award has been presented to a spin-out company.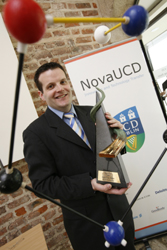 Dr Brian Kelly, Celtic Catalysts
Two new companies, Advanced Diagnostics Laboratory and OncoMark have joined NovaUCD's community of entrepreneurs. Twenty-two companies are currently located at NovaUCD. NovaUCD welcomes proposals from the promoters of high-quality, knowledge-intensive ventures who are interested in locating in NovaUCD.
In this issue we also report on recent developments for ChangingWorlds, Duolog Technologies and Enzolve Technologies and the establishment of new links between UCD and industry.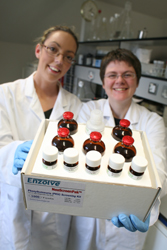 Dr Denise Cornally and Dr Anna Edvardsson, Development Scientists, Enzolve Technologies
I would welcome any comments or feedback on this issue or any articles for inclusion in future issues. Please contact Micéal Whelan on t: 01-716 3712 or e: miceal.whelan@ucd.ie
Dr Pat Frain, Director

Complete June 2008 Newsletter (1,085 kbs)