News & Events
See here for the list of visiting speakers this semester.
News & Events Headlines
Charles Tipple Philosophy Essay Prize 2018/19
This year, the UCD School of Philosophy Stage 1 Essay Prize – which aims to promote and support the excellent work done by our Stage 1 philosophy students - has been permanently renamed the Charles Tipple Philosophy Essay Prize, in memory of philosophy student and scholar Charles Tipple, who very sadly passed away earlier this year.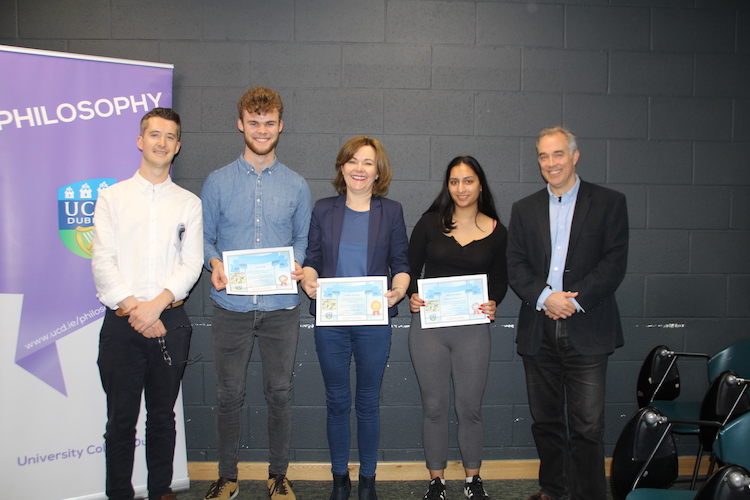 Certificates and prizes were awarded to the winners of the 2018/19 Tipple Prize on Friday 25 October 2019. The winners were (click on the title to read the essay):
First Prize: Cathy Darling, for ''The Moral Duty to Reject Nozick's Entitlement Theory and Advocate for Distributive Justice.pdf"

Runner-up: Mahrukh Abbasi, for 'Moving vs. Persuading a Racist.pdf'

Runner-up: Lorcan Kelly, for 'A Critique of Moody-Adams' Conception of Forgiveness as Unilateral.pdf'
The 2019/20 Tipple Prize is now open until 30 September 2020. Entrants must have registered for at least one UCD Stage 1 Philosophy module in the year 2019/20. Essays must be: no longer than 1,500 words inclusive of footnotes but exclusive of bibliography; on a philosophical topic; and submitted in word format to daniel.deasy@ucd.ie.
'Criminal Ignorance': a one-day symposium in law and philosophy on a recent book by Alexander Sarch, Criminally Ignorant; Why the Law Pretends We Know What We Don't (Oxford 2019).
Date: Thursday 21 November, 9am - 5pm
For programme and further details, please see the symposium website:
https://criminallyignorant.webnode.com/
Sponsored by the College of Social Sciences and Law Research Fund, the Centre for Ethics in Public Life, and the Trinity College Dublin School of Law.
Events
Events in 2018
See here for the list of visiting speakers this semester.
23 April 2018
President of FISP Prof. Dermot Moran visit to Nankai University


27 April 2018
17-19 May 2018
SWIP Ireland Annual Conference
21 May 2018
Workshop on Language, Reference and Meaning with Professor Stephen Yablo, MIT
June 6-9 2018 Three Day Multidisciplinary Conference "The Inhuman Gaze" to be held in Paris, France
https://theinhumangaze.com

The Inhuman Gaze
June 15-16 2018 Workshop 'The Relationship betweeen Aristotle's Eudemian and Nicomachean Ethics'
Provisional Programme Aristotle's Ethics details and Aristotle's Ethics Conference Poster
September 27 & 28 2018 Agency in Early Modern Philosophy