SCHOOL OF PHYSICS GRADUATE RUTH MOORE AWARDED PRESTIGIOUS GEORGE MOORE SCHOLARSHIP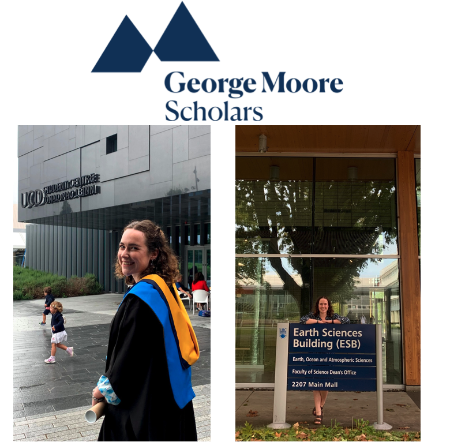 October 2021
Ruth completed her undergraduate degree in Physics with Astronomy and Space Science in May of this year, and is now studying a Master's degree in Geophysics at the University of British Columbia, Vancouver. Her research is focused on warming in the Canadian Arctic, why it is happening so quickly, and how we can map the changes since instrumental measurements began.
Ruth decided to study science at UCD as she always had an interest in the natural word, and was unsure between picking either genetics or physics for her undergrad. DN200 gave her the opportunity to try out both fields in first year, and she ultimately chose physics as she enjoyed how learning how such a fundamental discipline can help us explain every process in the natural world.
For her final year project, Ruth studied a variety of different types of exoplanets (planets outside of our solar system) with Dr Antonio Martin Carrillo and explored different ways in which we can analyse them. Doing this project helped her to solidify her want to focus on our own planet for the remainder of her research career. Having always had an interest in climate change, sustainability and social justice, a global issue as crucial as climate change was the perfect fit for her.
With the support of the teaching staff in the UCD School of Physics (notably Professors Emma Sokell and John Quinn), Ruth applied to the George Moore scholarship to help fund her Master's degree abroad. This scholarship, available to all students studying in Ireland who want to pursue a masters in the US, Canada & UK has enabled over 50 students to date to fulfil their higher education dreams.
Further information about the scholarship can be found at https://www.georgemoorescholars.ie/. A new round of scholarships is expected to open for applications in Autumn 2022.
UCD School of Physics
University College Dublin, Belfield, Dublin 4, Ireland. T:
+353 1 716 7777