Programme Assessment and Feedback Strategies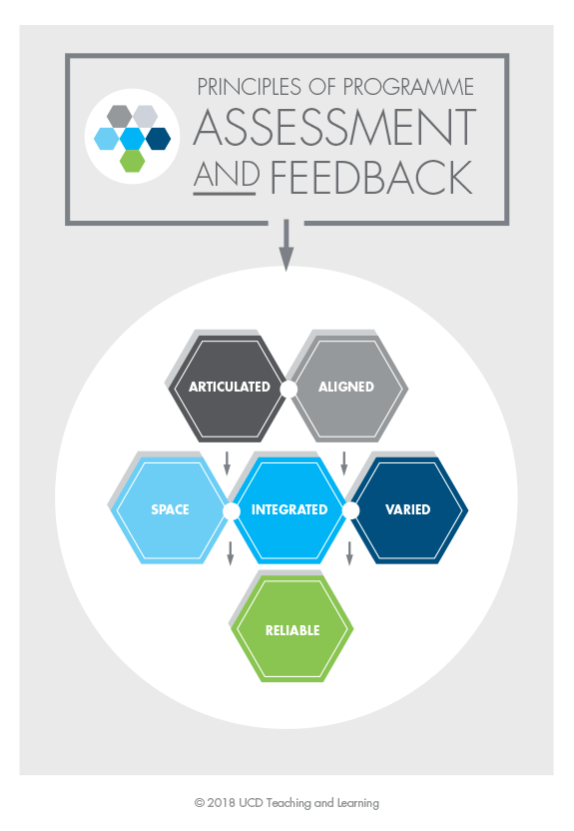 Assessment and Feedback Approaches
Many of the challenges surrounding assessment and feedback, such as diversity of assessment and assessment load, can be diminished by taking a programme approach to assessment and feedback. There are a some key principles you should consider when your programme team is designing the programme assessment and feedback approaches. Module coordinators should also consider these UCD programme principles when approaching their assessment and feedback strategies.
| Concept | Principle |
| --- | --- |
| Articulated | The programme outcomes and the programme assessment and feedback strategy (PAFS) are clearly articulated to the students and other stakeholders. |
| Aligned | The module teaching, learning, assessment and feedback approaches are aligned and are mapped to the programme outcomes. |
| Varied | A variety of assessment and feedback methods are used across the programme, in particular authentic, empowering and engaging approaches |
| Integrated | Integrated and coherent assessment and feedback approaches are designed vertically and horizontally into the programme. |
| Space | Consideration is given to the time and space for assessment and feedback approaches, including staff and student assessment load, timely feed-forward and space for more complex learning. |
| Reliable | Reliable Procedures are in place to ensure the reliability of the programme assessment and feedback approaches, including consistency, academic integrity and comparability in grading. |
Programme Approaches to Assessment and Feedback Resources
For a comprehensive framework on how to work through ideas and changes to your programme's assessment and feedback strategies, see our dedicated pages with associated case studies and resources. A good starting point is Some Initial Ideas for Programme Assessment and Feedback Enhancement. This website, compiled by the National Forum, contains case studies, commentaries and tools related to enhancing programme approaches to assessment and feedback in Irish higher education. The collection was put together as part of the National Forum's 2016-18 Enhancement Theme which focuses on Assessment OF/FOR/AS Learning. Programme Assessment Strategies is a project site that focuses on how to design an effective, efficient, inclusive and sustainable assessment strategy which delivers the key programme outcomes. Assessment Futures provides an alternative view-point on assessment and includes the position paper, Assessment 2020: Seven propositions for assessment reform in higher education, by David Boud and Associates. There are further resources of the Assessment section of this website.