Gathering Evidence on Your Teaching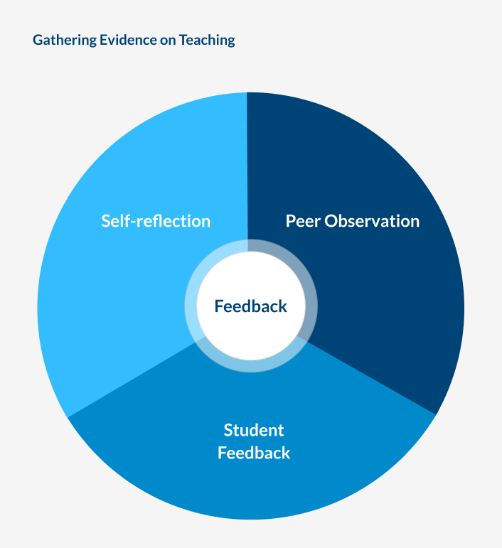 What's the benefit of gathering evidence on my teaching?
How do I gather this information? Who do I get it from?
What should I do with it when I get it?
Evidence of your teaching is obtained through gathering feedback from various sources, namely your students, your peers, and through self-reflection.
Black, P. and William, D. 1998. Assessment and Classroom Learning. Assessment in Education: Principles, Policy & Practice, 5(1), 7 – 74
University College London 2016 Teaching Toolkits: Evaluating your teaching
Vanderbilt University Center for Teaching (2013). SoTL Guide, Gathering Evidence: making student learning visible
Brookfield, S., 2017. Becoming a Critically Reflective Teacher. 2nd ed. San Francisco, CA: Jossey-Bass
Mcmahon, T., Barrett, T. and O'Neill, G. 2007. Using observation of teaching to improve quality: finding your way through the muddle of competing conceptions, confusion of practice and mutually exclusive intentions. Teaching in Higher Education, 12(4), 499 – 511
Shortland, S. 2004. Peer-observation: a tool for staff development or compliance?. Journal of Further and Higher Education, 28(2), 219-228
Hampton, M. 2010. Reflective Writing: a basic introduction, University of Portsmouth