In this phase, the planning outputs from the analysis stage are used to create an outline of the learning process and to inform the design of the blended/online learning components. The design phase typically involves determining the learning outcomes, the learning materials and activities, the assessment, the mode of delivery and role of the lecturer. Within this section we outline suggested design steps and some overarching design principles that may be useful to consider. We also provide ideas on integrating teaching and learning activities and embedding educational technologies which can be applicable to all modes of delivery from face-to-face to blended, to fully online.
Design Principles
Constructive alignment (Biggs and Tang, 2007) is the most fundamental principle of design in the outcomes-based curriculum that is used in UCD. It is concerned with ensuring there is coherence between learning outcomes and the alignment of teaching and learning activities and assessments, with a focus on what the learner is doing.
Universal Design for Learning (UDL) is a principle-based approach to curriculum development which provides all students with equal opportunities to learn. This framework recommends that educators follow three core principles when designing learning experiences by including:

multiple means of engagement;

multiple means of representation;

multiple means of action and expression.
Implementation of universal design should be done at the module or programme design stage regardless of the mode of delivery.
Design Steps
Starting from the aforementioned principles, it is recommended that the following steps are considered when designing a blended or online module:
Review the Nine Principles for Universal Design for Instruction and consider some simple strategies for implementation in your module design.
Consider what your students will learn, or what they will have achieved at the end of the module.
Consider the needs of your student group and the context of their learning, for example your student cohort, their existing knowledge and previous experience.
Determine which assessment types are most appropriate to assess student learning; you can then determine which structure, learning materials, assessment and feedback activities fit best.
Based on these considerations, write the module learning outcomes
For some practical examples and strategies to implement refer to: Universal Design for Curriculum Design; Case Studies from University College Dublin
Consider the various activities students can do to work towards achieving the learning outcomes.
Consider what learning materials to include for students. Consider using a variety of types of materials to engage all students, such as slides, documents, or audio and visual material.

Consider how best to present these learning materials i.e. in synchronous vs. asynchronous format.

Consider which of these learning activities or assessments would best lend themselves to blended/online delivery.
Consider how students can learn from each other. Emphasise active student learning, in particular students' peer learning, self-monitoring and autonomous learning. From this a learning pathway will emerge that connects these activities.
Based on these considerations, align the module learning outcomes, assessment approaches and teaching and learning activities.
What learning materials do you make available and when? Consider a variety of methods of instruction. What do you present or demonstrate

in the face-to-face or via recorded online or synchronous lectures?

Blended and online learning

can be designed to integrate independent study, guided study, online scheduled contact and

in-

classroom teaching and learning activities in a variety of different way

s

dependent on the curriculum and students.

Where do you offer space for student interaction with peers as well as the lecturer or tutor?
How and when do you give students feedback and how do they develop their own skills of self monitoring?

How will you maintain an online presence and be available to support learners while also creating an online community of learners?
Integrating Teaching and Learning Activities
Littlejohn and Pegler (2007) describe four types of approaches to integrating your teaching and learning that could be appropriate for different types of blended and online learning contexts:
The space blend, which can be virtual and/or physical;

The time blend, which can be synchronous or asynchronous;

The media blend, which includes the types of tools and resources;

The activity blend, which includes the organisation of different activities and resources.
The efficiency of the module from both your and the students' time is very important. In your initial module design consider the balance in students' time between: what they are required to study (autonomous student learning); tasks they are prescribed to do themselves in Brightspace or out-of-class (specified student learning tasks, including assessment activities); and the content that is addressed in the face-to-face or online monitored contact hours (lectures/labs/tutorials/online group discussions).
In the case of blended learning, the virtual learning environment allows students to engage with the materials before, during and after class, consider the best sequence for when and how students might do this. For example, develop a plan to wrap the blend of content, activities and resources (Littlejohn & Pegler, 2007).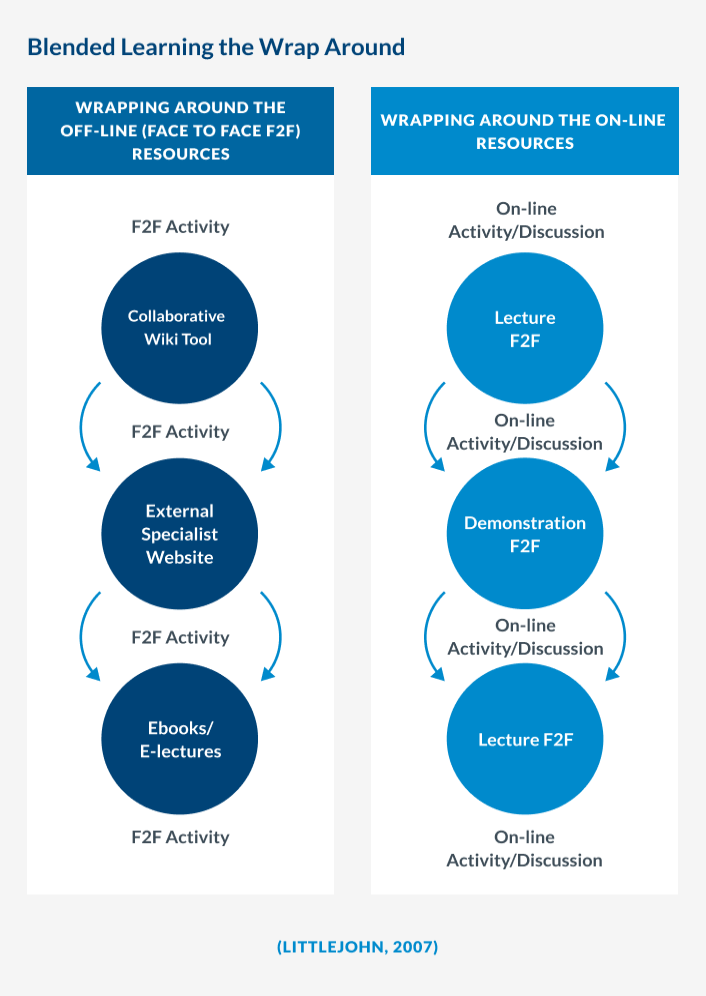 Embed Educational Technology
Regardless of the mode of delivery, the key objective is the achievement of learning outcomes and pedagogy should drive decisions relating to the use of the most appropriate technologies. You should consider the needs of your student cohort and the context of their learning. Based on this, decide what are the key learning tasks and assessment activities. It is only then that you should consider what technologies are most suitable to support these activities.
The video below, produced by Australian Learning & Teaching Council provides you with some considerations for choosing the right technology to match your needs.
Please ensure you have cookies enabled on your browser to view the video. If you cannot see the video, go to cookie preferences and allow targeting cookies.
See below examples of six types of learning; supported by various educational technologies and tools (adapted from Laurillard's 2012, Conversational Framework) which can be used in various modes of delivery. This guide is by no means an exhaustive list of all available options, but can serve as a starting point when designing your module. It may be useful to also refer to our UCD Educational Technologies webpage to familiarise yourself with the educational technologies currently available and supported in UCD.
Biggs, J and Tang, C. (2007)

Teaching for Quality Learning at University,

3rd Edition, Buckingham: The Society for Research into Higher Education and Open University Press.

Bower, M and Torrington, J. (2020) Typology of Free Web-Based Learning Technologies Educause (available online via: https://library.educause.edu/-/media/files/library/2020/4/freewebbasedlearntech2020.pdf)

Littlejohn, A. & Pegler, C. (2007)

Documenting e-learning blends, In, Preparing for Blended E-Learning

.

pp.

70-93. New York: Routledge.

Laurillard, D. (2012)

Teaching as Design Science: Building Pedagogical Pattern for Learning and Technology.

London: Routledge.