Making Connections #GHGH Campaign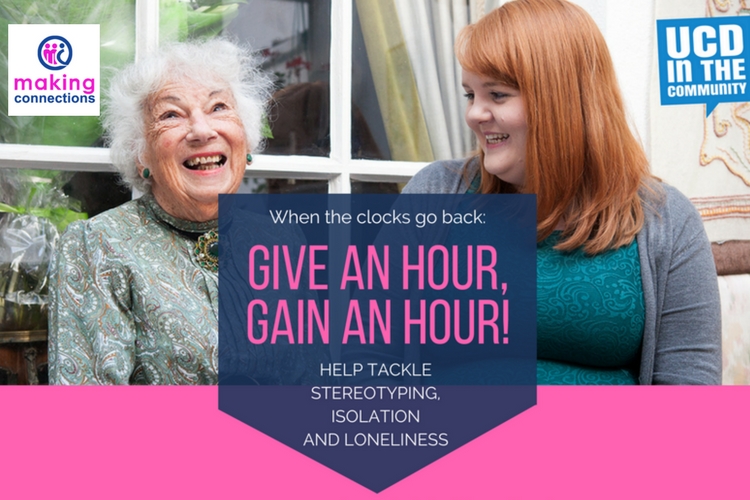 Making Connections is a non-profit organisation working with Health Services and community groups since 2009, to alleviate loneliness and isolation in the community of Dun Laoghaire-Rathdown.
UCD in the Community were delighted to collaborate with Making Connections on their Give an Hour, Gain an Hour campaign in October 2017.
Over the October bank holiday weekend (October 27 - 30) when the clocks fell back, Making Connections challenged people to use that extra hour to celebrate the valuable contribution of older people.
Just one hour can help tackle stereotyping, isolation and loneliness – and inspire others to connect the generations. It's fun and simple!
All you had to do was follow these 4 steps;
CONNECT
With an older person you know, but don't ordinarily have the time
to see.
GIVE
Agree to share an hour together at a time and a place that suits
GAIN
Exchange something interesting or fun with each other, A story, skill, activity, or simply some laughter.
SHARE
Share your story, and/or a nice picture of your hour (to protect the identity of the person you share your hour with, please submit an imaginative photo!), that depicts what you BOTH have gained from your experience!
UCD in the Community are delighted to have partnered with Making Connections on this campaign and look forward to working together in the future!