UCD in the Community Volunteer Fair October 2017
UCD in the Community Volunteer Fair 2017
On Monday October 9, UCD in the Community held their Volunteer Fair in the O' Brien Centre for Science. This was the first time this event was held as a stand-alone event, and there were over 30 community-based organisations in attendance! A special thanks to Ken Doyle from UCD Media Services who recorded the day's events for us.
The Volunteer Fair ran from 11am until 3pm, and there was certainly no shortage of students during that time. Students from across campus came by to speak to individuals from the Balally Family Resource Centre, the ISPCC, the Marie Keating Foundation, Sunshine House and Teenline, to name a few.
As always, the Irish Guide Dogs for the Blind proved to be extremely popular, with their furry friends adding smiles to everyone's faces!
It was great to see organisations who had attended the Volunteer Fair last February, return to UCD. These included An Gaisce, the Garda Reserve, Hillview Resource Centre, Le Chéile Mentoring & Youth Justice Support Services, Ozanam House (SVP), Spina Bifida Hydrocephalus Ireland (SHINE) and many more.
For students interested in volunteering internationally, there was a great opportunity to chat to staff from AIESEC in Ireland, VMM International, Voluntary Service International and UCD Volunteers Overseas (UCDVO).
Alongside UCDVO, from UCD, we had UCD SVP and the Student's Union. If students want to get involved in volunteering on campus, these are great places to start.
Befriender's Dublin, the Meningitis Research Foundation, Oxfam Ireland and the National Council for the Blind provided students with details of how they could get involved with their organisations.
For students who may be interested in using their knowledge of sports (or simply want to volunteer!), Project Fun Direction and the Special Olympics Ireland were right up their street.
121 Digital, Team Hope Christmas Shoebox Appeal, St. Vincent de Paul and 100 Minds engaged many students and encourage all students who are interested in volunteering with them to get involved.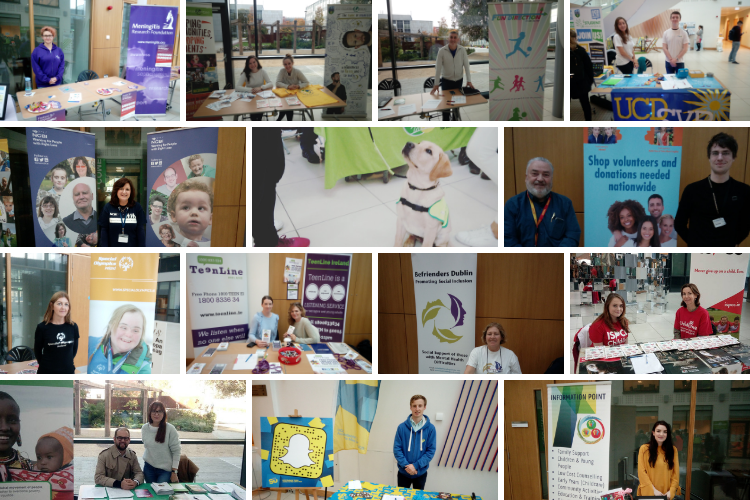 Throughout the day, UCD in the Community were signing students up to studentvolunteer.ie, a platform connecting third level students to community-based organisations with whom they may wish to volunteer. Sign up is free and easy! We encourage all organisations to avail of this fantastic opportunity to connect with students. With over 5,000 students registered nationwide, it's a win-win for student volunteers and organisations.
UCD in the Community would like to take this opportunity to thank all the organisations who attended (dogs included!) and hope to see everyone again soon.
In particular, we would like to thank our Student Leaders, Patrick Chun Hean Tang, Wern Hann Ng, Rebecca Gahan and Aishwarya Ray for all their help on the day.
UCD in the Community strives to support students, staff and alumni wishing to become more civically engaged. Whether this is through volunteering, research or learning, we are here to offer support and guidance.
We welcome any community-based organisations to get in touch if you would like to develop a partnership with UCD. Please email ucdic@ucd.ie.