U21 Events
UCD offers undergraduate students, graduate students, and staff members the opportunity to participate in various Universitas 21 events offered throughout the year, as detailed below:
U21 Undergraduate Summer School
U21 Summer School at University of Nottingham, Malaysia Campus, July 2018
Every year, an undergraduate summer school takes place in a different U21 university. Outstanding students from all U21 member institutions are invited to participate. Check our news & scholarships webpage to find details of UCD competitions for scholarships to attend the next summer school.
The 2016 U21 Undergraduate Summer School took place at Shanghai Jiao Tong University from 4th to the 18th July 2016 on "Traditional Chinese Medicine and its Culture". Read UCD student experiences of the Summer School here.
---
International Scholarship and Summer Schools
Short-term mobility opportunities offered to U21 students by member universities:
Every year U21 universities run summer/winter schools and intensive programmes which are open to students from around the world.
As a student from U21 institution, you may be eligible for a scholarship or reduced participation fee. See the U21 webpage for the latest information and for a map of relevant opportunities (whether semester/year-long exchanges and/or short-term programme options).
---
U21 Undergraduate Research Conference (URC)‌ ‌
"Food Safety: From Farm to Table" at Shanghai Jiao Tong University, July 2014
The undergraduate research conference (URC) gives outstanding undergraduate students from U21 institutions the opportunity to showcase their research to an international audience of fellow students and staff. It aims to attract students from a diverse range of disciplines and typically includes a range of seminars and student presentations interspersed with social activities and tours to promote networking and stimulate discussion.
The URC also offers academic staff the opportunity to engage with U21 colleagues, discuss topical issues and develop professional networks.
The 2017 undergraduate research conference was hosted by the University of Edinburgh in Scotland on the theme, "Future Societies, Global Citizens". For more information and a short video on the event, please see the U21 site here.
---
U21 Social Entrepreneur Corps Programme
Students interested in international development will work directly with Social Entrepreneur Corps field professionals and social entrepreneurs in Guatemala to help establish new and grow existing micro-consignment supported businesses. This programme is co-ordinated by the University of Connecticut. For more information, visit the U21 social entrepreneur corps programme webpage.
Joint PhDs
U21 has established a unique framework for jointly awarded PhDs. UCD has signed a memorandum of understanding with severalother U21 member institutions to award PhD degrees on a one-to-one basis. Under this scheme, two U21 institutions will create a tailor-made programme of study for each student based on the candidate's individual research needs.
The 14 institutions currently involved in this innovative programme are:
Australia: University of Melbourne; University of New South Wales; University of Queensland
Canada: University of British Columbia
India: University of Delhi
Ireland: University College Dublin
New Zealand: University of Auckland
South Africa: University of Johannesburg
South Korea: Korea University
Sweden: Lund University
United Kingdom: University of Birmingham; University of Edinburgh; University of Glasgow; University of Nottingham
Clear benefits for students of these jointly awarded PhDs are access to:
an academic research programme enhanced by the collaboration of different high- quality research environments and cultures;
training and facilities of two research-intensive universities;
the added value of international networking;
a head start in future career planning and professional development.
Visit the Universitas 21 website for more information on Joint PhDs.
Forum for International Networking in Education
The Forum for International Networking in Education (FINE) is an international group of post-graduate students from Universitas 21 schools of education who cooperate and collaborate in order to better understand educational issues from a global perspective.
The group seeks to provide opportunities for social and professional networking, and possibilities for collaborative research and enhanced academic and career prospects.
Besides organising discussion forums and social events at AERA and other international conferences, the group has set up a database for members to find others with similar interests. The group also offers a newsletter that provides news from FINE, graduate student tips, and career opportunities and advice.
For further information, visit the U21 website or contact Juliette Lyons-Thomas.
Upcoming events
For an updated list of upcoming events please see the U21 Events page.
Universitas21 Summer School, Shanghai Jaio Tong University (July 2016)
Theme: Chinese Medicine and its Culture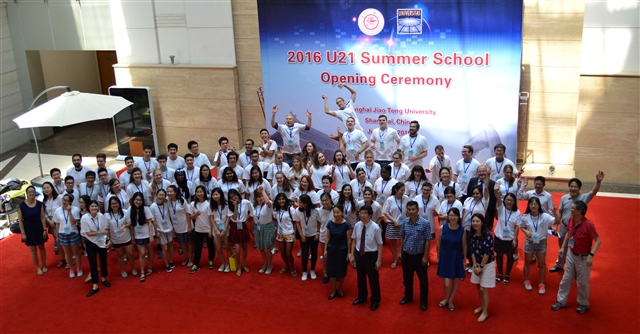 Photo credit: Shanghai Jaio Tong University
In July 2016, five UCD undergraduate students travelled to participate in the U21 Summer School at Shanghai Jaio Tong University in China, 4-18 July 2016. The theme of the summer school was 'Traditional Chinese Medicine and its Culture'. Participants attended seminars with distinguished guest lecturers on topics ranging from Traditional Chinese Medicine (TCM) to medical device engineering and manufacturing, and visited academic and commercial pharmaceutical labs.
We asked the students about their experiences while attending the summer school and this is what they had to say:
Aisling Roche, Chemical & Bioprocessing Engineering student:
"It seems fitting that my last summer as a UCD student was spent on the other side of the world. I was given - and took - many chances to spend the breaks in my studies all over the planet over the last 5 years with UCD and this summer was no different. Luckily for me, UCD International gave me a place on the Universitas 21 Summer School in Traditional Chinese Medicine and Culture in Shanghai. Plus, the other students that were selected were a great bunch that made exploring the food, cities and sights of China even more fun. The U21 Summer School was so unique in that we were able to get an insight not only into the history, use, practice and manufacture of Traditional Chinese Medicine but also the perception of TCM, as well as its evolution with the invention of new technologies and research. I'm very happy and grateful my time as a UCD undergrad went out on such a high."
Joanne Chadwick, Midwifery student:
"This summer I was fortunate enough to be chosen by UCD to attend the Universitas 21 summer school hosted by Shanghai Jaio Tong University. The summer school's theme was 'Traditional Chinese Medicine and its Culture', this included its origins, philosophies, clinical practices, production and modern day application. Sixty-five students attended from thirteen different countries and the course was delivered online, via lectures, flipped classroom presentations and discussions, as well as visits and practical sessions. On travelling to China, my expectations were high and I was not disappointed. Not only did the summer school offer a unique learning experience, it also enabled us to engage with other students from around the world with different cultures, experiences and talents. Shanghai Jaio Tong University went to an enormous effort to host us and did a fantastic job ensuring we had every kind of support to learn and bond as a group. I'm so thankful for the opportunity to travel to China and attend the U21 summer school; it's given me new friends, ideas and lots of unforgettable memories."
Aoife Blacklaws, Chemical & Bioprocess Engineering:
"My U21 experience began with Cormac, Eva and Jo in Beijing, the first destination of our whistle stop tour through China, while meeting up with Aisling in Chengdu on our way to Shanghai. Upon joining the group of Universitas 21 members and students from the host Shanghai Jiao Tong University, we explored this year's theme of "Traditional Chinese Medicine and its Culture." Some of the most memorable days were spent visiting the biotechnology company Agilent, experiencing acupuncture and moxibustion, and performing Tai Ji Quan outside of the Xuesen library with all sixty-six U21 members in the closing ceremony. During our free time, we enjoyed roaming the city of Shanghai, taking in all of the tourist attractions, and visiting Suzhou, which enabled us to increase our understanding of Chinese culture and also provided a pivotal opportunity for us to bond as a group.

However, the highlight of the Summer School was meeting like-minded students from across the globe who were interested in expanding their knowledge on Traditional Chinese Medicine and sharing many experiences, including a birthday celebration which I will not forget. Everyone was excited to celebrate with me and expressed birthday wishes in their own language. The opportunity to study in Shanghai has resulted in international friendships, which I believe will last a lifetime."

‌‌‌
---
U21 Undergraduate Research Conference at Tecnológico de Monterrey (July 2016)
Theme: A Global Perspective on Ageing Societies
Also in July 2016, three UCD students presented their research at the twelfth U21 Undergraduate Research Conference in Tecnológico de Monterrey from 11-16 July 2016. The theme of the conference was 'A Global Perspective on Ageing Societies.'
Here are their reflections on their time in Mexico with Universitas21:
Holly Douglas, BA in Psychology:
"Participating in the U21 Undergraduate Research Conference on Ageing Societies in Monterrey Mexico was definitely one of the best experiences I have had while attending UCD. It was great to be able to travel to Mexico, represent my university and attend a conference with so many people my age who are interested in research. Some of the work presented was really interesting. It was a great opportunity for learning, but also for fun, as our hosts at Tec de Monterrey organized lots of great activities and visits around the city. The whole group was lovely and everyone got on really well. It was fascinating to meet people from all over the world. I loved participating in this experience and would definitely recommend applying if you are currently working on a research project in UCD."
Ciarán Burns, BA in Social Science:

"It was a great experience, taking part in this summer's U21 undergraduate research conference in Mexico. I was one of more than forty students, from around the world who came together in the Technólogico de Monterrey University in July to present our research in subject areas such as medical science, engineering, economics, and social policy, on the topic of "A global perspective on ageing societies". The mix of disciplines made for a really interesting week, and we all shared information about our home universities, areas of study and future hopes and plans. The organization and facilities provided by the university were excellent throughout. When not preparing for and taking part in conference work, we were given opportunities to experience some of what Monterrey and Mexico has to offer. A few trips were organized as part of the week's activities, and we learned about the local history and tasted some great Mexican cuisine. Overall it was a very worthwhile experience. I learned about preparing for and taking part in televised panel discussions, and how to get my research published. I heard about some ground-breaking research, and I made some new friends. It was a very rewarding trip and I will be encouraging fellow students to apply when details of next year's conference are made available."
Associate Professor Amanda Gibney
Deputy U21 Senior Leader
Email: amanda.gibney@ucd.ie
Tel:

+353 1 716 3217