Become a UCD Volunteer Overseas!
Established in 2003, UCD Volunteers Overseas (UCDVO) is a registered charity which provides international volunteering and development education programmes for the UCD community. UCDVO's vision is for UCD students to graduate with an understanding of the challenges facing humanity worldwide and the determination and self-belief to tackle the issues underlying poverty and inequality in the world.
UCDVO provides students, staff and graduates with the opportunity to volunteer for the benefit of disadvantaged communities overseas, in response to needs explicitly identified by those communities. UCDVO's Volunteer Programme is a one-year commitment, which includes a four-week placement overseas, and a structured series of development education workshops, training and debriefing. Current project locations include India, Haiti, Nicaragua, Tanzania and Uganda. Applications for volunteer placements open in September each year.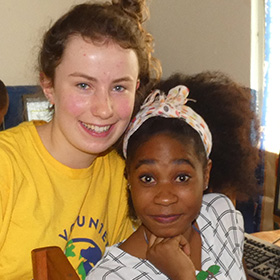 I am so happy to have been a part of UCDVO. Such an experience forges strong bonds of friendship and I have made lifelong friends with the other volunteers. In addition, how many people can say that their handprint is on the wall of a school in Tanzania or that they taught English to a classroom full of ten-year olds through the lyrics (and corresponding actions) of Katy Perry's "Hot and Cold"?
Louise Gannon, UCD Volunteer Overseas, Actuarial and Financial Studies
UCD Volunteer Overseas Pearse Bourassa
Pearse talks about her experience at UCD, and as a UCDVO