Become a UCD Volunteer Overseas!
UCD Volunteers Overseas (UCDVO) is registered with the Charities Regulator, Registered Charity Number 20055776. It was founded in 2002 by the late Fr Tony Coote.
Participants in the UCDVO Volunteering and Development Education Programme take part in training days, development education activities and four weeks volunteering with a local partner in India, Tanzania or Uganda.
Volunteering activities are largely in the area of healthcare, education and community development.
UCDVO also offers a number of additional opportunities that include evening courses, the UCDVO Film Series and the UCDVO Annual Forum.
UCDVO is governed by a Board of Trustees and has three full-time members of staff. Applications open in September each year.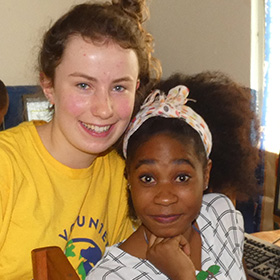 I am so happy to have been a part of UCDVO. Such an experience forges strong bonds of friendship and I have made lifelong friends. I've learned that VO is not solely about making a difference on the overseas projects, it's more about being the difference, being the change, and taking action going forward.
Louise Gannon, UCD Volunteer Overseas, Actuarial and Financial Studies
UCD Volunteer Overseas Pearse Bourassa
Pearse talks about her experience at UCD, and as a UCDVO