Shape your Future with a UCD Masters
UCD is one of the world's best universities according to the 2023 World University Rankings, and is ranked in the top 1% of higher education institutions worldwide.
We are also one of the best universities in Ireland for Masters study and applications for Masters courses open on 1 October every year. You can visit our Applications FAQ page for more information and helpful tips on applying.
There are many career opportunities open to you when you graduate from UCD. We are ranked number 1 in Ireland for graduate employability by QS World Rankings. UCD has been number 1 for five consecutive years now.
Top University for International Graduate Students
UCD has a thriving international graduate student community. Our students work and learn on two world-class campuses, and in numerous research and teaching institutions. You can take a virtual campus tour today and explore the world-class facilities today.
UCD offers Ireland's most diverse range of learning opportunities for international graduate students. Programmes are led by academic experts and give students unparalleled choice at all levels. Choose from Doctoral Programmes, taught masters and research masters, graduate diploma and certificate programmes, and higher diplomas. You can explore the options below. UCD also offers scholarships for Masters students.
If you wish to remain in Ireland and start your career here, you can apply for stay-back visa available to international graduate students.
Want to study at UCD in 2023? Applications now open!
Explore the 2023 Graduate Brochure
Why UCD is the Best University in Ireland for International Students
UCD is the most international university in Ireland and welcomes hundreds of new international students every year. Our 300,000 + alumni can be found in over 180 countries. Visit our UCD Global Alumni page and hear from UCD alumni who recently graduated from UCD and are enjoying career success all over the world!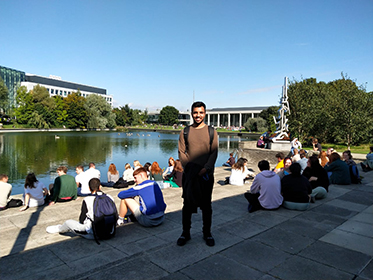 I wanted to study at UCD because the university contributes to the advancement and betterment of society in various sectors like IT, food and pharmaceutical, health and environment. UCD has a splendid combination of state-of-the-art facilities along with global scholars and researchers who work to bring the best out of students. Working in such a professional atmosphere will improve and strengthen my academic and technical skills.
Meet Hasmukh Rathod, , Indian, MSc Biological and Biomolecular Science
Take the Next Step
Contact us today for more information or to apply for a place.