Ireland is a small, compact island that is easy to navigate. On the western edge of Europe, Ireland is a member country of the European Union and a natural gateway to Europe, especially now as we are the only English speaking country in the Eurozone.
We're home to one of the best education systems in the world which is just one of the many reasons why international students love to study abroad in Ireland. Graduates with degrees from Irish Universities are highly sought after by businesses, governments, international organisations and academic institutions throughout the world.
Our international students love exploring and travelling around our beautiful country while they study abroad in Ireland! We're a safe nation, ranked 3rd out of 163 countries in the Global Positive Peace Index 2022. We're also a happy and welcoming nation - 13th on the World Happiness Report 2022! We are particularly proud of our culture and heritage. There are two UNESCO world heritage sites, countless cathedrals, ancient monuments and castles for you to explore and enjoy.
UCD - a university in Dublin - is a cosmopolitan European city full of parks, coffee shops, museums, live music events - and of course the world-renowned St Patrick's Day Festival. Dublin is also surrounded with beaches, cliff walks, forest and mountain trails for those who like outdoors and adventure.
Outside of Dublin, international students will find the breath-taking Wild Atlantic Way and the enigmatic Ancient East within reasonable easy reach. In the North is The Giant's Causeway and a number of filming locations for Game of Thrones. In the South, you'll find our bustling second city and the stunning scenery of West Cork amongst the many other attractions. Everything is just a few short hours bus, train or drive from UCD!
Find out more about some great (and some secret) Things to do in Ireland for International Students.
Find out the top 5 reasons why international students choose Ireland and UCD as their number one destination in the video below!
Why International Students Choose Ireland
Find out the top 5 reasons why international students choose Ireland and UCD as their study abroad destination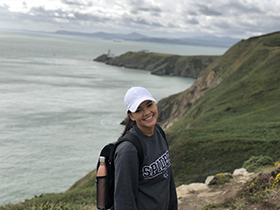 My decision to study at UCD in Ireland was one of the best choices I have made during my college career! I met so many lovely students—both international and Irish—and learned a lot about Irish history and culture. My time in Ireland was an unforgettable experience, one that I will cherish forever.
Sydney Collins, USA, UCD Student