Céad Míle Fáilte – University of Johannesburg students attend Irish summer school in UCD
9th July 2018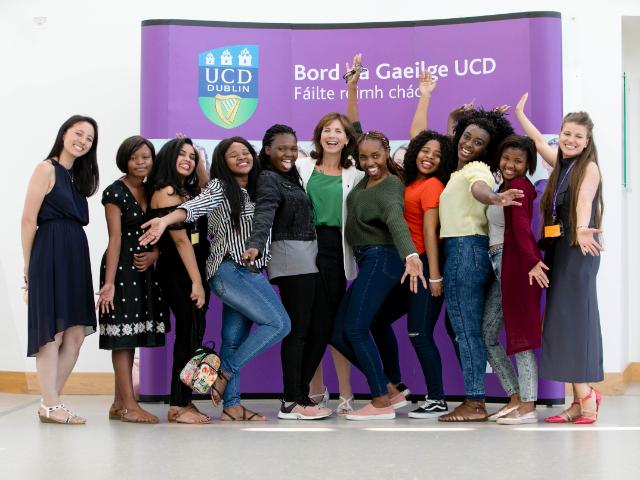 [Students from left: Naadiya Majam, Nondumiso Mthimkhulu, Serloe Kgolane, Mulalo Pearl Sehlako, Bonolo Mahumapelo, Dipolelo Mampeule, Kedibone Legodi - group coordinator]

Each year UCD's Bord na Gaeilge hosts a summer school, 'Tionól Gaeilge UCD', which is aimed at adults both in Ireland and abroad who are interested in the Irish language and Irish culture. We are delighted that this year eight students from our U21 partner, the University of Johannesburg, were able to attend. Being a member of Universitas 21, the students had an array of summer programmes that they could apply for but chose to study here at UCD, citing the uniqueness of the Irish language and their love of exploring different cultures as some of their main reasons for applying. For all the students – who were selected for being the highest achievers in each of their respective faculties - it was not only their first time in Ireland but their first taste of Europe.

Excited to see all that UCD and Dublin had to offer, the students took part in classes in Irish history, media, athletics and even dancing, not to mention linguistics. South Africa is a multicultural country with many official languages; for some of these students, Irish will be their 8th language. They described UCD as peaceful, however our Irish heatwave was not up to par with South African summers, with some of the students describing the weather as cold! We are thrilled that the students enjoyed their time here at UCD and we hope that they share their U21 experience with those back home to encourage more of these amazing cultural exchanges.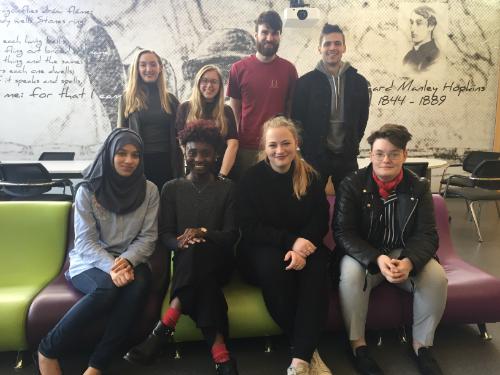 From front left: Rida Mahmood, Chiamaka Enyi-Amadi, Anna Blix, Ezra Maloney, Cameron O'Doherty, Padraig O'Fearghail, Ciara Murray, Maire McCafferty
UCD International recently ran a competition for travel bursaries to allow outstanding undergraduate students from UCD to participate in summer schools at our Universitas 21 partner institutions in the Netherlands and Malaysia.
Over 90 students from a range of academic disciplines applied for travel bursaries to enable them to partake in the U21 Summer Schools. Following a very competitive selection process, the following students have been selected to represent UCD at the Summer Schools of their choice:
The University of Amsterdam:
Chiamaka Enyi-Amadi (3rd year English and Philosophy),
Ronaldo Lukason (4th year Chemical and Bioprocess Engineering),
Padraig O'Fearghail (4th year Medicine),
Rida Mahmood (3rd year Human Nutrition),
John Murphy (3rd year Law with Politics),
Ezra Maloney (3rd Year English),
Anna Blix (3rd Year English and Politics)
Cameron O'Doherty (4th Year English)
The students selected to travel to Amsterdam will participate in a range of inspiring and academically challenging courses in the heart of the city during the months of June and July. The students will study on programmes such as 'Introduction to Sexuality Studies', 'The Politics of Ageing' and 'A Peaceful Mind: Mindfulness and Compassion-based interventions' which are designed to introduce them to a new academic discipline or build on their existing studies.
The University of Nottingham Malaysia Campus:
Ciara Murray (2nd year Politics and Sociology)
Maire McCafferty (3rd year Modern Irish and Art History)
These two students will be heading to Semenyih, near Kuala Lumpur to attend a two-week summer school at the University of Nottingham's award-winning Malaysian campus. Both students will be able to learn about Malaysia's wonderful and varied culture first-hand by studying on the course 'Politics, Culture and the Media in Southeast Asia'. As a Universitas 21-supported Summer School, the course will bring together students from across the U21 network across the world, making this a truly multicultural experience. They will be heading out on their exciting journey in June which will include trips to Kuala Lumpur and local villages.
For all the selected students, whether travelling to Amsterdam or Malaysia, the opportunity to attend the Summer School presents them with a chance to travel, learn and immerse themselves in a culture that is different from their own. For many, this is their first opportunity to take part in an international study programme, for others it is a chance to further explore their global endeavours. We wish every one of them the best with their summer school and we congratulate them on their success. If you wish to keep up with these students' summer travels, you can follow their journey on UCD International's official Instagram account @ucdinternational.
UCD's student team has been awarded second place in the Universitas 21 2017 Global Ingenuity Challenge (GIC). Under the guidance of Dr Conor Buggy (U21 Ingenuity Facilitator (IF)), the students' entry, 'Roots before Branches' proposed a novel response to this year's GIC theme: 'Promoting Cultural Inclusiveness in Society'.
The team consisted of Tadhg O'Keefe (Stage 3, Mathematical Science), Ashutosh Bagla (Stage 4, Food & Agribusiness Management), Sinead Mulroy (Stage 4, Medicine), Samu Bockarie (Stage 3, Architecture) and Rida Mahmood (Stage 2, Human Nutrition). In the space of two weeks, the UCD developed an innovative model to encourage interaction between staff and student communities via activities such as team challenges, cultural programmes, and social activities, participation in which is awarded with digital badges.
They competed against 14 other teams, representing 9 nine U21 partner universities. In addition to developing an innovative response to the GIC theme, each team had to create a 3 minute video to promote their idea. These videos can be viewed here: https://www.nottingham.ac.uk/business/businesscentres/hgi/competitions/global-ingenuity-challenge/video-pitch-entries-2017.aspx
The first prize was jointly awarded to teams from the Universities of Amsterdam ('Unify') and Nottingham ('YOCO'), while the team from the University of Birmingham ('Community Connect') was awarded third place.
Professor James Conroy (VP Internationalisation, University of Glasgow), Chair of the judging panel, commended the high standard of entries this year: "The Global Ingenuity Challenge continues to attract entries of the highest quality from across our universities. Indeed, judging the best is itself a challenge for the panel as so many of this year's entries combined wonderful presentational skills and innovative solutions, reflecting the passion to constantly nurture intercultural understanding and engagement. The best entries skilfully combined clever media presentation, clarity of thought and innovative solutions that reached out to communities beyond the university. From apps that enabled work with civic bodies to cleverly organised evening soirees the creativity on display is a reminder of just how talented our students are."
This year marked the third iteration of the U21 Global Ingenuity Challenge. Since its inception, the challenge has involved a total of forty teams (approximately 200 students). A broad theme is selected each year that allows for an interdisciplinary approach to solutions and analysis, so that it appeals to a wide range of students and disciplines across the network. The challenge is facilitated through Ingenuity Online; a creative problem solving tool developed by the University of Nottingham's Business School's Haydn Green Institute for Innovation and Entrepreneurship.
The winning team from Amsterdam noted: "The Ingenuity platform is a nice way to structure your thoughts and come up with practical solutions to wide ranging problems." The winning team from Nottingham were equally enthusiastic about the process: "This was an amazing experience for all of us. We are all from 5 different countries and cultures and we met each other for the first time. We had great team work and the synergy level was always on high level. Starting from idea generating at Ingenuity Online, we had outstanding brainstorming session, with more than 200 ideas."
U21 Provost Professor Bairbre Redmond, said, "One of the best things about being an academic in one of U21's universities is the privilege of working with our bright, innovative, and globally aware students. This energy and social concern was clearly evident in every one of 15 videos prepared recently by teams of U21 undergraduate students, from across the network, for the U21 GIC. Working to the competition brief to come up with easily implementable solutions to `Promoting Cultural Inclusiveness in Society', the teams developed approaches which were indeed ingenious and distilled these ideas into short engaging videos. I warmly congratulate the winners and all those who took part - your universities should be very proud of how you all went about tackling a very serious world issue."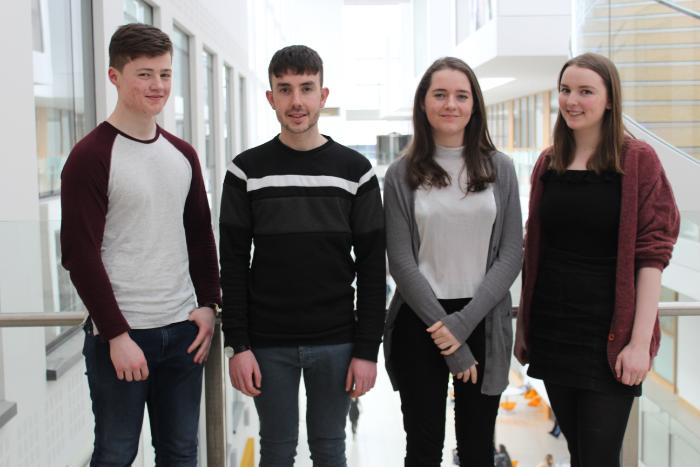 From left to right: Stephen Crosby, Sean Canavan, Niamh Buckle and Hannah Twomey
Following a competitive selection process, four UCD students have been selected to participate in this year's U21 Undergraduate Research Conference, hosted by the University of Edinburgh. During the last week of June, the four UCD students will join students from U21 partner universities around the world to present on their own research tied to this year's conference topic, 'Future Societies, Global Citizens'.
This year's representatives are Hannah Twomey (Stage 2, Politics and Philosophy), Sean Canavan (Stage 4, History and Law), Stephen Crosby (Stage 2, Politics and International Relations) and Niamh Buckle (Stage 2, Children's and General Nursing). Each student has been paired with an academic mentor from their respective schools, who will help them develop their presentations.
When asked why she signed up for the competition, Hannah Twomey said, 'What I really like about the conference, apart from the trip to Edinburgh, is that there is no single subject that it is based on, that it is people from all sorts of disciplines trying to solve the same issues.' For Sean Canavan, the URC 2017 represents an excellent chance to hone professional skills before entering the working world.
Niamh Buckle says her passion for international engagement was sparked by the U21 Shared Online Course on Planetary Urbanisation. As a nursing student, she is interested in the effects on health of air pollution in an increasingly globalised world. Stephen Crosby has also chosen an equally topical subject for his presentation: the effects of Brexit on UK and EU university students.
The UCD participants will each receive a scholarship towards their travel and accommodation for the URC 2017.
Share your U21 Story?
If you would like to share news from the U21 network, please contact us.