‌‌‌‌‌
Information on funded opportunities for UCD students and staff through programmes such as Erasmus+, Erasmus+ International Credit Mobility, Erasmus Mundus, Fulbright and Universitas 21 can be found in the drop-down menus below.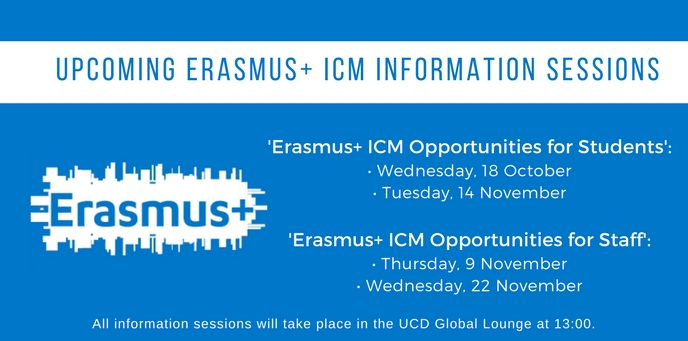 ‌
What is Erasmus+ ICM?
Erasmus+ International Credit Mobility (ICM) is a global scholarship and exchange programme funded by the European Union. The initiative supports the academic mobility of students and staff between Programme Countries (Europe) and Partner Countries (the rest of the world).
Every year, UCD has the opportunity to apply for Erasmus+ ICM funding in partnership with institutions around the world. The funding obtained provides scholarships to students and staff to work or study with one of our partner universities. In 2017, UCD secured over €250,000 in Erasmus+ International Credit Mobility funding to support the academic mobility of 67 students and staff over the next 2 years.
Who is eligible for Erasmus+ ICM funding?
Erasmus+ ICM grants are available to:
UCD undergraduate, masters and doctoral students to study abroad at Erasmus+ partner institutions;
Undergraduate, masters and doctoral students in Erasmus+ partner institutions to come to UCD;
UCD academic staff ("teaching staff"*) and administrative staff ("training staff") to spend a period of teaching and/or training at Erasmus+ partner institutions; and
Academic and administrative staff from Erasmus+ partner institutions to come to UCD.
*Teaching Staff are required to teach 8 hours per week at the host institution.
Partnerships
We have opportunities to travel all over the globe. Our current Erasmus+ ICM partners span Australia, Canada, China, Georgia, Hong Kong, Israel, India, Japan, Kenya, Lebanon, Russia, Rwanda and Vietnam.
What does the funding cover?
Each selected individual participant gets a travel contribution (between €360 and €1,100) based on the distance between the sending and receiving institution. In addition, each grantee receives a stipend based on the type and duration of grant they have been awarded. The rates* are as follows:
Incoming and outgoing staff: €160 per day for the first 14 days – for days 15 to 60, it is 70% (€112) of the daily rate
Incoming students to Ireland: €850 per month
Outgoing students from Ireland: €650 per month
* If you have a disability and require extra financial support to make your mobility possible, please advise the Erasmus+ ICM coordinator at the time of application as extra funding may be available.
How to apply
A call for applications will be launched by the International Office in October 2017. For details on how to apply for Erasmus+ ICM, please refer to:
Who should I contact?

For further information, please contact the Erasmus+ ICM team by email: erasmusicm@ucd.ie or come along to one of our information sessions - details here!
---
For students considering coming to UCD on an Erasmus+ ICM:
Can I come to UCD on an Erasmus+ International Credit Mobility?
Yes, provided your university has an Erasmus+ ICM Agreement with UCD. Please contact your home Erasmus+ ICM coordinator or contact us at erasmusicm@ucd.ie.
I've been selected to come to UCD with International Credit Mobility. What's the next step?
Once you have been selected to come to UCD, you will receive an e-mail with instructions on how to register to UCD. You can also find out more about coming to UCD as an exchange student on our website.
‌‌

‌
Erasmus Traineeships provide funding for students undertaking work experience in Europe. The traineeships must be approved by the student's School and be at least two months' duration. The School, the employer and the student all sign a Training Agreement before the traineeship starts. Funding amounts depend on the destination country and the length of the placement. Students who have received a grant for an Erasmus study exchange may receive a second grant for an Erasmus traineeship. As there is limited funding each year, students should contact UCD International in advance to check if they are eligible for a grant and if there is sufficient funding available.
For the 2017-18 academic year, UCD students on exchange at a Universitas 21 partner university in Asia or Latin America will receive a small scholarship from UCD International, provided they do not receive a scholarship from another source.
Universitas 21 partner universities in Asia:
• China - Fudan University, Shanghai Jiao Tong University & The University of Nottingham, Ningbo
• Hong Kong - The University of Hong Kong
• Japan - Waseda University
• Singapore - National University of Singapore
• South Korea - Korea University
Universitas 21 partner universities in Latin America:
• Chile - Pontificia Universidad Católica de Chile
• Mexico - Tecnológico de Monterrey

For more information on the Universitas 21 network, please refer to the Universitas 21 website.
---
Other funding opportunities for students studying in Asia
Students studying in Japan or Korea can apply for the following scholarships:
• Japan - JASSO scholarship
For more information:
Students studying at Waseda University, please click here.
Students studying at Keio University, please click here.
• Korea - ASEM DUO scholarship
For more information, please click here.
Please note: JASSA and ASEM DUO scholarships are highly competitive and are awarded to a set number of students each year.
For information on our Erasmus Mundus projects and further opportunities for study overseas, please click here.
‌‌‌‌2016-2017 Fulbright Award Recipients from University College Dublin
"We must dare to think 'unthinkable' thoughts. We must learn to explore all the options and possibilities that confront us in a complex and rapidly changing world." - J. William Fulbright‌
UCD International would like to extend its congratulations to UCD's four Fulbright Awardees for the year 2016/2017: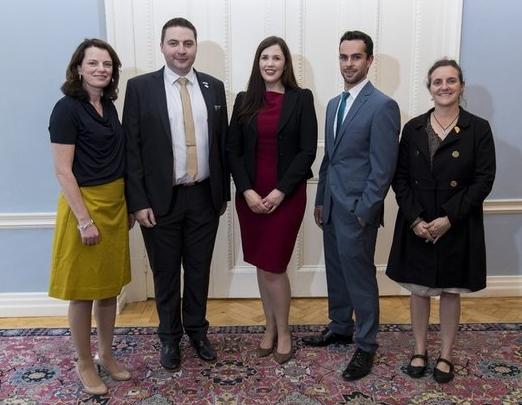 Dr Ciara Greene is a College Lecturer in the School of Psychology at UCD. As a Fulbright Scholar to Harvard University, Dr Greene will conduct research into the attentional and emotional factors that predict false memory.
Ms Nicola Mountford is Director of UCD's Connected Health research programme. Her Fulbright TechImpact research project will be hosted by the New York eHealth Collaborative and involves a condensed ethnographic study of their work to make Electronic Health Records accessible state-wide.
Mr Michael Paye is a PhD candidate in the School of English, Drama and Film at UCD, working on the literary depiction of fishery collapse and oil boom. As a Fulbright-NUI Student Awardee to Princeton University, Michael will complete a study of the correlation between fishery collapse and oil pollution in the literatures of Nigeria and Newfoundland in order to reveal the particular aesthetics and forms through which environmental crisis is coded across the Atlantic fish and oil frontier.
Dr Mark Scanlon is a Lecturer in Digital Forensics and Cybercrime Investigation at the School of Computer Science, University College Dublin. Mark will be a Fulbright TechImpact Scholar to the Center for Education and Research in Information Assurance and Security at Purdue University, developing techniques for the automated creation and proficiency testing of digital forensic challenges for educational use.
Dr Helen Lewis is an Archaeologist excavating prehistoric cave sites in Southeast Asia, and a specialist in Geoarchaeology. As a Fulbright GSI Geoscience Scholar based at the University of Washington, Helen will conduct research into the place of Geoarchaeology in Cultural Resources Management, exploring cultures of practice and specifically the barriers that exist at state level to the application of international professional standards of best practice.
For more information on Fulbright awards, please see below.
---

The US-Ireland Fulbright Awards scheme was set up in 1957 to enhance mutual understanding between the US and Ireland through educational exchange. Candidates are invited to submit applications for the Fulbright Irish Citizen Awards 2017-2018. These are designed to support outstanding academics and students for a period of lecturing, research or teaching in the USA.

Award Categories
• Fulbright Scholar Awards.
• Fulbright Student Awards.
• Foreign Language Teaching Assistantships.
• Fulbright Commission Student & Scholar Awards in any discipline including visual and performing arts (except clinical medical studies).
• Sponsored Student & Scholar Awards for specific areas/applicants.

Eligibility Requirements
Candidates must fulfil some or all of the relevant criteria:
• be Irish/EU citizens resident in Ireland for at least three years;
• have academic affiliation with UCD through employment or study;
• intend to pursue full-time Master's degree studies in any subject in the US.
Please note: Awards are made conditional upon acceptance to the host university before arrival in the USA.
Value, Terms, and Conditions
• The award includes a monetary grant, visa administration, accident and emergency insurance, and cultural and professional preparation.
• The scholarship is tenable for a maximum of 12 months only. In the case of full-time Master's programmes of more than one year's duration, the award applies only in the first year.
• Recipients must return to Ireland for a minimum of two 2 years after their time in the US.
• Dual US-Irish and green card holders are ineligible to apply.
• The Fulbright Irish Citizens Award may be held alongside other scholarships, studentships, awards, or bursaries, provided the total amount of funds received do not substantially exceed full tuition fees plus living costs.

Selection Criteria
The award is allocated on academic excellence and potential, but the Irish Fulbright Commission is also looking for the following:
• Rigour in scholarly enquiry and academic or professional excellence;
• Selected candidates must be committed to the Fulbright ethos;
• Strong reasons for wishing to pursue the proposed project in the US;
• Clear set of objectives for the Fulbright year;
• Commitment to the host community through volunteer and extra-curricular activity.
Application Deadline and Procedure
Application for the award is made directly through the Irish Fulbright Commission.
• The application period will open 31 August 2016. The deadline for submitting scholarship applications is 28 October 2016.
• Between November and January the applications are evaluated and a shortlist is drawn up.
• Shortlisted candidates are invited to interview in late January or February.
• Further details on the various Fulbright Awards, including application procedures, are given on the Fulbright Commission website.
Notification of Results
• Successful applicants are notified in March/April.
• All recipients will be required to attend an orientation event in Dublin in advance of departure.
For more information please visit the Irish Fulbright Commission website or click here for the presentation given at UCD in April 2016 by the Fulbright Commission.