International Student Orientation

Welcome to UCD – we can't wait to meet you at the airport!
Expand all
Airport Welcome
UCD International is delighted to announce details of our airport welcome for incoming international students. The team will be based at a courtesy booth in the Arrivals Hall of Terminal 2, Dublin Airport on the followings days:
Monday, January 15, and Tuesday, January 16.
Dublin Airport is 10 km north of the city centre. Aircoach is a private bus service from Dublin Airport to the city centre and to destinations south of the River Liffey. Two routes serve the UCD Campus with the recommended route being the Leopardstown/Sandyford route which passes by the main entrance to UCD on the Stillorgan Road and also serves Muckross Residences.
This service departs Dublin Airport at the following times:

23.55 to 03.25: Departs every 30 minutes
03.25 to 23.55: Departs every 15 minutes
For UCD Belfield campus please depart the Aircoach at the UCD Slip Road stop or alternatively you can request the driver to drop you off within the main Belfield campus. Please note, this will only be possible if you request this at the time of boarding.
For Muckross residences please depart the Aircoach at the Moorehampton Road stop (opposite Hampton Hotel).
If you are staying in Blackrock residences you can take the Leopardstown/Sandyford Aircoach to UCD and then take a taxi to Blackrock. This will cost €10 or less. An alternative route is to take the Greystones/Bray Aircoach direct from Dublin Airport and depart at the Blackrock Village stop. Please note this service is not as regular and there is at least one hour between services.
For full details and the route map please see the Aircoach website.
Aircoach Online Discount for Students
An online discount rate has been negotiated with Aircoach for students purchasing tickets online to transfer from Dublin airport to UCD campus and your return journey home. To avail of the online Aircoach discount please follow the instructions below:
1. Log onto www.aircoach.ie/booking
2. Students, who purchase an Aircoach ticket before August 31st, can avail of the online discount if they are traveling between the following date ranges:
- 1st December 2017 – 31st January 2018 (Dublin Airport to UCD Slip Road)
You must book a single ticket to avail of the discount. Please note, only travel dates selected within the specified date ranges will be eligible for the online discounted rate.
3. To complete your booking submit your details on the online booking form. Please see example of Aircoach booking form.
Origin - Dublin Airport
Destination - UCD Slip Road
Journey type - Single
Outwards date - select date that you will be arriving in Dublin/select the date your will be departing (Please note these dates must be in the specified date ranges)
Enter the Discount code: Festiveflyer

4. Once the discount code has been entered you will see the total savings at the bottom of your booking form.
If you arrive in the airport after 20:00, we recommend that you take a taxi to your destination. The approximate cost of a taxi from Dublin airport to UCD campus is €30 - €35. It is not customary to tip taxi drivers in Ireland.
International President's Welcome
The International President's Welcome will take place on Wednesday, September 5th, 2018 in the UCD O'Reilly Hall. This event is an opportunity to meet fellow international students and members of UCD staff.
The 2018 UCD International Orientation Programme will be available from July 1st.
Important dates include:
Airport Welcome for incoming International Students: Saturday, September 1st to Tuesday, September 4th inclusive.
International President's Welcome: Wednesday September 5th.
International Welcome Reception: Thursday September 20th.
SIM Cards and €20 Top Up
3, an Irish mobile phone provider will be based in UCD International (12noon to 2pm) from Tuesday, January 16th to Friday, January 20th inclusive. Your new SIM card will be ready to use as soon as you receive it and is compatible with most international phones. By simply topping up by €20, students can avail of free unlimited data, unlimited text, unlimited weekend calls and free calls to phones on the 3 network. This means that your €20 can be used for international calls or texts!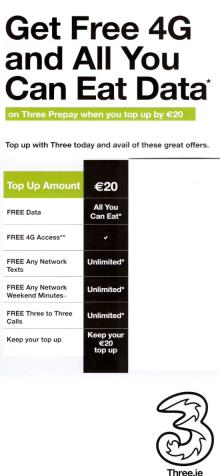 Unlocking you phone
Students can purchase a new phone when they arrive in Ireland or unlock their existing mobile phones. If you wish to use your existing phone, please ensure it is unlocked and is compatible to accept an international SIM card. Please follow the instructions below to unlock your phone.
-Contact your phone network. They can provide the phone unlocking code on request. Most networks will provide this if you have spent over a certain amount of credit. Once you have the code, Google your phone model to find unlocking instructions to guide you through the process.
-Go to an independent phone shop. Many provide a service to unlock phones at a minimal cost. Check online for the closest shop to you.
-Your phone may be unlocked already! You can check this by putting in a different SIM card to your current network and see if it works.
UCD Registration
Before attending courses you will need to register as a student, enrol in your courses, pay your tuition fees and receive a student card (UCARD). Your UCARD gives you access to all student facilities, including the residences, library, computer facilities, sports clubs and the student centre. It can be used to pay for certain services on campus such as purchasing food in the main restaurant, printing, scanning and photocopying, renting lockers and more.
You can collect your UCARD on campus during Orientation Week.
Students will be notified by email of exact dates and locations of UCARD collection. All new students will be requested to upload a digital photograph. You can do this as soon as your SISweb access is activated. This photo will be used as photographic identification of you on your UCARD and on our student database. It is important that you upload your photo as early as possible. For further information and guidelines on photo upload please visit the UCARD website.
Undergraduate Students
All first year undergraduate students must go online to confirm their attendance, complete module registration (where applicable) and pay any fees owed. You are responsible for managing your modules online before online registration closes. Information on module registration deadlines will be available online. If you cannot access the internet prior to arrival at UCD, computers will be available in UCD for registration purposes. A help line is available for students having difficulties with the online registration at +353 1 716 1555. Information regarding registration, orientation, academic advisory meetings, student cards etc. will be sent out by the Undergraduate Admissions Office. Please see the UCD Registration website for further information.
Graduate Students
Students must go online to confirm their attendance, complete module registration (where applicable) and pay any fees owed. For most taught programmes, module registration takes place online. For research programmes (Masters and PhD), module registration is done through your Graduate School or Programme Office. You are responsible for managing your module registration. Please see the UCD Registration website for further information.
Pre-Masters Students
The Pre-Masters coordinator will manually register you for modules.
UCD International Study Centre Students
UCD ISC students will be registered by the UCD ISC.
Erasmus/Non-EU Exchange Students
Erasmus and non-EU exchange students also need to register online (confirmation of attendance). Your exchange coordinator will manually register you for modules. Full information about this process will be sent by UCD International in August (for students arriving in September) and in November (for students arriving in January) each year. This information will be sent by email only.
Study Abroad Students
Study abroad students need to register online (confirmation of attendance). Study abroad students are pre- registered to their subject choices prior to their arrival at UCD and should consult their Study Abroad coordinator for more information.
Visiting/Occasional Fee-Paying Students
Visiting/occasional fee-paying students need to register online (confirmation of attendance). Students are pre-registered to their subject choices prior to their arrival at UCD and should consult their coordinator.
As you prepare for your time at University College Dublin, be sure to carefully read through our 'Welcome to UCD' guide for incoming students.