Props used in Aerial Skills
Aerial Skills require rigging and give the feel of a dance in performed in the air and generally involve manipulating your body around the prop as opposed to the usual method of manipulating the prop around your body. Here is a short list of the usual props used for Aerial Skills.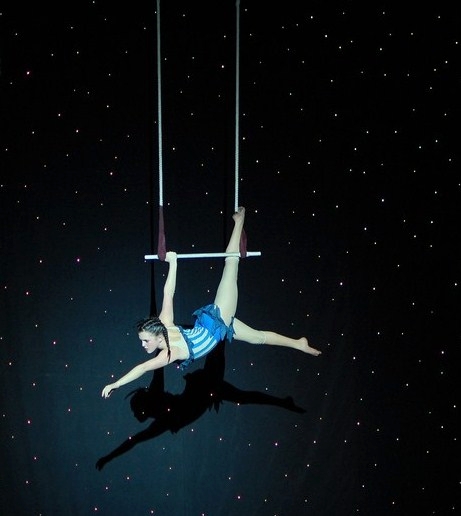 Trapeze
Similar to a swing with a metal bar in place of a seat. Trapezes may be static, swinging or flying. There is also a variation known as a head trapeze, where the bar is thicker and heavier with a groove in the middle for the performer's head.

Go to top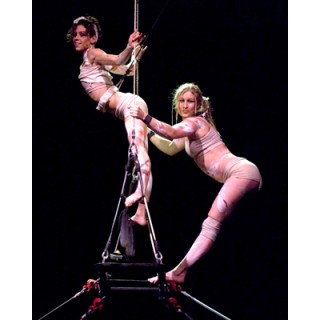 Aerial Cradle
This is a social skill which involves a performer, known as a Catcher, hanging by their knees from a rectangular frame mid-air who swings, tosses and catches another performer, known as a Flyer.

Go to top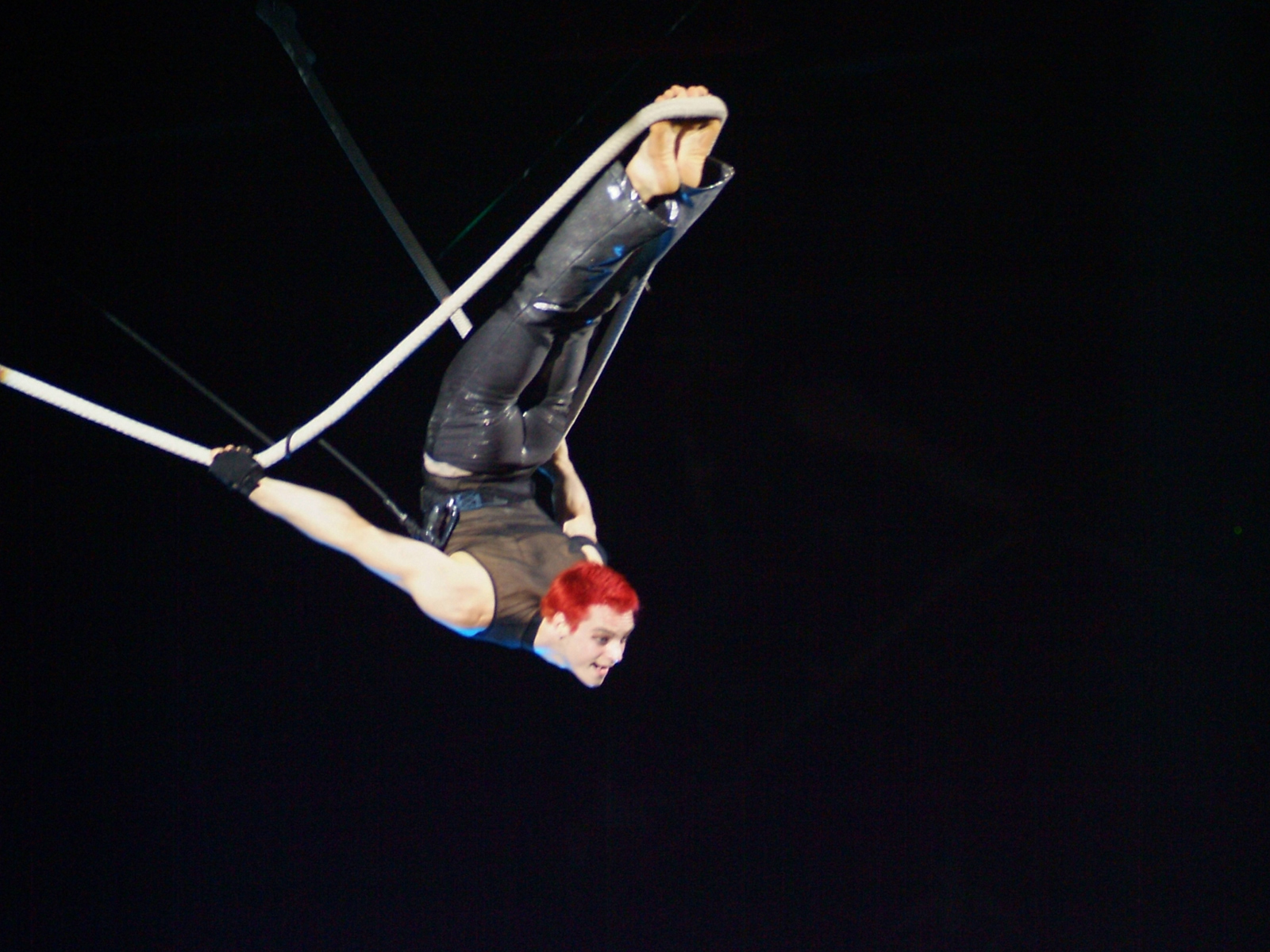 Cloud Swing (Corde Volante)
Similar in performance to Trapeze only instead of a bar and metal ropes the Cloud Swing is either made from a single rope or a cotton-filled sheath, akin to that used in Aerial Rope, which is hanging in a V-shape.

Go to top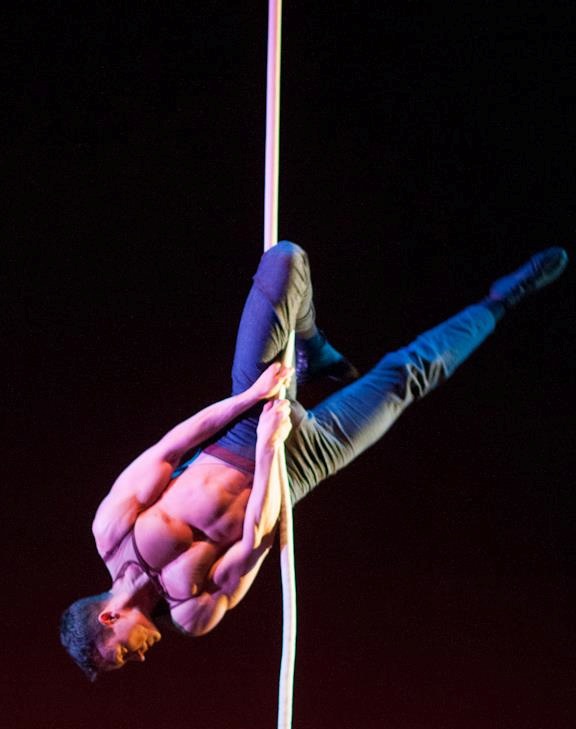 Aerial Rope (Corde Lisse)
A vertical hanging rope around 30mm thick and usually sleeved in cotton. The performer then utilises a series of wraps and twists to strike poses, contorting and posing their body to perform stunts. It is also possible to perform in pairs.

Go to top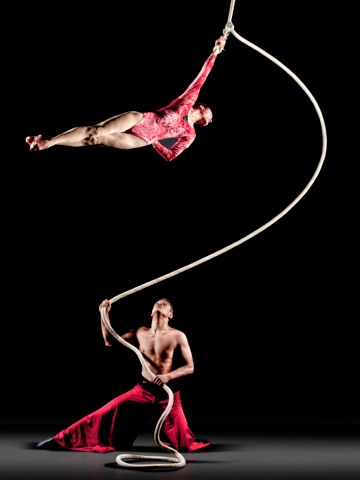 Spanish Web
Very similar in appearance to the Aerial Rope, this apparatus also entails a vertical hanging cotton-sleeved rope with a strap close to the top into which the performer fits their wrist or ankle. Performances with this prop often involve a Web Setter, who spins the rope in a circular motion so as to propel the performer into a horizontal position mid-air.

Go to top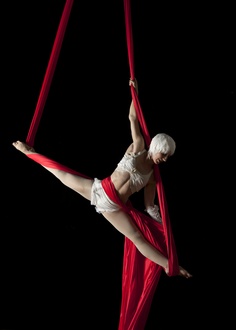 Aerial Silks (Tissu)
Vertical hanging fabric which the performer climbs and wraps around their body allowing them to perform seemingly death-defying drops. The title is misleading as the fabric involved is actually a 2-way stretch polyester lycra. The width, length and stretch of the fabric varies between performers and acts.

Go to top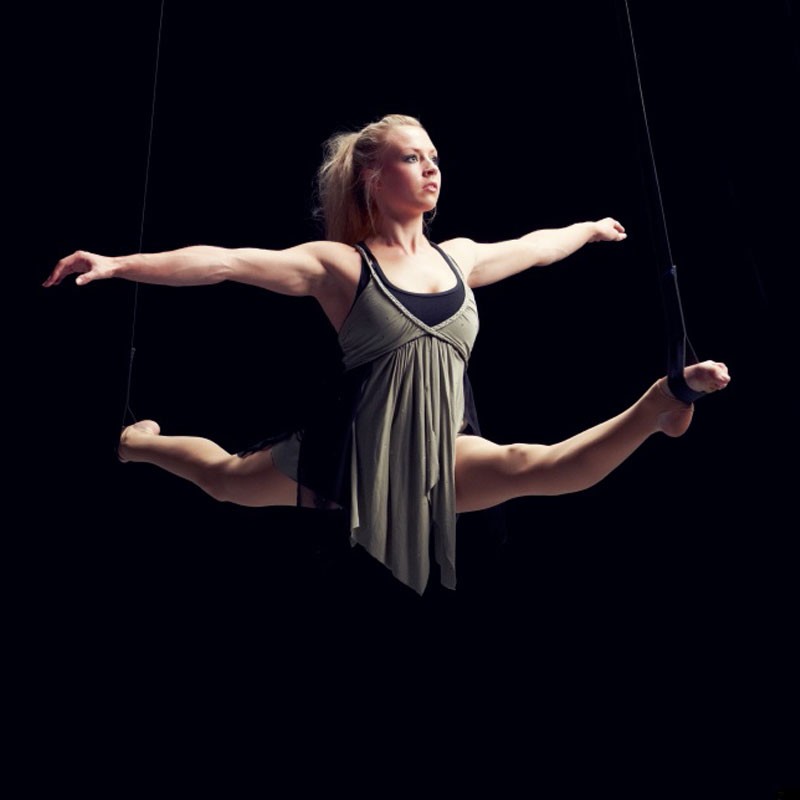 Aerial Straps
Two ribbons of nylon or cotton web suspended in the air which end in stirrup-like straps. The performer then completes various manoeuvres by slotting their hands or feet into the straps.

Go to top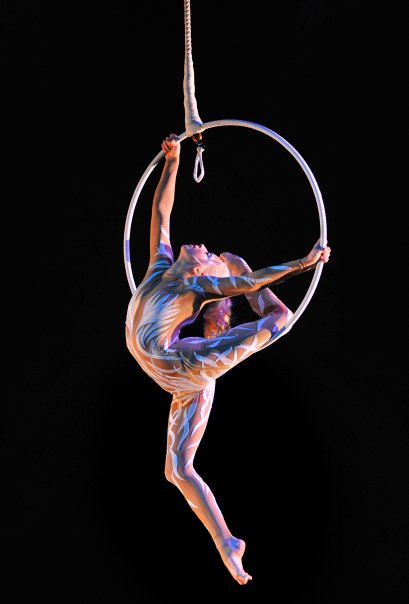 Aerial Hoop (Cerceau)
Usually made from steel, this prop remsembles a hoop which has been suspended in the air by the rigging. Some Aerial Hoops have a hand loop similar to that of a Spanish Web attached to the top of the arc for additional acrobatic feats.

Go to top
Chinese Pole
Solid poles which stand vertically allowing performers to climb, drop and perform freezes. Often covered with rubber to improve grip, and sometimes made of slightly flexible material to enable more energetic performances.

Go to top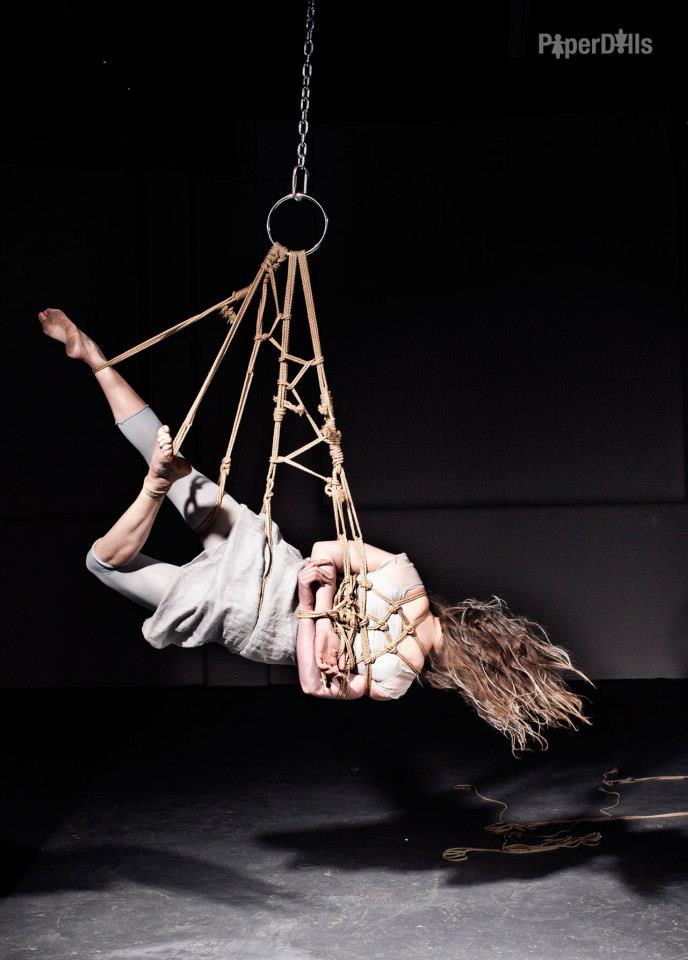 Shibari (Japanese Knot-Tying)
Shibari owes its origin to Hojo-jutsu, the martial art of restraining captives so as to demonstrate their honour and status. These methods were later adapted to lend the practice to a more artistic function as a technique of bodily suspension. The most common rope materials tend to be jute or hemp.

Go to top