Assorted Terms
Some Circus-related phrases just don't fit into a particular category. This is a list of such terms and the meanings behind them.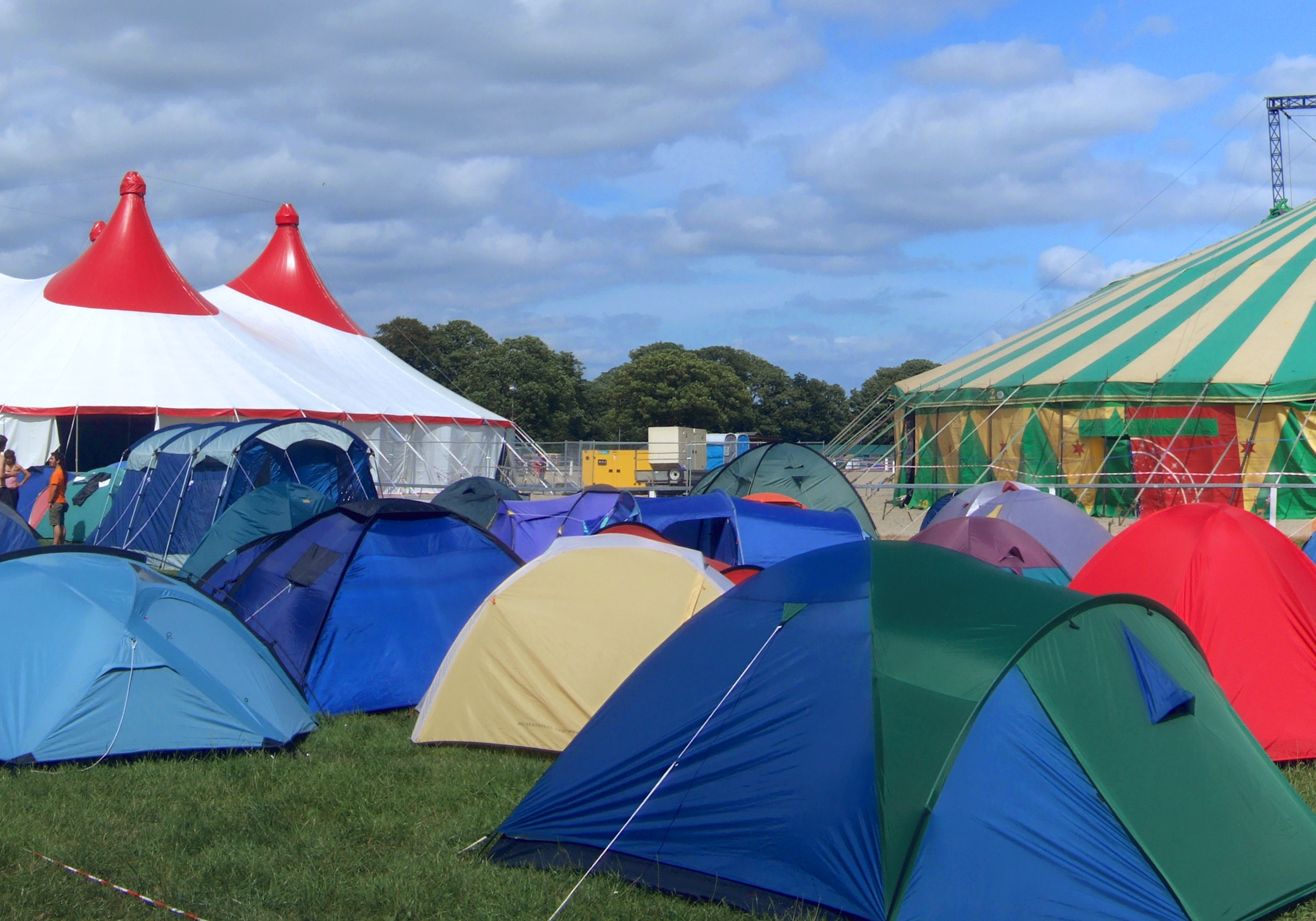 Convention
Circus Conventions tend to take place over a weekend but occassionally they can be longer, e.g. the European Juggling Convention. The usual layout is a main hall where Circus Workshops take place throughout the weekend, an outside venue for the Fire Show on the Friday night, a staged venue for the Gala Show on the Saturday night, a pub or nightclub venue for the Renegade after the Gala Show. The convention ends with Games on the Sunday afternoon followed by a Toss-up picture.

Go to top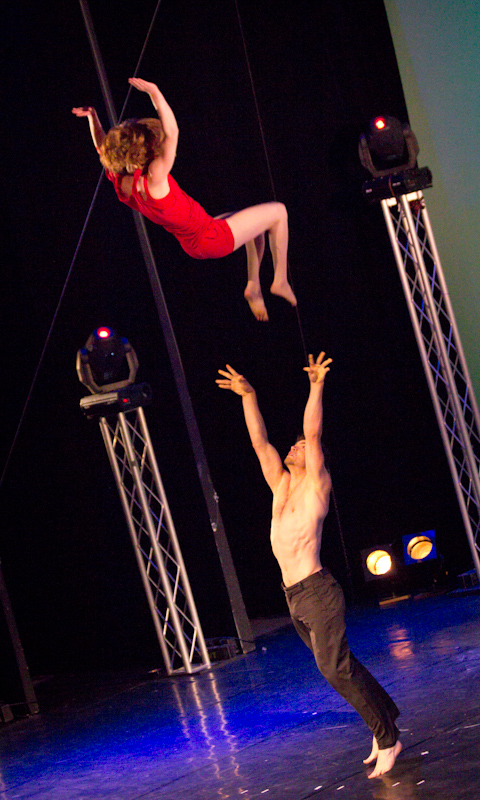 Gala Show
The Gala Show is where extreme talent and pure skill are demonstrated to an audience who, after a weekend of Workshops understand the level of talent and the hours of training on display. Artists who perform at the Gala Show are generally professional Circus practictioners and are often hired from abroad.

Go to top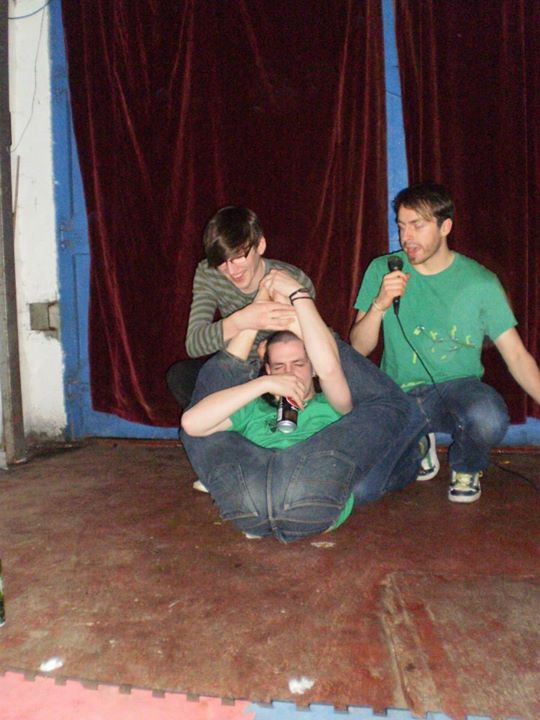 Renegade
Renegades are the drunken piss-takes versions of a Gala Show. Generally they occur after a Gala Show and are an opportunity to showcase a trick you've been working on but haven't quite perfected, some hilarious botchjob or other amateur or non-Circus-related talent you have. Every person who performs at a Renegade gets a prize; typically a shot of tequila but UCD Juggling Society Renegades have sweets instead so as to accommodate the college's alcohol policy.

Go to top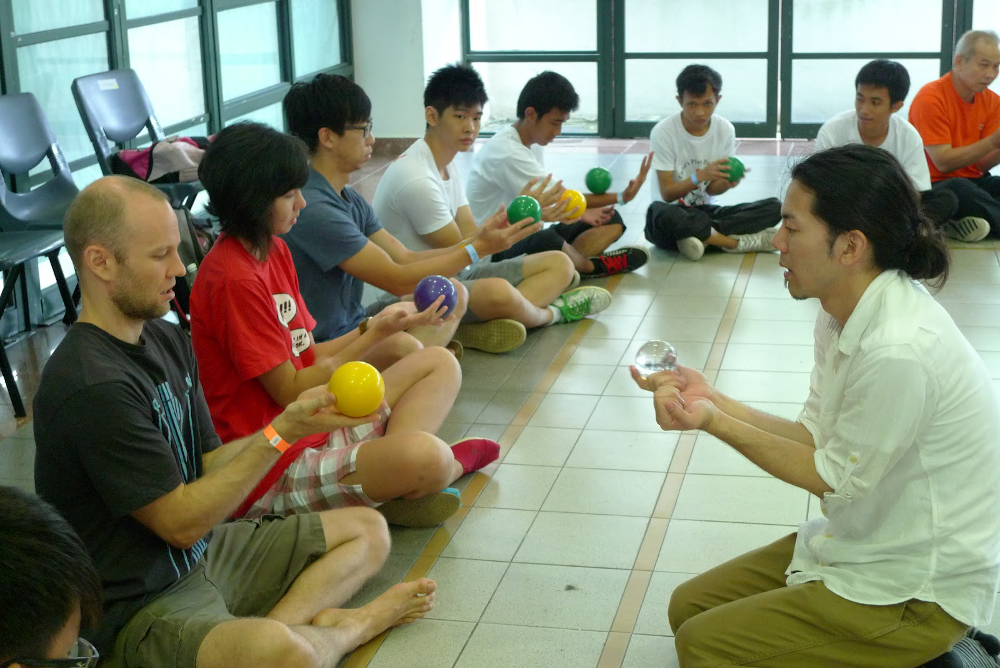 Workshop
Circus workshops are where someone who is confident in their knowledge of a particular skill offers to teach it to others in a group. Most Conventions will have a range of difficulty levels in their workshops; beginner, intermediate and experienced.

Go to top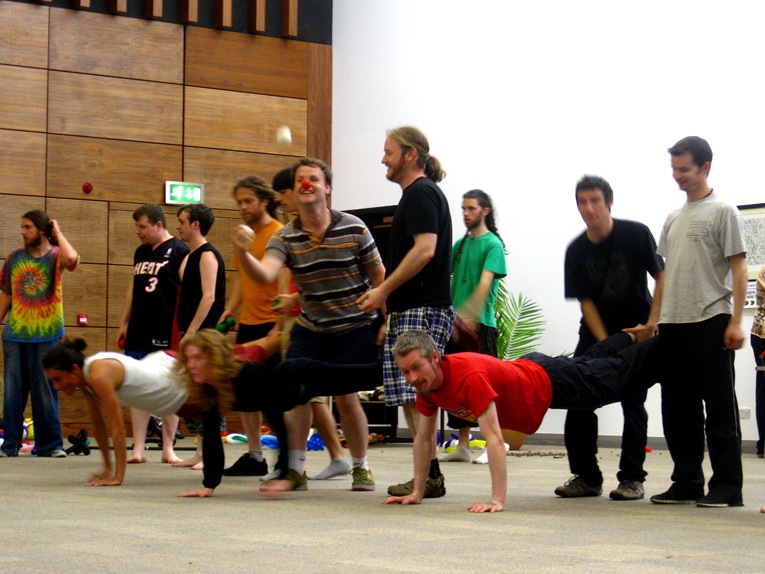 Games
Games usually take place at the end of a convention or practice. It's a fun way to wind-down and have fun with the rest of the Community. A good Convention will have both skill-based and non-skill-based Games so that even beginners stand a chance of winnning. Examples of Games played at most Conventions are Gladiators and Hula Hoop races.

Go to top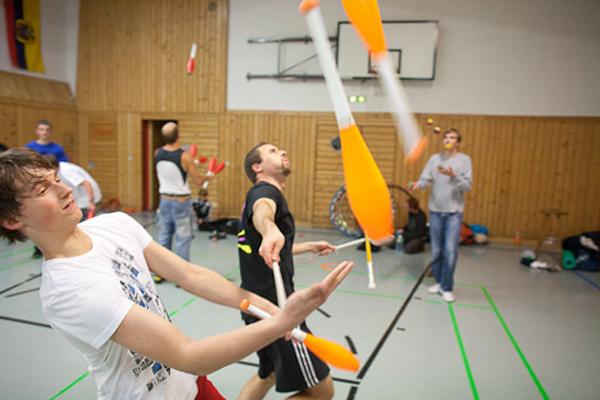 Gladiators (Combat)
You'll be made aware that a game of Gladiators is imminent when a group of club jugglers begin to pound their clubs on the ground; the faster the beat gets, the sooner it is to starting. Begin by cascading three clubs and then chase other jugglers, knocking their clubs from their control by any means necessary. The tricky part is that they'll be trying to do the same to you and if you end up juggling less than three clubs at any point then you're out. To stand a chance you need to be a proficient club juggler with an arsenal of tricks up your sleeves.

Go to top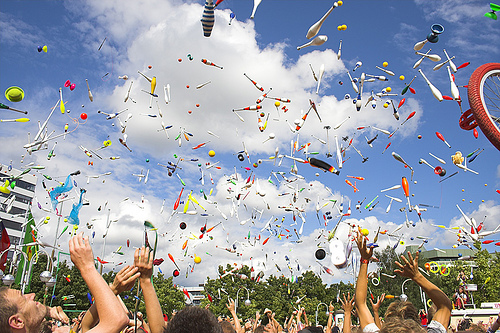 Toss-up
Toss-ups normally occur at the very end of the Convention. This is a picture taken where everyone at the Convention grabs some props and throws them up in the air. Be careful though; as any juggler knows, what goes up must come down...

Go to top
Siteswaps (Quantum Juggling)
Siteswaps are the notation used to describe juggling patterns. It determines the number of beats of each throw, which is related to their height, and the hand to which the throw is to be made. Juggling Lab is one of the best java siteswap simulators currently available. It is an application for creating and animating juggling patterns. Its main goals are to help people learn juggling patterns and to assist in inventing new ones.

Go to top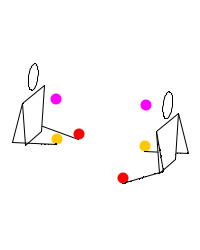 Passing (Social Juggling)
Passing is the term used to describe more than one person swapping props in a juggling pattern. It is possible with any prop and with any number of the props and any number of partcipants although it is most common to pass either 6 or 7 clubs between 2 people. There are many patterns available and passing really is only limited by your imagination.

Go to top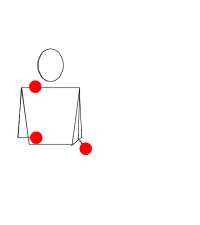 Stealing
Another type of social juggling. As the name suggests, stealing is a type of trick where one juggler takes over another's pattern, catching the props in the middle of the routine. There are many ways to do this, one of which is a takeout, where one juggler steals just one prop at a time from the pattern and later replaces it with either the same or another prop.

Go to top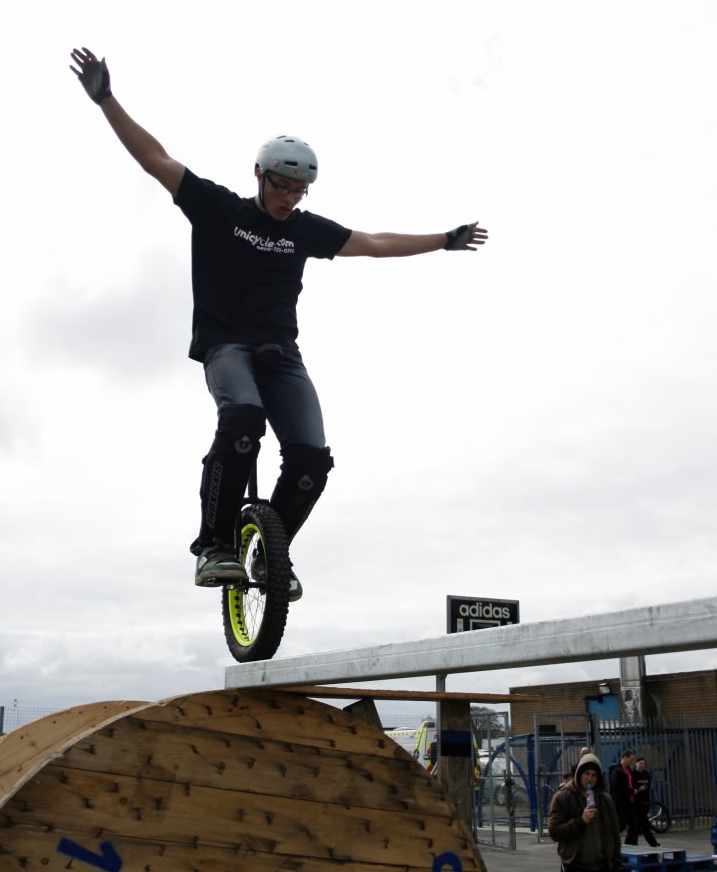 Unicycle Trials
A Unicycle Trial is an obstacle course for unicyclists. All Unicycle Conventions will have a trials course but they are rare at non-specific Conventions.

Go to top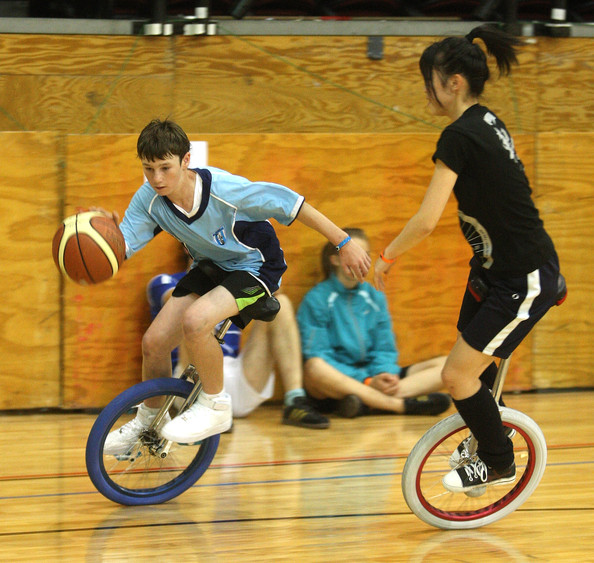 Unicycle Basketball
Exactly what you think it is; Basketball, played on a Unicycle. This is actually a pretty serious thing in some countries, with World Championship Games. The only official games held in Ireland so far have been at the Belfast Juggling Convention.

Go to top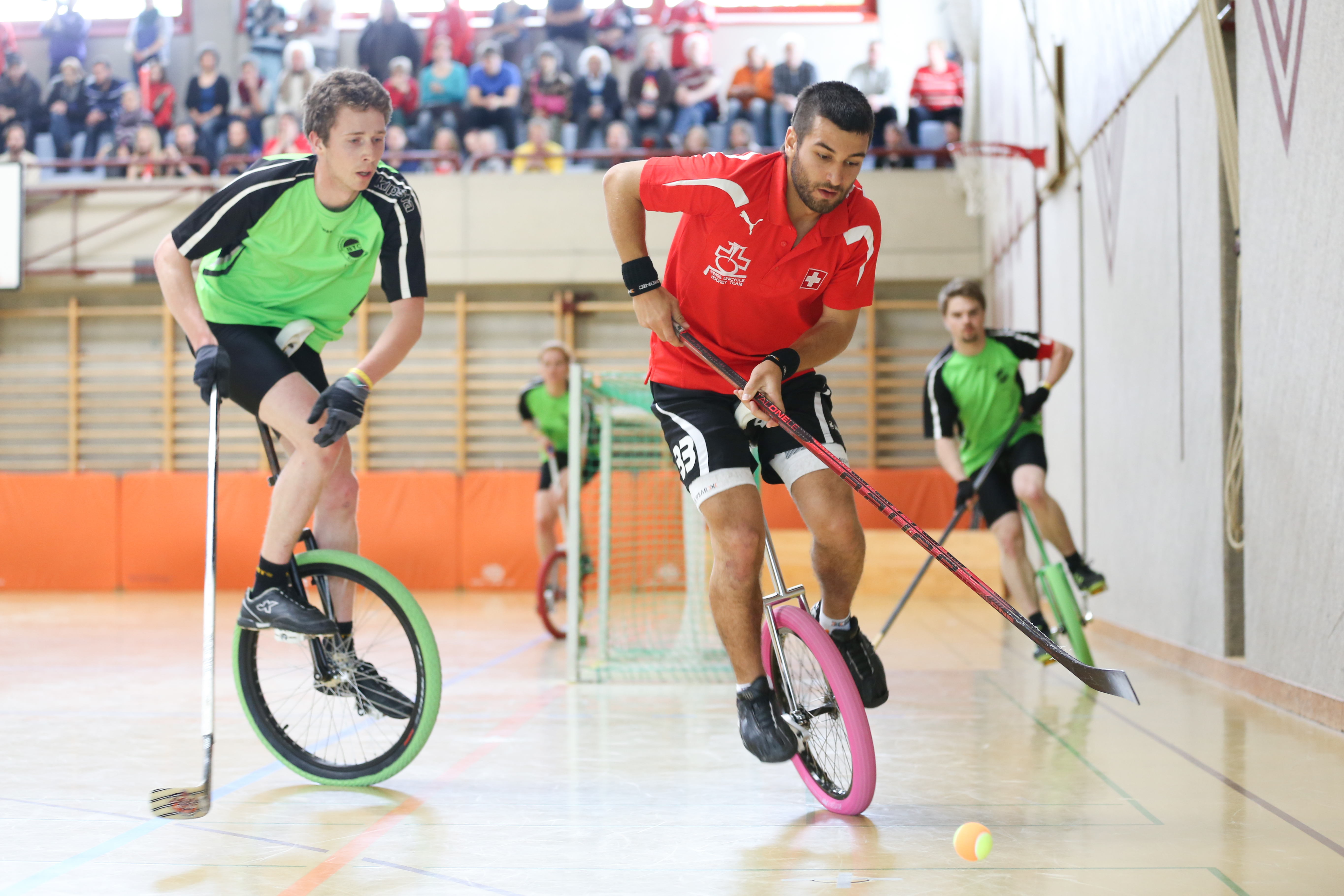 Unicycle Hockey
Yes, you guess it; Hockey, played on a Unicycle. It's similar to indoor hockey but instead of a puck you use a tennis ball. It's a high-energy, non-contact sport that'll challenge even the best unicyclist. There are active leagues in Germany, Switzerland and the UK.

Go to top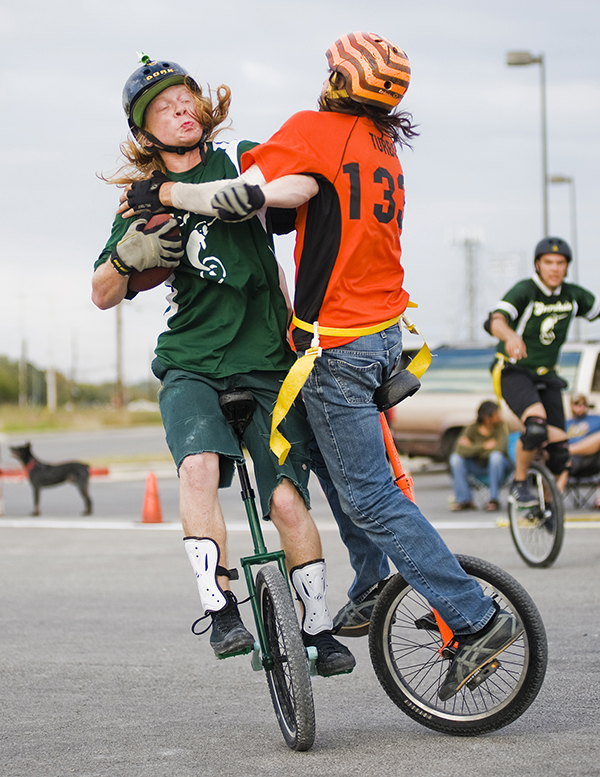 Unicycle Rugby (Unicycle Football)
The Americans seem to be responsible for this trend. Helmets are required for this apparently full-contact sport. As of yet we have not seen a match on Irish shores, but who knows what might happen?

Go to top