UCD architectural graduate wins RIBA President's Medal
UCD architectural graduate wins RIBA President's Medal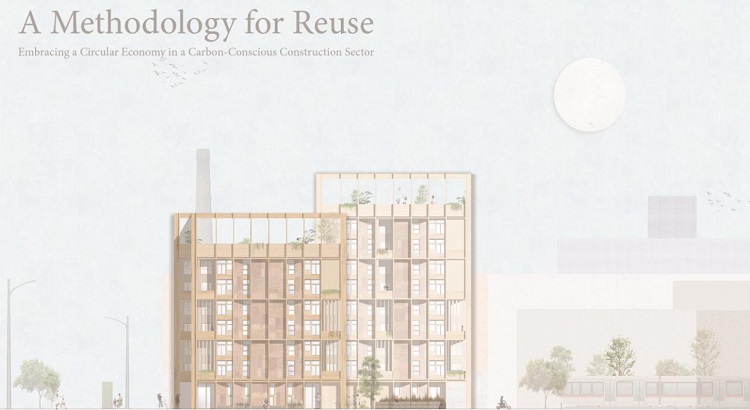 A recently graduated architectural student from University College Dublin has received a RIBA President's Medal, one of architecture's top awards for student projects.
In recognition of the growing importance of climate action in the development of architectural design, the Royal Institute of British Architects awarded Aisling Mulligan its 'Award for Sustainable Design' Part 2 for her post-graduate thesis on restructuring the construction sector towards a circular economy.
The project, entitled ''A Methodology for Reuse: Embracing a Circular Economy in a Carbon-Conscious Construction Sector', focuses on the current use of carbon-intensive construction methods and how the reuse of construction and demolition waste along with integration of low embodied energy materials such as dowel-laminated-timber could help the industry become carbon-neutral.
The concept aims to increase the length of a building's useful life by allowing for it structure and individual components to be disassembled and reused so that it can change to meet the needs of the community and its users.
The annual RIBA President's Medal awards program recognises the best architecture student projects.
First awarded in 1836, the Medals are awarded in three categories: the Bronze Medal for best design project at RIBA Part 1; the Silver Medal for best design project at RIBA Part 2; and the Dissertation Medal, written during either Part 1 or Part 2.
In addition, the judging panels of the Bronze and Silver Medals also select the winners of the Serjeant Awards for Excellence in Architectural Drawing, and of the RIBA Awards for Sustainable Design, at both Part I and at Part II.
This year the program received the highest number of project entries in its history with over 336 entries from 118 schools of architecture across 32 countries.
"I am inspired by the range of exceptional proposals with climate emergency, ethics, equity and social purpose at the heart of their investigation and problem solving," said RIBA President Alan Jones.
"The RIBA President's Medals continue to acknowledge work of the highest calibre, and technical and social relevance, essential to future architects wishing to tackle our global challenges."
Last year architectural firm Grafton Architects headed by UCD graduates Yvonne Farrell and Shelley McNamara won the 2020 RIBA Royal Gold Medal.
The renowned Irish architects are the only female partnership to have won the prestigious award in its 171-year-history.
Ms Farrell and Ms McNamara are former faculty and adjunct professors at the UCD School of Architecture, Planning & Environmental Policy.
The renowned architects were also named in March as the 2020 laureates of the Pritzker Architecture Prize, their profession's highest honour.
By: David Kearns, Digital Journalist / Media Officer, UCD University Relations
Contact the School of Architecture, Planning & Environmental Policy
Newman Building, University College Dublin, Belfield, Dublin 4, Ireland. T:
+353 1 716 7777
|
Location Map