Beijing-Dublin International College
Beijing-Dublin International College (BDIC), founded in 2012, is a joint international college established in collaboration between, and governed by, University College Dublin (UCD) and Beijing University of Technology (BJUT). It is located on the BJUT campus, conveniently situated close to the embassy and business districts in Beijing. BDIC's focus is on information, communications & technology (ICT) and finance & economics and the following degree programmes are offered:
With all core modules delivered in English, the majority by UCD lecturers who travel to BDIC to teach, BDIC provides a world-class international educational experience that equips its multilingual graduates with the talents to thrive in an increasingly globalised knowledge and technology intensive society.
Student intake is 330 per annum and typically 80% of graduates go on to Masters level study (the majority internationally) and 30% to study at universities in the Top 50 of QS rankings. All students enjoy the opportunity of short or long stay study periods in Dublin as well as exposure to Irish cultural events organised on campus at BJUT.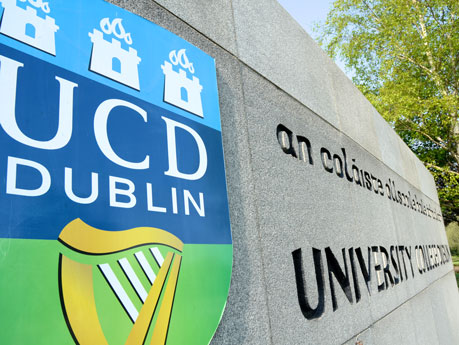 University College Dublin - Ireland's Global University
University College Dublin – UCD – is Ireland's Global University. One of Europe's leading research-intensive universities, University College Dublin was founded in 1854 and has made a unique and substantial contribution to the creation of modern Ireland, based on successful engagement with Irish society on every level and across every sphere of activity.
UCD is a research intensive university and is ranked within the top 1% of institutions world-wide. UCD is Ireland's most globally engaged university with over 33,000 students, 144 different nationalities, and international staff making up over 30% of the academic cohort.
As Ireland's largest university, with its great strength and diversity of disciplines, UCD embraces its role to contribute to the flourishing of Ireland; through the study and discussion of people, society, business, economy, culture, languages and the creative arts, as well as through research and innovation.
Beijing University of Technology (BJUT)
BJUT, founded in 1960, is a high-level multi-disciplinary research university providing programs in science, engineering, economics, management, literature, law, art and education, with engineering as a core focus. BJUT strives to cultivate first-class talent with an exploring spirit and global vision by actively exploring innovative talent training models of which BDIC is one.
BJUT is one of China's national "Double First-Class" Initiative universities. The scientific results of BJUT's research have been used in many major projects including Beijing's environmental protection mechanism, the traffic operation & management system for the Beijing Olympic Games, the construction of Beijing Daxing International Airport and the National Stadium, and the anti-seismic design for the Beijing subway system. These contributions are serving and transforming Beijing, influencing China and leading into the future.