SBFE PhD student Alejandro Vergara wins 2021 EI Young Innovator Award
Tuesday, 25 January, 2022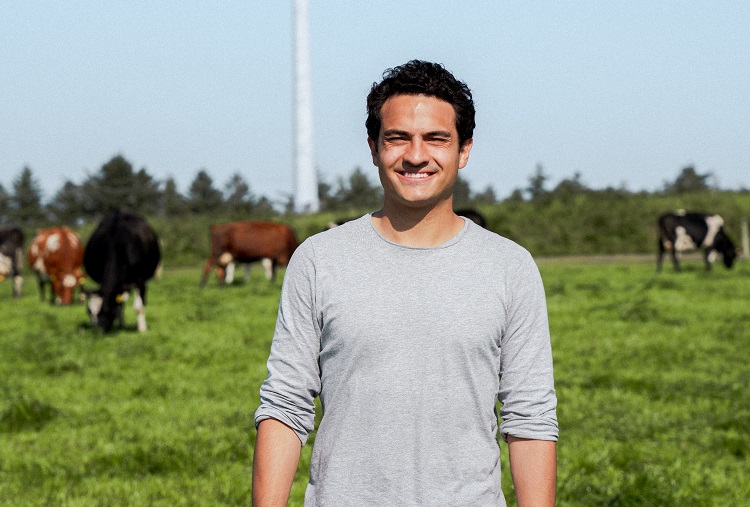 SBFE PhD student Alejandro Vergara has won the Young Innovator prize at this year's Enterprise Ireland Innovation Arena Awards.

Alejandro is the founder of Carbon Harvesters, an agtech start-up that monitors farms' emissions on a weekly basic with the aim of promoting economic climate mitigation strategies, such as monetising verified emissions reductions through the carbon offsets market.

A research assistant in BiOrbic, SFI Bioeconomy Research Centre, on the Farm Zero C project, which earlier this year won the SFI Future Innovator Prize of €2 million under the Zero Emissions Challenge, Alejandro's PhD project is part of Farm4More, an EU LIFE and Department of the Environment, Climate and Communications funded programme that aims to develop climate mitigation strategies in the dairy industry including a grass silage biorefinery.

"Winning the Young Innovator of the Year Award has been a great honour considering the history and influence that the Innovation Arena Awards has had in Ireland for the last decade," he said.

"This Award comes as a great sense of motivation and responsibility to keep developing a farmer-centric tool that increases the resilience of rural communities while helping the country achieve its climate goals."

Adding: "At a personal level, I would like to thank the support of the Farm4More and Farm Zero C projects, the UCD School of Biosystems and Food Engineering, and my PhD supervisor, Dr Fionnuala Murphy."

Announcing the 14 category award winners, Minister of State for Business, Employment and Retail Damien English, TD said: "The ingenuity and talent of Irish farm experts, entrepreneurs and businesses, is once again captured by this year's Innovation Arena Award winners."

"In line with Government policy on Climate action, the positive impacts that Irish innovation can have on future global agriculture, particularly in relation to environmental, sustainability and digitalisation solutions, are inspiring.
"There are significant opportunities for our agricultural sector in overseas markets and the potential to drive economic growth. I would encourage farmers and companies to take advantage of Ireland's reputation for agri-innovation and to explore opportunities to realise their global ambition in new markets."


Contact UCD School of Biosystems and Food Engineering
Room 303. Agriculture & Food Science Centre, University College Dublin, Belfield, Dublin 4, Ireland. T:
+353 1 716 7484
|
Location Map