Notes to Self by Emilie Pine Launched
On Thursday, the 19th of July, a large crowd gathered in the Workman's Club to celebrate the launch of Notes to Self by Emile Pine, an Associate Professor of Modern Drama and Irish Studies in the School of English, Drama, Film and Creative Writing.
A remarkable addition to the great and growing movement of literary non-fiction writing by women like Leslie Jamison, Roxane Gay, and Eula Biss, Notes to Self is one such collection from an Irish perspective that is a welcome addtion to the field. In this vivid and powerful collection of essays, Emilie Pine boldly confronts the past to better understand herself, her relationships and her role in society.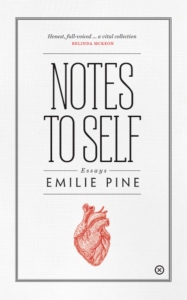 ‌
Tackling subjects like addiction, fertility, feminism and sexual violence, and where these subjects intersect with legislation, these beautifully written essays are at once fascinating and funny, intimate and searingly honest.
Honest, raw, brave and new, Notes to Self breaks new ground in the field of personal.
'Honest, full-voiced … a vital collection.' Belinda McKeon
'Do not read this book in public: it will make you cry.' Anne Enright
'Emilie Pine is a wise and talented essayist … every line pulses with the pain and the joy and complexity of an extraordinary life.' Mark O'Connell
Read reviews of Notes to Self
Irish Times — Irish Independent — The Times — RTÉ — Totally Dublin — Image
Read an Interview with Emilie Pine discussing Notes to Self