Untold Stories of the Past 150 Years Conference, April 28-29, 2017
Co-organized by Professor Linda Morra, 2016-17 Craig Dobbin Professor of Canadian Studies, and Dr. Paul Halferty, Director of the UCD Centre for Canadian Studies.
Canada's 150th anniversary of Confederation offered a pivotal moment not only to re-evaluate the dominant narratives that helped to shape Canadian national identity, but also to consider those narratives that, until recently, have been suppressed or held considerably less attention in public forums and debates. Untold Stories of the Past 150 Years was an interdisciplinary conference and forum that aimed to explore these untold stories and to nuance and complicate the record. The objective of the conference was to consider what stories about Canadian history and national identity remain untold or only partially told--and to consider why?
Untold Stories of the Past 150 Years was supported by: Bishop's University; College of Arts and Humanities, UCD; Craig Dobbin Chair in Canadian Studies; Embassy of Canada to Ireland; the Humanities Institute, UCD; and the Social Sciences and Humanities Research Council of Canada.
In this video, conference participants tell some of their "untold stories."
Link to Untold Stories Call For Papers
Link to Untold Stories Programme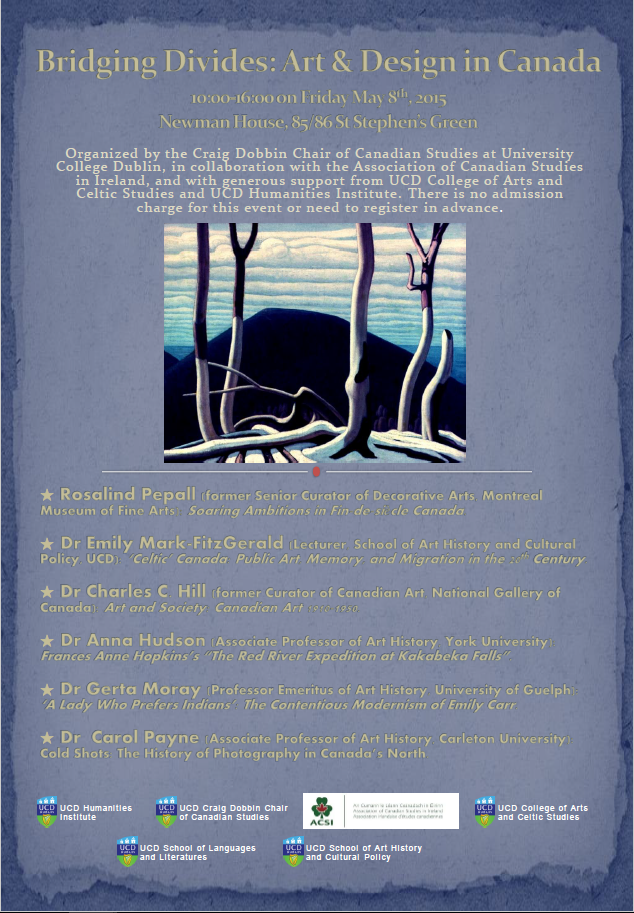 Bridging Divides: Art & Design in Canada was a one-day conference that took place at Newman House, St Stephen's Green on Friday May 8th 2015. It was organized by Professor Brian Foss,
Craig Dobbin Chair of Canadian Studies 2014-15, in collaboration with the Association for Canadian Studies in Ireland, and with generous support from UCD College of Arts and Celtic Studies and UCD Humanities Institute.
Bridging Divides' Programme (PDF)