Student Support Services
UCD Student Advisers are available on a one-to-one basis to ensure that each individual student gets the support, advice and assistance they need during their time at UCD. They offer students a space to express their concerns regarding social, personal or practical issues, and help students access other supports services where necessary.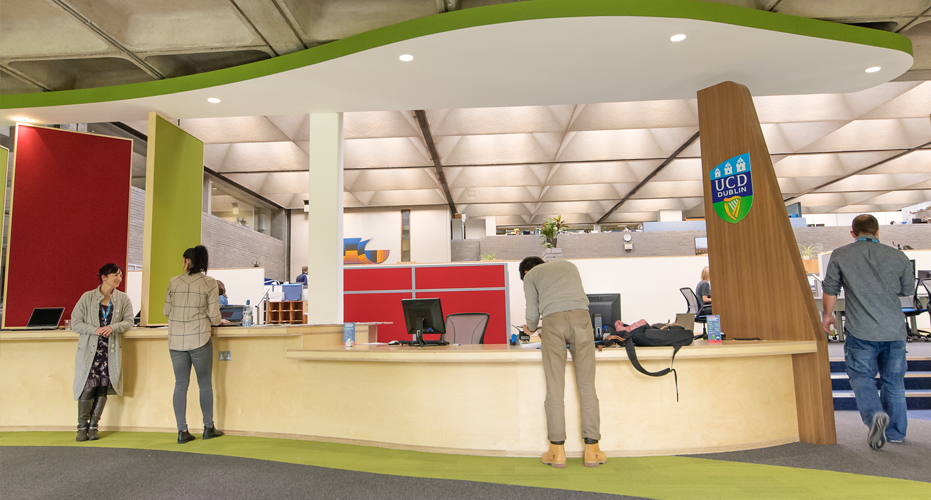 The UCD Student Union represents students' views and work on a number of university committees from all areas of university life. They can advise, support and direct students through any kind of situation in which they may find themselves.
The UCD Student Desk help students with fees, transcripts, admission queries, registration and student records.
The UCD Health & Counselling Service provide on-campus medical and psychiatric care to registered UCD students. The Student Counselling Service is a confidential counselling support service run by professionally qualified clinical psychologists, counselling psychologists and counsellors.
The UCD Access Centre fosters an inclusive educational environment and facilitates students to becoming independent learners who engage fully in college life at UCD. A range of personal and academic supports have been devised to support students with varying requirements.
The UCD Creche is located beside a beautiful woodland area in a single storey building with three gardens at its disposal to allow children explore, have fun and play games in safety. The centre operates a waiting list with priority to siblings, UCD student families, UCD staff and then members of the wider community.
UCD Graduate Admissions
University College Dublin, Belfield, Dublin 4, Ireland.
(If you are an international student please visit
UCD Global
) T:
+353 1 716 7777