IEHG and UCD host their first Virtual Grand Round on Simulation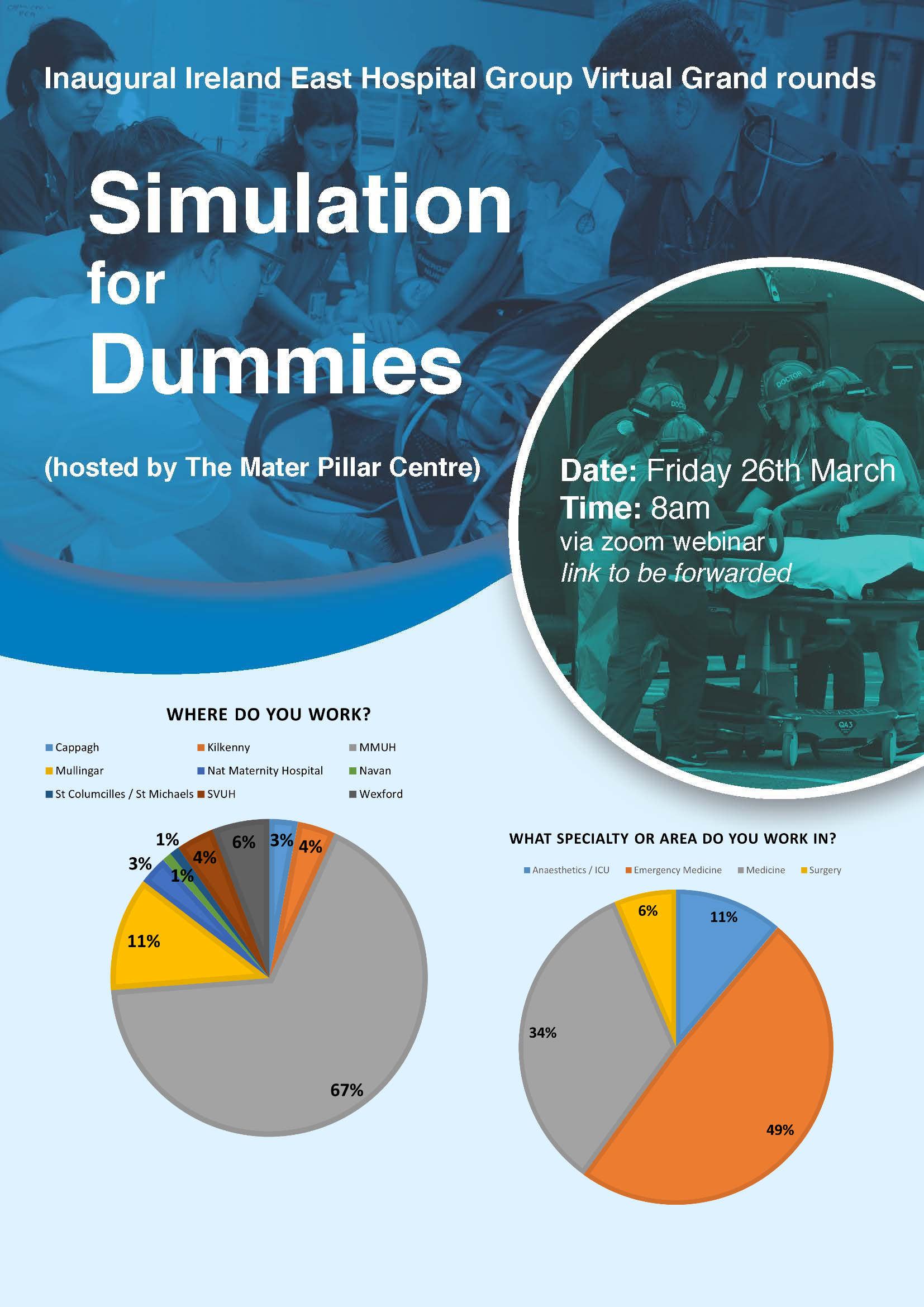 UCD Health Affairs and IEHG launched their first Virtual Grand Round, hosted by The Pillar Centre for Transformative Healthcare at the Mater Hospital on the 26th of March 2021. The Grand Round was very well attended with over 200 attendees from varying hospital groups and universities throughout the country as well as the President of the RoyalCollege of Physicians – Prof Mary Horgan.
The Grand Round focussed on simulation training in both the aviation and clinical setting with a joint presentation from Jim Gavin of Dublin GAA and the Irish Aviation Authority and Prof Dara Byrne, Director of Simulation at ICAPSS NUIG and Saolta University Health Care Group.
The talk, entitled 'Simulation for Dummies' covered the benefits of offering simulation training in both the medical and aeronautical world and the various ways it can be utilised to train healthcare staff going into the future. The Virtual Grand Round focusing on simulation was hosted by The Pillar Centre for Transformative Healthcare as it offers a unique, state of the art, interdisciplinary and multidisciplinary space for practical skills training, simulation and team based learning on the Mater campus.
Polls put to attendees during the presentation highlighted the keen interest in this area from those working in the IEHG, Dublin Midlands, UL, RCSI hospital Groups as well as a strong interest from those working in a healthcare setting in level 2 and 3 hospitals throughout the country. Polls held during the presentations also highlighted Emergency Medicine, Anaesthetics, Surgery and Medicine as the specialty areas of the majority of attendees.
'Simulation for Dummies' very successfully launched the IEHG/UCD Virtual Grand Rounds in March, with rolling Virtual Grand Rounds now planned to take place on the last Friday of each month. Virtual Grand Rounds will cover a variety of educational topics of interest to healthcare staff across IEHG and other hospital groups. The next IEHG Virtual Grand Round will be a case based joint presentation from IEHG and the South, South West Hospital Group on Ireland's first simultaneous lung and liver transplantation in the Mater hospital in 2019. There will also be case based presentations from Regional Hospital Mullingar, the National Maternity Hospital and other hospitals within the Ireland East Hospital Group in the coming months.
'Simulation for Dummies' an IEHG/UCD Virtual Grand Round is available to view now online on Vimeo https://vimeo.com/530242777