IEHG/UCD National Virtual Grand Rounds | NDTP - Investing in You, Investing in Your Career, 28th January 2022 at 8am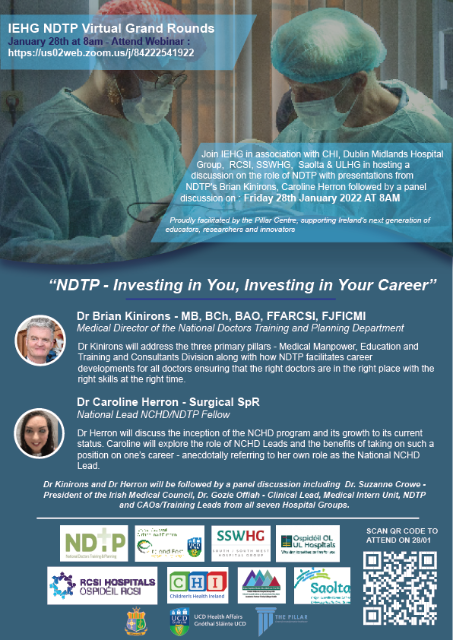 UCD Health Affairs and Ireland East Hospital Group (IEHG) NDTP are launching their sixth Virtual Grand Rounds on NDTP - Investing in You, Investing in Your Career on Friday, 28th January 2022 at 8am.
This national Grant Round will start with presentations from Dr Brian Kinirons - Medical Director of the National Doctors Training and Planning Department and Dr Caroline Herron - Surgical SpR and National Lead NCHD/NDTP Fellow.
Dr Kinirons and Dr Herron will be followed by a panel discussion which will involve Dr. Suzanne Crowe - President of the Irish Medical Council, Dr. Gozie Offiah - Clinical Lead, Medical Intern Unit, NDTP and Chief Academic Officers (CAOs)/Training Leads from all seven Hospital Groups.
This will no doubt be an engaging and informative introduction to NDTP for those who are not familiar with it and an update for those who are and will involve interesting discussion on recent changes and the future of medical training and workforce in Ireland - not to be missed!
The link for this webinar is available here (https://us02web.zoom.us/j/84222541922).
This webinar was facilitated by the Pillar Centre, supporting Ireland's next generation of educators, researchers and innovators.