CHCI – Global Humanities Institute 2023
Post-extractivist legacies and landscapes: Humanities, artistic and activist responses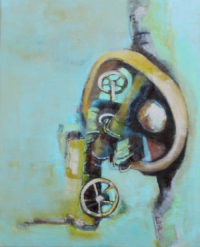 Image Credit: Over Turn_oil and mixed media on canvas_50 x 40 cm_2021_Judy Carroll Deeley
The UCD Humanities Institute has been selected by the Consortium of Humanities Centers and Institutes (CHCI) to lead a two-year prestigious Andrew W. Mellon-funded Global Humanities Institute (GHI) 2023 ($199,952).
Our project, 'Post-extractivist legacies and landscapes: Humanities, artistic and activist responses' (PI: Anne Fuchs; Co-Is: Sarah Comyn, Megan Kuster, Marek Tamm, Eeva Kesküla, Sarah Nuttall, Hlonipha Mokoena, Keith Breckenridge, Katerina Teaiwa, Kathleen Canning, and Joseph Campana; and visual artist Judy Carroll Deeley), is based on a partnership between the UCD Humanities, Earth and Discovery Institutes (University College Dublin, Ireland), the Museum of Literature Ireland (MoLI), the Centre of Excellence in Intercultural Studies (Tallinn University, Estonia), the Wits Institute for Social and Economic Research (University of Witwatersrand, South Africa), the School of Culture, History and Language (Australian National University) and the Humanities Research and Environmental Studies Centers (Rice University, U.S.A.). Additional project participants include the UCD Environmental Humanities Research Strand (Director: Dr Sharae Deckard) and iCRAG.
Comprising three strands ('methodologies', 'site studies' and 'creative responses') and generating both artistic and academic outputs, our project draws on anthropology, history, literary studies, environmental studies, bio-archaeology and activist art practice to investigate former sites of mining in Ireland, Germany, Estonia, South Africa, Oceania and the Gulf Coast of the United States. The project focuses on a transnational exploration of creative arts practices and local activism in the transition from mining to post-mining.
The project includes the three interdisciplinary institutes to be hosted by Tallinn University, UCD and the University of Witwatersrand in 2023.
We hugely look forward to working together with all our collaborators through the duration of the project from 2022-23.
If you are interested in knowing more please get in touch with us (humanities@ucd.ie; megan.kuster@ucd.ie; sarah.comyn@ucd.ie).
Projects Leaders:
Grant PI: Professor Anne Fuchs, MRIA, FBA
Director, UCD Humanities Institute
anne.fuchs@ucd.ie
Co-I: Dr Sarah Comyn
UCD School of English, Drama and Film
sarah.comyn@ucd.ie
Co-I and Project Manager: Dr Megan Kuster
UCD School of English, Drama and Film
megan.kuster@ucd.ie
Call for Papers: 'Post-extractivist legacies and landscapes: Humanities, artistic and activist responses', CHCI Main Institute 4-8 July 2023 at UCD
Submission Deadlines: 31 January 2023 (panel proposals); 28 February 2023 (paper proposals)
Full CfP details available here.