2015 News and Events
On 10 November 2015, the Chancellor of the National University of Ireland Dr Maurice Manning presented awards valued in excess of €850,000 to graduates and students of NUI. NUI honoured scholars of distinction at every stage of their academic studies, from undergraduates to senior scholars well established in their fields of expertise. Two such scholars were from the UCD School of Philosophy.
Aedamar Kirrane was awarded the Pierce Malone Scholarship in Philosophy, an award based on the corpus of written work presented by the top student for the BA (Hons) Degree examination in each of the NUI Constituent Universities.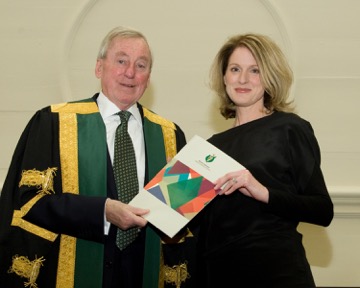 At the ceremony, the Chancellor also presented Professor Gerard Casey, Associate Professor of Philosophy, with a Doctor of Literature degree on Published Work. The DLitt degree is at the highest level awarded by the University, signifying a scholar of international distinction.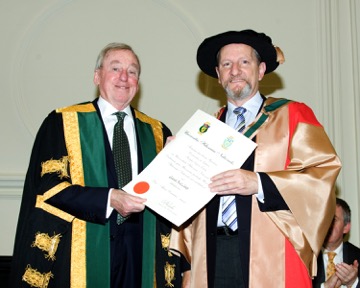 A full list of the award winners is available at http://www.nui.ie/news/2015/awards_2015_Winners_Listing.asp.
NUI 2015 DLitt conferring - Gerard Casey NUI 2015 Pierce Malone Award - Aedemar Kirrane
On 26 October 2015, Prof Dermot Moran received an Honorary Doctoral Degree of Philosophy from the National and Kapodistrian University of Athens, the highest honour in Greek academia. He delivered a public address in Athens on the philosophy of John Scottus Eriugena.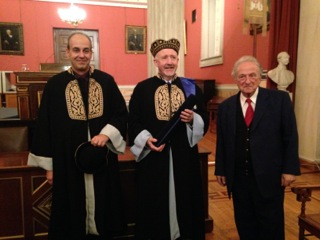 Athens Honorary Conferring 2015
On 18 October 2015, Prof Brian O'Connor discusses the philosophy of Schopenhauer on Newstalk's Talking History programme with David Berman (TCD), Christopher Janaway (Southampton), and Sandra Shapshay (Indiana). You can listen here.
In September 2015, Prof Karsten Harries (Yale) received an honorary Doctor of Literature degree from UCD.
From the UCD School of Philosophy archives, here is the famous Roundtable on Externalism with Hilary Putnam, Saul Kripke and Tyler Burge from 11 March 2007. This roundtable was part of the "Putnam at 80" conference hosted by the UCD School of Philosophy.
Another gem from our archives is the Aporo Seminar by Noam Chomsky from November 2010.

Prof Robert Brandom (Pittsburgh) was in UCD for the Summer Institute in American Philosophy 8-13 June 2015. Videos of his keynote address below.

We are pleased to announce Dr Danielle Petherbridge will be joining the UCD School of Philosophy in January as a Lecturer (above the bar) in Continental Philosophy. We are looking forward to welcoming Dr Petherbridge to the School. Congratulations!

We are pleased to announce Dr Daniel Deasy will be joining the UCD School of Philosophy in September as a Lecturer (above the bar) in Analytic Philosophy. We are looking forward to welcoming Dr Deasy to the School.
Dr Markus Schlosser was also successfully appointed as Lecturer (above the bar) in Analytic Philosophy. Congratulations to Dr Schlosser on his promotion and we look forward to him continuing his excellent contribution to the UCD School of Philosophy.
Congratulations to both!
Prof Judith Butler (UC Berkeley) and Prof Jason Stanley (Yale) gave an intimate workshop for UCD School of Philosophy in association with the Society for Women in Philosophy-Ireland on 6 February 2015. Videos below.

The conference Heidegger and "the Jews", co-organised by our own Dr Joseph Cohen in Paris on 22-25 January 2015, has received international coverage. Here are just two examples:
Coverage on ARTE tv. (http://info.arte.tv/fr/martin-heidegger-et-les-juifs)
Article in Huffington Post. (http://www.huffingtonpost.com/bernardhenri-levy/why-read-heidegger_b_6570986.html)
---
2014 News and Events
Dermot Moran, delivered an invited address, "Dialogue and Distrust: Is Intercultural Dialogue Possible?" to the Philosophy in the Public Space Conference to celebrate UNESCO World Philosophy Day, Institute of Philosophy, Russian Academy of the Sciences, Moscow, RUSSIA 20 November 2014.
Congratulations to Ken Farrell and Adam Gibbons! They have been Highly Commended for the Undergraduate Awards. Both graduated with Single Honours in Philosophy from UCD in 2014. Cited as the ultimate champion for high potential undergraduates, The Undergraduate Awards is the world's only pan-discipline academic awards programme that identifies leading creative thinkers through their undergraduate coursework.
Congratulations again to Ken and Adam on their great achievement!


Prof Philip Pettit (Princeton) was in UCD in June 2014 for two workshops organised jointly by the UCD School of Philosophy and the UCD School of Politics and International Relations, "Common Minds" and "Collective Responsibility." While at UCD, Prof Pettit also gave the keynote address of the 2014 UCD Garret FitzGerald Summer School.




Dr Charlotte Blease, IRC Postdoctoral Fellow in UCD School of Philosophy, spoke at the TEDxFulbright event in Dublin on April 5th. Her talk is entitled 'The Medicine Game: Healthcare's Dirty Secrets and What Everyone should Know about the Art of Medicine.'

TEDxFulbrightDublin comprises a full-day programme for 100 participants with 16 talks of between 5 and 18 minutes, 3 networking breaks, lunch, facilitated activities and a closing reception. Visionary, dynamic, and succinct talks were delivered by rising members, established alumni and friends of the Fulbright community based on the TED conference structure. Speakers are composed of researchers, entrepreneurs, designers, musicians, performers, and more. The video of her talk is available here.

Four UCD School of Philosophy students have received PhD scholarships at some of the top universities in the world.
Clare Moriarty (BA graduate) and Paul Doody (BA & MA graduate) received full AHRC funding to pursue a PhD at Kings College London. Claire works on philosophy of mathematics and Paul on belief and self-deception. Paul has also received an offer of AHRC funding for studying at Sheffield University's top ranked philosophy department.
Richard Teague (BA graduate) has received full funding to do a PhD at Johns Hopkins University in the United States.
Sean Murphy (MA graduate) has received full funding to complete a PhD at Indiana University in the US as well.
We wish them best of luck and will follow their progress with interest. They join the many UCD School of Philosophy students who have gone on to further study of philosophy at UCD and around the world.
Professor Dermot Moran, UCD Professor of Philosophy (Metaphysics and Logic) and President of FISP, was recently at Peking University, Beijing to sign a Memorandum of Agreement granting Peking University the opportunity to host the twenty-fourth World Congress of Philosophy in 2018.

Professor Maeve Cooke's interview/podcast on Freedom and Equality published on Friday 28th March 2014
The School of Philosophy is pleased to announced that Dr Elisa Magri will join the School of Philosophy and the International Centre for Newman Studies as the Catechetics Trust Newman Fellow in Philosophy of Religion for a two-year period beginning 1 September 2014.

Dr Elisa Magrì studied at the University of Pisa and at SNS (Scuola Normale Superiore), where she received her Ph.D in 2013 with a dissertation on Hegel's philosophy under the supervision of Professor Alfredo Ferrarin. She has been twice visiting student in Germany and has been involved in various international workshops and conferences on German Idealism. She is author of several articles on Kant, Hegel and the issues of causality, subjectivity and intersubjectivity. Her interests lie in the field of contemporary phenomenology with regard to the topic of embodiment and empathy. Dr Magri will pursue research on Edith Stein's account of empathy and its contemporary relevance for the philosophy of mind.
Elisa Magri

March. Christopher Cowley spoke at the Irish Bar Council on the subject of 'Ethics and Law'
---
2013 News and Events
Gerald Hanratty Memorial Volume. Members of the School of Philosophy have published a volume of philosophical essays in memory of their dear late colleague Dr Gerald Hanratty. Gerry was a member of the School of Philosophy until his untimely death in 2003. Entitled Human Destinies, the volume (678 pages) contains 26 essays by Gerry's friends, colleagues and former students.
The normal price of the book is €60. The book is available to Gerry's former students and other UCD graduates for the special price of €42. Information about the book, including a list of contents and information about orders, is available by following this link. Alternatively please email Prof Fran O'Rourke.
April. UCD honours world-leading philosopher Professor John H. McDowell
August. UCD philosophers are taking part in the XXIII World Congress of Philosophy. Professor Dermot Moran is the President of the Organising Committee. Please find his interview with EURONEWS about the World Congress here.
9 August. Professor Dermot Moran was elected President of the International Federation of Philosophical Societies. The next World Congress of Philosophy, where Prof Moran will be presiding, is in Beijing in 2018. Congratulations to Dermot!
Professor Brian O'Connor's interview with 3:AM Magazine on Adorno's Dialectic and so on is an interesting read.
25 October. At the Business Meeitng of the 52nd Meeting of the Society for Phenomenology and Existential Philosophy (SPEP, see www.spep.org), held in Eugene, Oregon, USA, Professor Dermot Moran was elected as Member-at-Large to the Executive of SPEP. With a membership of approximately 2500 philosophers, SPEP is the largest organisation for Continental Philosophy in the USA and in the world. It organises an annual conference (now in its 52nd year).
November. Dr Charlotte Blease recently took part in a Medicine Unboxed debate about the role of humanities within medical education. She also wrote a blog post for The Guardian about this issue.
6 November. Book Launch of Professor Patrick Masterson's new book: Approaching God: Between Phenomenology and Theology (Bloomsbury, 2013). Newman House, 86 St Stephen's Green, Dublin 2. Patrick Masterson is Emeritus Professor of Philosophy of Religion at University College Dublin. Professor Dermot Moran will introduce the book.
21 November. WORLD PHILOSOPHY DAY. Listen to Professor Dermot Moran discuss the day on Moncrieff Show on Newstalk 106FM at 2pm on the day.
29 November. Listen to Dr Joseph Cohen's discussion on RTE Radio One's 'Today with Sean O'Rourke' of 'The Last of the Unjust' - Film by Claude Lanzmann. This documentary is based on the testimony of Rabbi B. Mulmerstein who was the last of the three Deans of the Jewish Council at the Theresiendstadt Camp. It is an important documentary on the infamous Jewish councils who were obliged to "collaborate" with the extermination of European Jewry orchestrated by the Nazi regime.
---
2012 News and Events
The UCD School of Philosophy congratulates Prof Dermot Moran who has been awarded the Royal Irish Academy Gold Medal in the Humanities 2012. This award is in recognition of his outstanding contribution to the field. Prof Moran is the first philosopher to receive the prestigious award.
Dermot Moran RIA Gold Medal
Dr Joseph Cohen, UCD School of Philosophy was awarded a Chevalier de l'Ordre des Palmes Académiques. This is a French Government honour for contribution to French culture and civilization through academic work. The award was announced on July 14th by the President of France and the ceremony took place in the French Embassy in November 2012.
Joseph Cohen Chevalier de l'Ordre des Palmes Académiques
Research Funding Success 2012-2013The School of Philosophy has surpassed itself by being awarded one outgoing and two incoming IRC postdoctoral awards. In addition the School has been awarded an IRC Advanced Collaborative Research Project Discovering the "We": The Phenomenology of Sociality (PI Prof Dermot Moran 2012-13). Two postdoctoral fellows will be associated with this project.
Professor Dermot Moran of UCD School of Philosophy discusses Alan Turing and machine intelligence at the recent Euroscience Open Forum.
Prof Dermot Moran will be a partner in a major new research grant from Canada's Social Sciences and Humanities Research Council. The project entitled 'Discovering Canada's contributions to the origins of the international phenomenological movement in the Winthrop Bell papers' is in partnership with academics from the Mount Allison University (Canada), Hanover Medical School (Canada), and the Katholieke Universiteit Leuven (Belgium).
The School of Philosophy is pleased to announce the publication of The Husserl Dictionary by Professor Dermot Moran and Dr Joseph Cohen (Continuum, London and New York, 2012).
---
2011 News and Events
Dr Tim Crowley has been awarded Oxford University's prestigious Conington Prize in Ancient Philosophy and Ideas for his DPhil dissertation Aristotle on the Matter of the Elements.
Prof. Maria Baghramian has been elected as a member of the Royal Irish Academy.
UCD School of Philosophy
Fifth Floor -- 510D, Newman Building, University College Dublin, Belfield, Dublin 4, Ireland. E:
philosophy@ucd.ie