SBBS is committed to providing an accessible and welcoming workplace for all our students and staff, and to ensuring they receive the support they need to overcome any barriers they face to reaching their full potential. As a School, we are conscious that not all disabilities are physically obvious or necessarily apparent at all. If you are or feel you may be living with a disability or ongoing condition or that requires accommodation, please know you have the School's full support and can speak to any member of staff in confidence who will assist you access the supports you need. Below you will find information on these supports and other UCD initiatives to help you understand your options.
'Disability' covers a wide range of conditions. Under Irish Equality legislation, the term is broadly defined to include people with physical, intellectual, learning, cognitive, or emotional disabilities. When understood in these terms, it may not surprise you to learn the ESRI estimates about 18% (almost 1 in 5) of Irish people identify as having a disability, while the World Health Organisation's first 'World Report on Disability' places the global figure at 15%. This makes living with a disability a very normal part of the human experience and consequently of campus life. As a community, we have a responsibility to ensure that we do all we can to remove barriers which people with disabilities may face. So, bear in mind that not all disabilities are visible, and sometimes the best support you can give the people working or learning alongside you is your awareness of the inadvertent barriers which people with disabilities on campus may be presented with. It is important that we consider the needs of the entire university community in our work and create a culture of inclusion, welcoming of all diversity.
Spotlight on Universal Design for Learning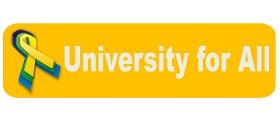 SBBS Associate Professor and Conway Fellow Dr John O'Connor recently co-edited and contributed to 'Universal Design for Curriculum Design' as part of the University for All initiative. You can learn more about University for All at https://www.ucd.ie/all/about/universityforall/. Universal Design is a responsive, principle-based approach to University Teaching and Learning that places student needs at the heart of the pedagogic process to ensure maximum participation. This open-access resource is designed to help UCD staff adapt and incorporate elements into their teaching, and is available at https://www.ucd.ie/t4cms/Universal%20Design%20for%20Curriculum%20Design%20-%20Full%20Book.pdf.
Supports for students
Any UCD student with a registered disability can avail of a range of supports through UCD's Access and Lifelong Learning Centre, including alternative exam and classroom accommodations. Advice on registering, support guides, and an overview of the main supports are available at http://www.ucd.ie/disability.

Assisting Staff
Staff at SBBS can participate in the UCD Staff Disability Network; a relaxed forum where UCD staff members come together and share their experiences and ideas for raising visibility on campus. They also provide an extensive list of links to external organisations. Visit http://www.ucd.ie/staffdisabilitynetwork/.
ConnectAbility
UCD's EDI sub-group on Disability are currently finalising this system designed to facilitate staff members in confidentially disclosing and seeking reasonable accommodation for a disability. Updates and further information to follow.
Assistive Technology
Both SBBS students and staff can avail of assistive technology to help them in their day-to-day work. These range from specialized devices such as a Livescribe pen to mobile language apps such as Grammarly. For more information, see UCD Assistive Technology at https://ucdat.wordpress.com/. Staff may consult a pilot project being run by ALL and UCD IT Services for a range of staff assistive technology options at http://www.ucd.ie/all/supports/informationforstaff/staffassistivetechnology/
Additional help and resources