UCD spin-out company ATXA Therapeutics Ltd secures €2.5 million in Horizon 2020 SME Funding
Wednesday, 13 June, 2018
ATXA Therapeutics Ltd, a University College Dublin (UCD) life sciences spin-out, which is developing novel therapeutic drugs to treat pulmonary arterial hypertension (PAH) and other related cardiovascular conditions, has secured €2.5 million in funding under the European Union's prestigious Horizon 2020 SME Instrument Programme. ATXA Therapeutics was founded by Professor Therese Kinsella as a spin-out from the UCD School of Biomolecular and Biomedical Science at the UCD Conway Institute following over 20 years of extensive research of the biology and signalling of the human prostanoid receptors in the cardiovascular disease and oncology setting.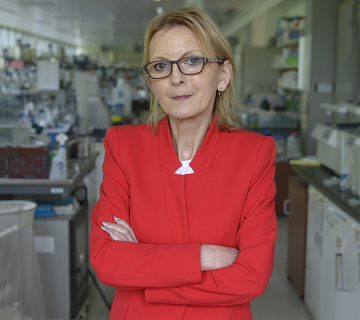 Prof Therese Kinsella SBBS Professor of Biochemistry & Founder ATXA Therapeutics Ltd
Pulmonary arterial hypertension (PAH) is a devastating disease of the lung and heart with an urgent unmet need for new improved therapies. While the condition itself is rare, affecting 15-50 patients per million of the population, it carries an enormous health burden with an annual spend of $6 billion globally on prescribed medicines alone. Securing the Horizon 2020 SME Instrument Award will be key to bringing ATXA's main drug, NTP42, closer to the market by advancing the drug into clinical development. ATXA's drugs also have potential for treatment of several other widespread diseases including a range of cardiovascular, pulmonary, renal and prostate diseases and certain cancers.
ATXA won this present funding in a highly competitive field of 1,280 applications across the EU, and was ranked within the top 1% of all applicants. The company is one of just three Irish companies to secure funding in this latest round, demonstrating the quality and global impact potential of the companies emerging from the world-class research programmes taking place at the University. UCD spin-outs have a strong track record in securing Horizon 2020 SME Instrument funding and today's announcement builds on the previous success of companies such as OncoMark and SiriusXT, spinouts from UCD School of Biomolecular and Biomedical Science and UCD School of Physics, respectively.
Professor Therese Kinsella, founder and chief scientific officer, ATXA, said, "This is a wonderful endorsement of ATXA's overall mission and validation of its achievements to date. We hope that this strong Europe-wide recognition of ATXA's overall goal of bringing a new drug to the market for PAH will go a long way in bringing other investors on-board as part of its current fund-raise campaign."
In an endorsement of her achievements, Professor Therese Kinsella was recently invited to Aras an Uachtarain for a reception celebrating female entrepreneurship.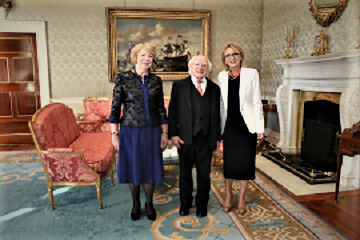 Prof Therese Kinsella at Aras an Uachtairain reception to celebrate female entrepreneurship May 2018