Beckett Country Exhibition

Biography
Samuel Barclay Beckett was born in Foxrock, Dublin in 1906. Educated at Portora Royal School, Enniskillen, and Trinity College Dublin, he accepted a post as lecteur d'anglais at the École Normale Supérieure in Paris in 1928. It was here that he first met James Joyce. He was to spend most of his future life in France. His novel Murphy was published in 1938. During the war he worked for the French Resistance, narrowly escaping arrest by fleeing to the village of Roussillon in Vichy France in 1942. It was here that he wrote the novel Watt.
Between 1949 and 1953 he wrote his best known play En Attendant Godot and his trilogy of novels Molloy, Malone Meurt and L'innommable. Beckett was awarded the Nobel Prize for Literature in 1969. He died in Paris on 22nd December 1989.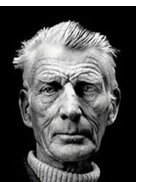 Beckett Country Exhibition
Samuel Beckett's Ireland: The Beckett Country written by Professor Eoin O'Brien provides an insight to the topographical, emotional and personal world of Samuel Beckett through the gentle exploration of landscape and character that formed the physical backdrop for much of his extraordinary body of work in prose, poetry and drama. By blending place with text, the exhibition attempts to reconstruct the relationship between the creative process and an observed reality.
This photographic exhibition entitled The Beckett Country was designed and compiled by the Department of Topography and Design at Reading University, with the assistance of James Knowlson and David Davison. It consists of 33 panels and was funded by the Arts Council of Great Britain and Aer Lingus in its Jubilee year, which coincided with Samuel Beckett's eightieth birthday. The Beckett Country exhibition was first exhibited in the Library, University of Reading in May 1986 and has since been displayed in 30 venues world wide including the New York Public library, Statten Gallery, Emory University, Biblioteca Nacional, Madrid, and the University of Leuven.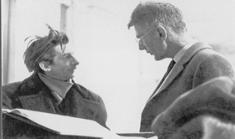 ‌
UCD Library provides a permanent home for the exhibition. The exhibition will consist of some of the original exhibition panels and also a reworking into a new format of many more of the original photographs.The exhibition will be situated on Level 2 of the James Joyce Library. Because of the exhibition's extent, all the panels cannot be displayed at once and this area of the Library has been designed to provide the exhibition with space for thematic display of the eight sections that form the exhibition.
To satisfy the academic demand for the book, UCD Digital Library has digitised the book and the original booklet for the exhibition so that both will now be available for scholarship on its website.
The Beckett Country exhibition was donated to UCD in November 2007 by Professor Eoin O'Brien. Eoin O'Brien is a cardiologist and Professor of Molecular Pharmacology at UCD's Conway institute. He is also a dedicated Beckett scholar, and the author of The Beckett Country first published in 1986 in celebration of Beckett's 80th Birthday.