The Peter Mair Library
(incorporating the Richard Sinnott collection*)
The Peter Mair Library on Comparative Party Politics is located in the Boardroom of UCD School of Politics and International Relations. This collection of books and papers formed the working (office) library of the late Peter Mair from his time at the European University Institute, Florence — his final place of work up to his untimely death in August 2011.
Peter was a renowned political scientist whose work centred in particular on political parties and representative democracy (for more, see http://en.wikipedia.org/wiki/Peter_Mair). The book collection originated in Manchester, where Peter had moved in the 1980s after his first stint at the EUI. In an unfortunate accident many of his books had been destroyed in a warehouse fire. A number of Peter's colleagues and friends clubbed together to replenish his book stocks from scratch, a measure of already just how high he was held in the esteem of other party scholars. This book collection then followed him from Manchester to Leiden and on to his final office in Villa San Felice on the hills of San Domenico just outside Florence. The collection (which also includes paper plans and drafts, project plans, and teaching notes) has now returned home to UCD SPIRe, Peter's alma mater as a post-graduate student in Politics. The Peter Mair Library was kindly donated to UCD SPIRe by Peter's family, his wife Karin and their children Cathleen, John and Tessa.
* The collection has been augmented by the gift of a selection of books on comparative politics, donated by our former colleague, Richard Sinnott (1947-2022 RIP), who was also a contemporary of Peter's. We are grateful to Richard, his wife Margaret and their children Gillian and Daniel for this generous donation.

The Library is available for access by prior appointment.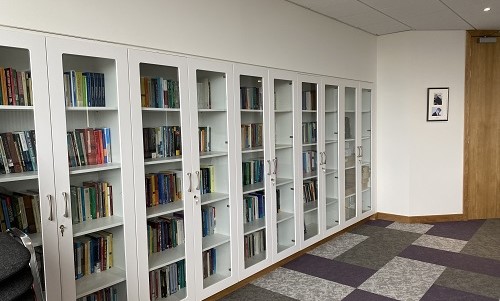 The library in its new location after the refurbishment of the 'SPIRe corridor' in 2021.
In October 2022, the School hosted a workshop in memory of Peter. The participants included a number of his former
colleagues, students and friends; Peter's nephew, Patrick, was also in attendance to represent the family.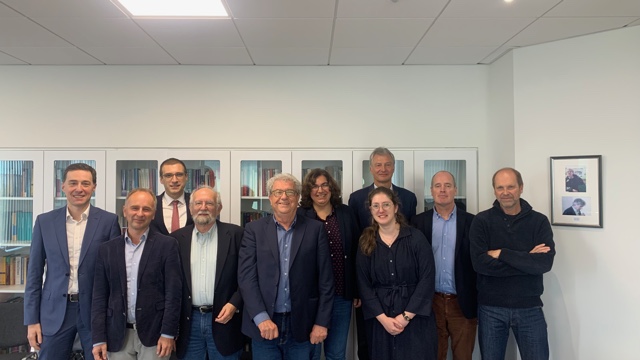 Left to right: Fernando Casal Bertoa (Nottingham), Zsolt Enyedi (CEU), Patrick Mair (Peter's nephew),
Richard Katz (Hopkins), Luciano Bardi (Pisa/EUI), Thomas Poguntke (Dusseldorf), Alona Dolinsky (UCD),
David Farrell (UCD), Paul Webb (Sussex).
A number of colleagues from Peter's past visited UCD at an event to mark the arrival
and cataloguing of the collection in 2012.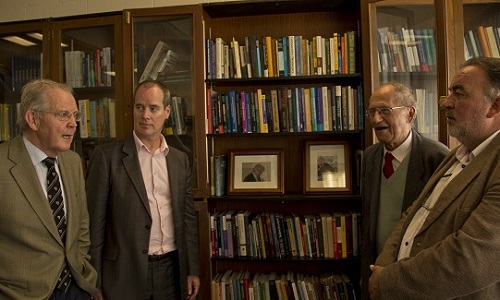 Former students and colleagues of Peter Mair (L-R): Professor Richard Sinnott (UCD);
Professor David Farrell (UCD); Professor Jean Blondel (Sienna) and Professor Lieven De Winter (Louvain)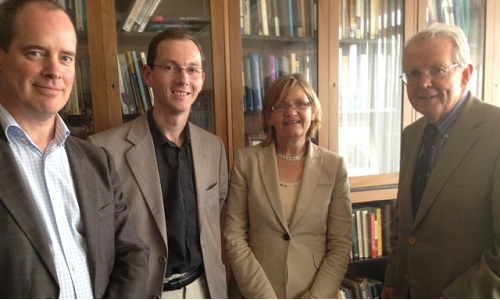 Party and comparative politics scholars examining the book collection (L-R): Professor David Farrell (UCD);
Dr Derek Hutcheson (Malmo); Professor Brigid Laffan (EUI) and Professor Richard Sinnott (UCD)