Hope Fest 2022
We are delighted that Hope Fest is returning this year to an in person event, on Saturday 10 Sep, 2022 from 12pm - 3pm in the Iveagh Gardens, Dublin 2. We will be looking for volunteers to help out on the day. Please register your interest to volunteer here
Hope Fest is an annual wellness and music event for those experiencing homelessness in Dublin, run by students and staff of UCD, in collaboration with the Dublin Lions Club and Dublin Simon Community. This event grew out of many conversations around how the university could support the homeless community in a real and meaningful way, while providing an opportunity for staff and student volunteers to engage with the wider community in a mutually beneficial way. Through consultation with the Dublin Lions Club and various homelessness organisations, it was identified that while there are many events around Christmas for those experiencing homelessness, there were no events taking place during the summer period, and isolation and loneliness for those experiencing homeless is a yearlong issue.
Hope Fest 2022 will be sure to have the a 'festival' feel, with plenty of food, various musicians and a wellness area, where guests can avail of numerous services, such as haircuts, a chiropodist and yoga!
Dip for Hope 2022
As part of this year's Hope Fest, the Dublin Lions Club organised a 'Dip for Hope' in aid of Dublin Simon, on Saturday 11th September at 11am at the 40 Foot.
UCD staff, students and friends joined us for a quick dip in the sea to help support those experiencing homelessness. You can still donate up until Hope Fest 2022 via our iDonate page.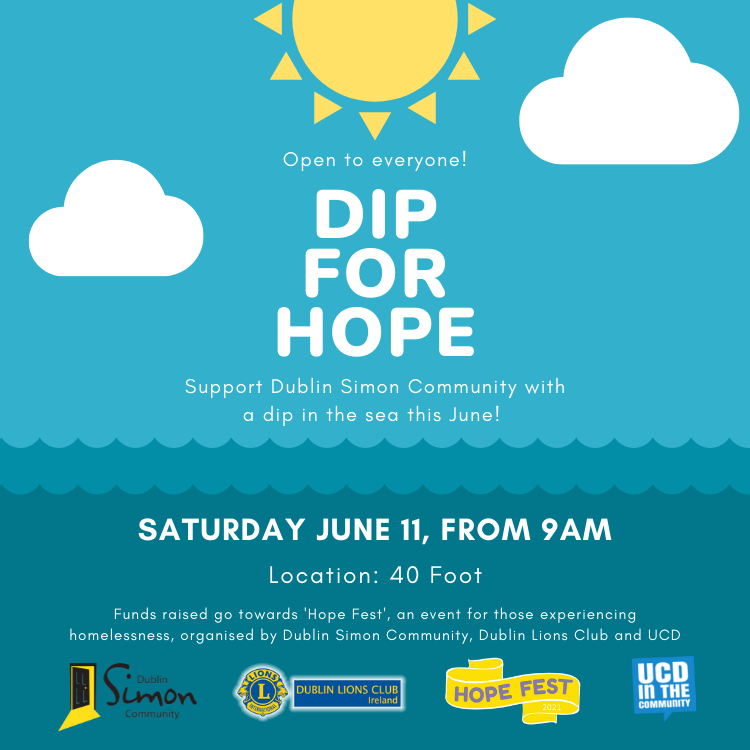 Contact UCD in the Community
Room E0.56, UCD O' Brien Centre for Science (East), University College Dublin, Belfield, Dublin 4, Ireland. T:
+353 1 716 2268
| E:
ucdic@ucd.ie