UCD Environmental Policy Researchers wins prestigious international award from American Planning Association
Monday, 11 November, 2019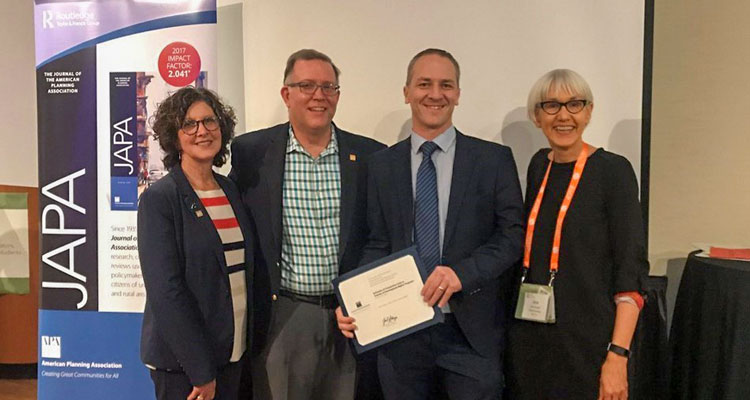 Eoin O'Neill, Associate Professor of Environmental Policy receiving the Award at the 2019 JAPA Annual Award Ceremony in Greenville, South Carolina. L to R: Deborah Lawlor (President, American Institute of Certified Planners); Kurt Christiansen, (President, American Planning Association); Eoin O'Neill (Head of School, APEP); Ann Forsyth (JAPA Editor)
A University College Dublin study tackling the financial costs of using a market-based approach to land preservation has picked up another top international prize.
The associate editors of the Journal of the American Planning Association selected the paper "Estimates of Transaction Costs in Transfer of Development Rights Programs" by Sina Shahab, Peter Clinch and Eoin O'Neill, published in JAPA in 2018, as the paper of the year.
Associate Professor Eoin O'Neill accepted the prestigious award on behalf of the authors from the American Planning Association last week at a ceremony in Greenville, South Carolina. This award comes on top of the Royal Town Planning Institute Research Excellence Award gained for the same paper last year.
Examining the transaction costs associated with Transfer of Development Rights (TDR) programs in the United States, the paper found that such schemes were hampered by a lack of information for buyers and sellers, thus thwarting the goal of land preservation.
Transfer of development rights programs have been implemented as a market-based approach to preserving farmlands and open space while redirecting future development to targeted areas.
Widespread in the USA, these schemes are often cited as superior to traditional preservation instruments, such as zoning, because their benefits are not confined to those lucky enough to have their land zoned for development.
They found that, excluding the initial public-sector costs of establishing the programs, total transaction costs ranged from 13 percent to 21 percent of total TDR costs per transaction and were largely borne by the private sector.
The UCD study concluded that planners can work to reduce transaction costs by better constructing TDR programs and providing greater information on TDR sale prices and potential buyers and sellers.
Contact the School of Architecture, Planning & Environmental Policy
Newman Building, University College Dublin, Belfield, Dublin 4, Ireland. T:
+353 1 716 7777
|
Location Map