UCD graduates named as two of Ireland's five new Cultural Ambassadors
Thursday, 10 January, 2019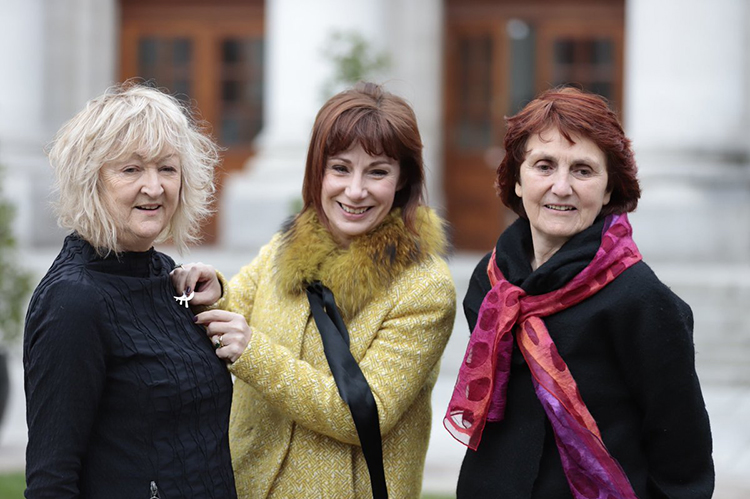 Minister Josepha Madigan, center, with Irish architects Yvonne Farrell and Shelley McNamara
Architectural graduates Yvonne Farrell and Shelley McNamara have been appointed as Ireland's new Cultural Ambassadors.
The RIBA prize-winning duo, who are adjunct professors in UCD School of Architecture, Planning and Environmental Policy, are among five high-profile figures from Ireland's arts and culture community to receive the honour.
Founders of Grafton Architects, the University College Dublin graduates were the first ever Irish architects to be selected as curators of La Biennale di Venezia - considered to be the world's greatest exhibition of architecture.
Minister for Culture, Heritage and the Gaeltacht, Josepha Madigan revealed Ireland's new Cultural Ambassadors, naming actress Ruth Negga, musician Martin Hayes, poet Paul Muldoon to the position alongside Yvonne Farrell and Shelly McNamara.
"Ireland's artists have been outstanding ambassadors for the country, since the era of the creative genius of Shaw, O'Casey, Synge, Yeats and Beckett," said Minister Madigan.
"We greatly appreciate each Cultural Ambassador's acceptance of the role. In continuing to do what they do best, they will be among Ireland's greatest representatives globally."
The ambassadors' first event is a conference of cultural stakeholders in Dublin on 24 January which will discuss and debate how best to advance Ireland's global visibility and strengthen global relationships.
The five new Cultural Ambassadors will all hold the role for a period of three years, with the aim of promoting Ireland globally as part of Global Ireland 2025.

The initiative seeks to double Ireland's global footprint by 2025 through a mix of cultural, diplomatic, business, education and tourism actions.
McNamara and Farrell are winners of numerous international prizes including the 'World Building of the Year' award at the World Architecture Festival 2008 for their 'Via Guglielmö Röntgen' building at the Bocconi University in Milan.
The renowned Irish architects were awarded UCD's highest honour, the Ulysses Medal, at the end of last year for their outstanding global contribution to the world of architecture.
By: David Kearns, Digital Journalist / Media Officer, UCD University Relations
Contact the School of Architecture, Planning & Environmental Policy
Newman Building, University College Dublin, Belfield, Dublin 4, Ireland. T:
+353 1 716 7777
|
Location Map