2019 UCD Conway Festival gold medal for PhD student Dwayne Byrne
PhD student, Dwayne Byrne has won the 2019 UCD Conway Festival gold medal for his work to understand how motor neurons work and why they stop working in particular neurodegenerative disorders.
Dwayne is part of a research team based in UCD Conway Institute under the supervision of Conway Fellow,
Assistant Professor Niamh O'Sullivan
in UCD School of Biomolecular & Biomedical Science. He is currently working in the laboratory of Dr Craig Blackstone at the National Institute of Neurological Disorders and Stroke in Bethesda, Maryland, USA as part of a collaborative project.
Winner of the 2019 UCD Conway Festival gold medal, Dwayne Byrne pictured with his doctoral supervisor, Assistant Professor Niamh O'Sullivan.

Motor neurons are the nerve cells that connect the brain to muscles in the body. In this way, the brain can signal muscles to control movement, speech and breathing. In hereditary spastic paraplegias, long motor neurons which control leg muscles, degenerate over time. Patients suffer with progressive weakness and spasticity of the lower limbs, eventually needing a walking aid or wheelchair. There is no cure or preventive treatments currently.

"Hereditary spastic paraplegias (HSP) are most commonly caused by mutations in genes that shape a part of the cell called the endoplasmic reticulum. I am looking at a newly identified HSP-causing gene called Arl6IP1. We think this gene plays an important role in how lipids (fats) are stored and transported in motor neurons. I am using both a human cell line and the common fruit fly, Drosophila melanogaster in the laboratory to look more closely at this HSP-causing gene", explains Dwayne Byrne.
Dwayne was awarded the gold medal sponsored by
Cruinn Diagnostics
at the closing ceremony of the 2019 UCD Conway Festival of Research & Innovation.
Professor William Gallagher, Director, UCD Conway Institute congratulated Dwayne and nearly ninety other early career researchers from across UCD Conway Institute who presented their research during the two-day event.
"Dwayne's work is an excellent example of the high calibre research being carried out within the Institute on fundamental processes that underpin devastating conditions such as HSP. The insight that this work provides will hopefully bring us a step closer to therapeutic options for patients in the future.", said Professor Gallagher.
The judging panel for the 2019 UCD Conway Festival gold medal comprised plenary speakers, Prof. Albert Tenesa, University of Edinburgh; Prof. Donald Patrick McDonnell, Duke University School of Medicine; Professor William Gallagher, Director, UCD Conway Institute; Professors Ulla Knaus and Denis Shields, UCD School of Medicine.

Dwayne competed against four other early career researchers who were also category winners in the moderated poster presentations. They are pictured with Dwayne below (left to right) Meritxell Baocutrona and Romina Silva (Personalised & Translational Medicine category); Cara Yelverton (One Health category) and Dr Ariane Watson (Underpinning Biosciences Research category).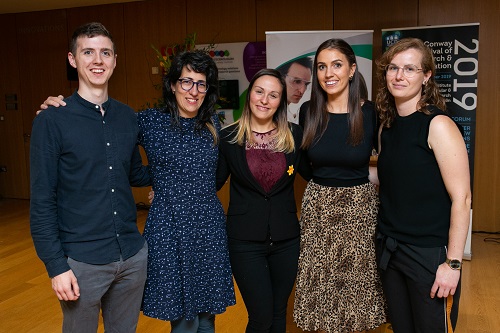 The annual event also featured a session for early career researchers on open, responsible research, which included a keynote lecture from Kora Korzac, eLife Community Manager. The discussion forum on this topic that followed included contributions from the panel comprising Natalie Harrower, Director Digital Repository of Ireland; Patricia Clarke, Health Research Board & Co-Chair of the National Open Research Forum; Dr Allison McIntosh, Science Foundation Ireland.
Panel of patient and public judges assessed the quality of plain English research abstracts by researchers in the UCD Conway Engagement Badge poster competition. Winners included PhD students Ailis Moran, Eve O'Reilly and Aoife Cosgrave.