Patients inform National Cancer Survivorship Survey
The sixth patient involvement event by the UCD-led initiative, The Patient Voice in Cancer Research (PVCR) was jointly hosted by the National Cancer Registry of Ireland (NCRI) in University College Dublin on the 10th April 2019.

More than seventy patients took part in the workshop to give their input to the design and circulation of a large nationwide survey to capture the unmet needs of cancer survivors. The results of this research will also help the NCRI develop methods on how to best capture the cancer patient experience on a routine basis.

A number of patient support and advocacy groups as well as charities attended the event; facilitated by journalist, Claire O'Connell. They included CanCare 4 Living; ARC Cancer Support Centres; Purple House; WigWorld, OvaCare, Cancer Trials Ireland, Irish Cancer Society, Lymphodeoma Ireland, Europa Donna Ireland, Marie Keating Foundation and Men Against Cancer.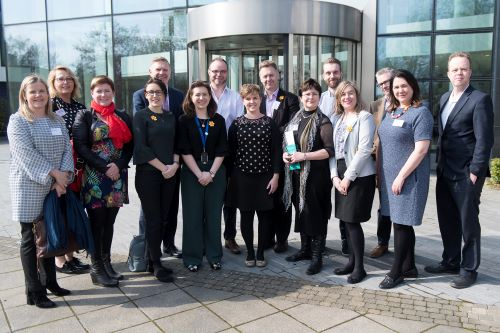 Workshop facilitators from the National Cancer Registry of Ireland and Irish Cancer Society pictured with Professor Amanda McCann (4th from right, front row).
Professor Amanda McCann, Director of the UCD Centre in Translational Oncology and PVCR Chair, welcomed the participants and the NCRI team led by Professor Kerri Clough, Director. Professor McCann outlined that this event was taking place exactly three years after the first PVCR event on cancer survivorship.
At that time, patients and their families highlighted the need for a shift in focus to this issue and having regard for quality of life issues, coping strategies and supports for the many people now living with cancer. She expressed her gratitude and that of the PVCR committee that the unmet needs of cancer survivors will now be the focus of a nationwide discussion.

This report highlights the key findings from the workshop.

The NCRI has also produced a brief policy response document to address the issues raised at the workshop, which is available for download.
About The Patient Voice in Cancer Research (PVCR)
The Patient Voice in Cancer Research (PVCR) is an initiative to actively engage cancer patients, cancer researchers and other interested parties (patient advocates, families, carers, healthcare professionals, policy-makers and those with an interest in cancer research) in discussions and decision making processes, which positively impact on cancer research and outcomes for patients.
About the National Cancer Registry of Ireland (NCRI)
The National Cancer Registry Ireland (NCRI) is State Agency based in Cork and funded by the Department of Health. It was established in 1991 to collect information about patterns and trends in cancer in Ireland. To do this they record all new cases of cancer and primary treatment by working in partnership with all public and private Irish hospitals. This work helps to plan and evaluate cancer policies and services and facilitates research. The NCRI also contribute to international cancer survival research to monitor how Irish cancer outcomes compare to other countries. An important aspect of the work of the NCRI's work is that they aim to capture every single cancer patient so that they can monitor how the health system works for everyone.