Irish Centre for Research in Applied Geosciences (iCRAG)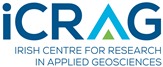 The UCD School of Earth Sciences is the lead participant and host for the Irish Centre for Research in Applied Geosciences (iCRAG), one of only 16 National SFI Research Centres. iCRAG is supported by Science Foundation Ireland, Geological Survey Ireland and industry partners, and brings together expertise from eight major research institutions. iCRAG comprises a team of more than 100 researchers creating solutions for a sustainable society. The centre's main aims are to develop innovative science and technologies providing a better understand the Earth's past, present, and future and how people are connected to it, and to drive research in areas that are critical to society and the economy, including:
Sustainable discovery of energy resources and raw materials required for decarbonisation.
Security and protection of groundwater and marine resources.
Protection of society from Earth's hazards, including coastal erosion, flooding and landslides.
Address key issues at the interface of the earth and human systems, including societal aspects of geohazards, earth system change, and earth resources.
These research challenges are underpinned by iCRAG's work in enabling methodologies, such as geophysics, geochemistry and 3D modelling.
Led by the UCD School of Earth Sciences, iCRAG partner institutions include Trinity College Dublin, Dublin Institute for Advanced Studies, University College Cork, National University of Ireland Galway, Maynooth University, Dublin City University and Teagasc.
iCRAG is funded under the SFI Research Centres Programme and is co-funded under the European Regional Development Fund.