Irish Centre for Research in Applied Geosciences (iCRAG)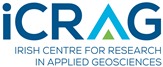 The UCD School of Earth Sciences is the lead participant and host for the Irish Centre for Research in Applied Geosciences (iCRAG), one of only 12 National SFI Research Centres: iCRAG conducts applied research in groundwater, hydrocarbons, marine geoscience and raw materials, as well as in geochemistry, geophysics, 3D modelling and Public Perception and Understanding.
Geoscience underpins the discovery of raw materials, water and energy resources that are critical to the world's economy. With increasing demand and diminishing supply, focused innovations in geoscience are of paramount importance globally. Ireland is home to Europe's largest zinc mine, untapped hydrocarbon resources in challenging NE Atlantic deep water environments, and a diverse geological framework with important untapped seabed and groundwater resources. Forming an integrated team of internationally leading researchers and both large- and small-scale industry partners, iCRAG will carry out research to find and harness these resources whilst protecting the environment. iCRAG's overarching objectives are:
To significantly de-risk Ireland's offshore and onshore hydrocarbon and mineral resource exploration, thereby increasing exploration activities and also increasing the potential of sourcing a secure supply.
To ensure safe and secure groundwater supplies and to address geoscience related 'quality of environment' issues.
To engage with citizens and policy makers to explain the nature of resource related industries.
Led by the UCD School of Earth Sciences, iCRAG partner institutions include Trinity College Dublin, NUI Galway, University College Cork, NUI Maynooth, Dublin Institute for Advanced Studies and Teagasc.
iCRAG is funded under the SFI Research Centres Programme and is co-funded under the European Regional Development Fund.