Transnationalising the Humanities: PhD Network
We would like to invite doctoral researchers working on topics with a transnational dimension to join the TNH PhD Network. We aim to build a community among postgraduate students and to provide academic support. If you are interested in future events and activities, please reply to tnhphdnetwork@gmail.com with a brief description of your research.
Follow us on Twitter @PhdTnh
Members:
School of Art History and Cultural Policy: Prolet Decheva, Bronwen Gulkis, Beke Mchunu, Pooja Sastry
School of Classics: Mike Norris
School of English, Drama and Film: Lauren Cassidy (Chair), Suchismita Dattagupta, Clare Ní Cheallaigh, Deborah Schrijvers, Mathieu Bokestael, Thinley Chodon, Taylor Follett, Bernadette Fox, Harriet Idle
School of Irish, Celtic Studies and Folklore: Fiona Lyons
School of Languages, Literatures and Cultures: Bianca Rita Cataldi, Maika Nguyen
School of Music: Tomos Watkins
School of Philosophy: Kelly Louise Rexzy Agra
TNH PhD Network - committee report for Q1 2021 available here.


22 May 2023 | Roundtable on Migration
Collaborative event by the TNH PhD Network and Minorities and Philosophy (MAP) UCD Chapter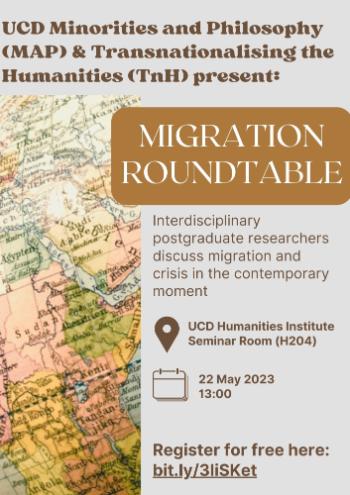 Topic: Initially, the motivation for the event was to touch upon themes related to the Ukraine crisis and the consequent reception of refugees. However, reflecting on migration is a more general and encompassing phenomenon not only restricted to the European reality. The questions on the topic touch upon an extremely wide spectrum of disciplines.
Format:The event will take the form of an open conversation between members of the TNH PhD network and members of MAP. At the start of the event, the participants will start from a previously agreed upon set of questions. The plan is then to open the floor to participants and attendees so that everyone can chime in as they please.

Goal:It is completely appropriate to have questions to which we lack answers. This will be the most likely outcome given the complexity and delicacy of the issue. The goal is not to have answers but to have people share their intuitions from the point of view of their research interests and what they are familiar with.

Download poster HERE


TNH PhD Network meeting schedule:
Next meeting: TBC
Email tnhphdnetwork@gmail.com for Zoom link
Read TNH PhD Network Blog Posts below:
Please visit our TNH PhD Network blogging site.