Former Yugoslavia

By Paul Lowe
The photographic coverage of the disintegration of Yugoslavia and the series of civil wars and territorial conflicts that ensued marks a key phase in the development of the 'journalism of attachment' (Bell, 1998). Photographers were indirect and direct witnesses to atrocity, and various parties in the conflict used their images in journalistic, propagandistic and legalistic contexts. This raises important ethical questions about the role of the photojournalist; are they news gatherer, news interpreter, human rights advocate or a combination of all of these? Because of their long-term nature, the Balkan wars also raised serious questions in the minds of many practitioners about the efficacy of the visual. Even if genocide can be visualised and thus known, does that spur the viewer to take action to prevent it? The rallying cry of the Holocaust of 'never again' sounded very hollow by the end of the 1990s.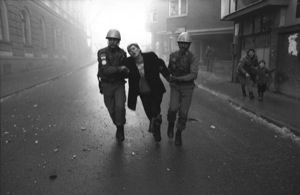 Paul Lowe/Panos
United Nations peacekeeping soldiers from Egypt help an injured woman running from the scene of an explosion in the centre of Sarajevo.
Select Bibliography
Uncertain Paths to Peace: Gilles Peress's online interactive narrative about the immediate post war situation in Bosnia: http://www.nytimes.com/specials/bosnia/
Blood and Honey : Ron Haviv's work on the former Yugoslavia: http://www.photoarts.com/haviv/bosnia/test.html
Bell, M. (1998) " The Journalism of Attachment", in Kieran (ed) Media Ethics. London: Routledge, 15-22.
Haviv, R. (2000) Blood and Honey. New York: Umbrage Editions.
Knight, G. (2002) Evidence: The Case against Milosevic. New York: demo.
Norfolk, S. (2005) Bleed. Manchester: Dewi Lewis.
Pellegrin, P. (2002) Kosovo: The Flight of Reason. London: Trolley Books.
Peress, G. (1994) Farewell to Bosnia. New York: Scalo.
Peress, G. (1998) The Graves. New York: Scalo.
Peress, G., E. Stover and F. Abrahams (1999) A Village Destroyed, May 14, 1999. Berkeley: Human Rights Watch.