ENGAGE 2020 GRAND FINAL
The ENGAGE Seminars are an annual science communication competition, hosted by the School of Biomolecular and Biomedical Science in University College Dublin, in which late-stage PhD students present their own PhD research to a public, non-specialist audience.
In March 2020, fourteen PhD & MSc students participated in internal heats, adjudicated by invited lay-judges. Six students qualified to compete in the Grand Final of which four participated. The final was held at 7pm on Wednesday 11th November 2020, through a live zoom webinar with an online audience of approx 300.
The ENGAGE 2020 Grand Final was hosted by Dr. Craig Slattery, Academic Coordinator for the UCD School of Biomolecular & Biomedical Science Public Science Communication module. The overall winner was selected by a panel of invited lay judges. The final event was open to anyone to attend.
The winner of the ENGAGE 2020 Grand Final was Beatriz Gil and the Runner Up was Rebecca Ward.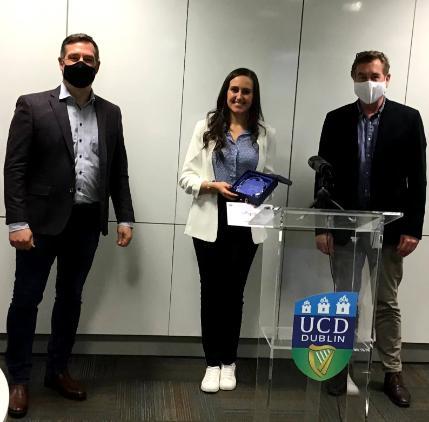 Beatriz Gil, winner of ENGAGE 2020 pictured with Dr Craig Slattery (l) and Prof Wim Meijer (r)
Below is a summary of each of the four finalist's presentations: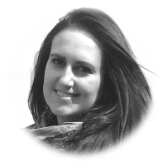 Could Cannabis change the war on Alzheimer's disease?
by Beatriz Gil (Supervisor: Assoc Prof Caroline Herron)
Alzheimer's disease is the most common cause of dementia as we age, affecting over 50 million people worldwide. It is an insidious disease that depletes the person's sense of self and diminishes their ability to remember. It is not reversible and has no effective treatment at the moment, which has an enormous impact in the patients' life, their families, the care system and the global economy. The anti-inflammatory and neuroprotective effects of the Cannabis sativa plant have led researchers to study its medical potential in diverse neurological disorders over time. In the lab, I'm using non-psychoactive cannabinoids, similar to CBD, to improve the electrical connectivity between neurons and restore memory deficits associated with the disease.
"The Shape of Water - how tides affect bacteria levels in Dublin sea swimming zones" by Jayne Stephens (Supervisor: Prof Wim Meijer)
Bathing water zones or swimming areas are monitored all year for bacteria levels, to ensure health and safety to the public under EU law. The detection of the presence of faecal pollution in swimming areas is vital regarding public health risks. It is very important to identify where contamination is coming from to avoid these events happening again. Identification of faecal pollution sources can be difficult because contamination from livestock and seabirds exists in these rural areas. This study focuses on 'poor' and 'excellent' categorized swim areas: The Brook Beach, Portrane and Balcarrick Beach, and Donabate. This study focuses on what drives the changes in faecal indicator organism (FIO) levels and looks at the where faecal pollution comes from, as there are public health risks associated with poor water quality. The team conducted a transect study for each beach over a 12 hour tidal cycle, commencing at high tide sampling every 30 minutes; following the tide out and back in again. E. coli, intestinal enterococci, somatic coliphages and Clostridium perfringens spores were cultured from all samples and their levels analysed. To detect human, seagull, ruminant, dog and horse faecal contamination microbial source tracking (MST) was used. Based on results found, a third study to determine the levels of FIO entering and leaving the estuary depending on tide and whether this could impact the FIO levels in these waters was carried out in Rogerstown estuary. Current data found that FIO levels vary by one order of magnitude on both Portrane and Donabate beaches at the compliance points however further up on Portrane beach a pattern with tide and rising levels of FIO can be seen. Both beaches presented all MST markers indicating that bathing water is a complex environment which requires further study. The estuary study indicates a clear tidal impact from the estuary on FIO levels on Portrane bathing water which may be responsible for events of high bacterial levels on occasion.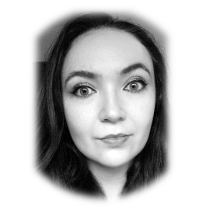 Taking the stress out of cancer, a radical approach?
by Jasmin McCaul (Supervisor: Asst Prof Craig Slattery)
Oxidative stress (ox. stress) happens when there is an imbalance of free radicals and antioxidants in your cells and is known to play a part in several diseases such as diabetes and cancer. Cells have a built-in stress-response called the Nrf2 pathway, which senses ox. stress and starts a series of events to reduce the effect on your cells. However, some cancer-causing substances can alter the pathways in your cells that normally respond to ox. stress.
This work aims to determine whether increasing Nrf2 stress response can protect normal cells against cancer-causing agents. We use normal cells which are treated with a drug to increase the Nrf2 stress-reducing response before we expose the cells to different cancer-causing agents. We then checked how the cells look using microscopes, whether they are alive and how they act by checking if they can invade like cancer cells.
Our work suggests that the good effects of increased Nrf2 depends on the type cell (normal or cancerous) and type of carcinogen.

Plenty more fish in the sea – but can they help us cure blindness?
by Rebecca Ward (Supervisor: Prof Breandan Kennedy)
Inherited retinal diseases are a group of sight-threatening conditions associated with many emotional, social and economic costs for the individual and their families. These diseases occur as a result of defects in genes which are crucial for vision. Over 271 genes have been linked to an inherited retinal disease, making the study of these disorders extremely difficult.
Have you ever heard 'carrots are good for your eyes'? Well, there is some truth to this as carrots are a rich source of Vitamin A which is essential for healthy vision. Vision relies on the eyes' ability to recycle vitamin A to detect light from the outside world. Cones are important light sensing cells in the back of the eye responsible for daytime vision. Death or dysfunction of cones can occur due to defects in vitamin A recycling and lead to irreversible blindness. We are using zebrafish to investigate how cones recycle vitamin A and mediate vision under bright light conditions. Zebrafish eyes and genes are similar to humans.
To date, we have blocked cone vision and vitamin A recycling in zebrafish without inducing cone death. Using this approach, we have uncovered new and exciting insights into cone vision. Understanding how we see during daytime is essential to develop urgently needed, sight-saving therapies for inherited retinal diseases.