UCD Civil Engineering school hosts outreach activity for US students
Tuesday, 3 October, 2017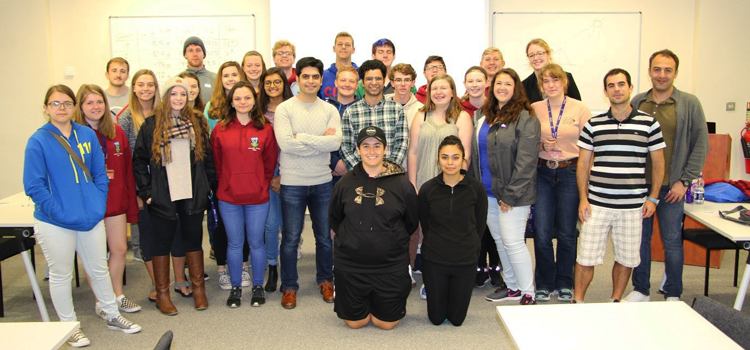 UCD Researchers from the TRUSS ITN group participated in an outreach activity hosted by UCD Civil Engineering School for high school students from the US this past summer.
The activity is part of a series of interactive workshops within the UCD High School Summer Program. The Summer school lasts for 15 days, and it consists of an Irish studies course and a variety of field trips and social activities, with the key features:
For students entering 11th or 12th grade who are 16 or 17 years old
Pre-college Program for academic and cultural enrichment
Irish History and Culture course presented by UCD faculty
Faculty-led immersion days in Business, Science, Engineering and Architecture
Small course size – maximum enrolment is 50 students
Certificate presented to students on completion of the program
On-campus accommodation in your own room
A variety of field trips, interactive workshops and social activities
Students must be aged 16 or 17 at the time of the program
Further details about the programme can be found here: http://www.ucd.ie/international/study-at-ucd-us/what-can-i-study/summer-programmes/summer-high-school-programmes/
UCD researchers from the School of Civil Engineering involved included Daniel Martinez, Loreto Manriquez, Abdollah Malekjafarian, Peter McDonnell, Hamid Gharibi and Ehsan Moradabad.
In relation to the interactive engineering practical workshop organised by the Civil Engineering School, it was titled "structural engineering challenge". The participants were divided into 5 teams of 4 or 5 members each. The objective of each team was to design and construct an efficient scaled beam structure, from a limited supply of materials, to carry the highest load possible over a given span. The best structure had to make ingenious use of balsa wood to carry compressive loads and string to carry tensile loads. These concepts were first explained by Abdollah prior to the design and construction phases, and reinforced by the demonstrators while helping the teams. Once the structures were built, they were then loaded until collapse. The winning structure was the one achieving the highest ratio of mass carried to the mass of the structure itself (self-weight).
Watch the video and learn more here: http://trussitn.eu/esr-assists-students-structural-engineering-challenge-ucd-summer-high-school/
Contact UCD School of Civil Engineering
University College Dublin, Newstead, Belfield, Dublin 4, Ireland. T:
+353 1 716 3201
|
Location Map