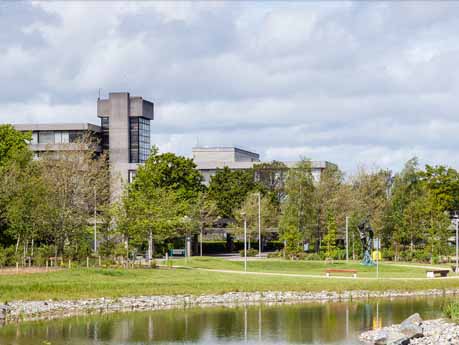 The UCD School of Classics is the largest centre of Classical studies in Ireland. It has over three hundred undergraduate students, a strong body of postgraduate students, and a full-time teaching staff of eight. It offers programmes in Greek and Roman Civilization, Greek, and Latin at undergraduate level. There is also an MA in Classics, which can be taken either full-time (one year) or part-time (two years). The School involves students in archaeological projects and study tours in Greece and Italy.
The School possesses a Classical Museum which was established by Henry Browne, Professor of Greek from 1909 to 1922. It contains a representative collection of Greek vases, Roman pottery, Cypriot antiquities, sculpture, Greek and Roman coins and inscriptions, and miscellaneous materials. The collection is used extensively for teaching, and it is also visited by students from other universities, from local schools, and by visiting academics. Located in the Newman Building, it is the largest collection of Classical antiquities in Ireland.
The School has an active outreach programme and maintains close links with the Classical Association of Ireland, the Irish Hellenic Society, and the Irish Institute of Hellenic Studies at Athens. We are always happy to answer questions from the general public.
Dr Alexander Thein
Head of School
UCD School of Classics