News and Events
2020
TRAVEL GRANT
A grant of €300 is available to support an undergraduate student planning to visit Classical sites in Greece or Italy in 2020. The money was generously donated by a former student.
Any student who would like to apply for the grant should send a brief account of the proposed travel to Prof. Michael Lloyd, UCD School of Classics (michael.lloyd@ucd.ie) by 31st March 2020.
The award will be made on the basis of the quality of the proposal, which should include the applicant's reasons for visiting the proposed sites. If two or more applications are of equal merit, then the award will be made to the applicant with the highest current GPA.
2019
The Classical Museum Seminar Series
Please join us for the 2019 Museum Seminar Series at 5:30pm, Tuesday 12 November in the UCD Classical Museum (K216). Dr Amanda Kelly (UCD) will be presenting on Contacting the Dead, through the medium of White Ground Lekythoi, and there will be a small reception to follow.
The Museum Seminar Series aims to increase research within the museum and the UCD School of Classics with a series of presentations on topics that range from museum artifacts to cultural heritage.
Please RSVP via email (kaylin.bednarz@ucd.ie).
All welcome!
The next seminar in the Museum Seminar Series will be on Tuesday 3rd of December, at 5:30pm. Further details TBC.
UCD Classics Research Seminar
Please find a list of UCD Classics Research Seminar dates for Trimester 1, 2019-20, as follows:
8th October 2019: Christopher Farrell (UCD), 'Xenophon's Mania: women and learning the "kingly" art'
5th November 2019: Ahuvia Kahane (Trinity), 'Shadows and time: Homeric dolichoskion and the nature of temporality in the ancient world'
19th November 2019: Lisa Hau (Glasgow), 'The "Fragments" of Polybius compared with those of Duris and Phylarchus: were they all "tragic" historians?'
26th November 2019: Jonathan Davies (Maynooth), 'Bursting the bubble: "barbarian" historians and Greek historiography'
All seminars are at 5.30 on Tuesdays in the School of Classics seminar room (K217 Newman Building, UCD, Belfield).
All interested parties are welcome.
For further information contact Prof. Michael Lloyd K215, School of Classics, University College Dublin, Belfield, Dublin 4, Ireland.
September 2019 - Graduation
Congratulations to all who graduated on Wednesday 4th and Thursday 5th of September 2019.
Eric Espejo, Latin and GRC
Kate Moller Doyle, Latin
Chiara Morgan and Susan Kelly
Eleanor Kellett and Lea McClenaghan
Dr Hong Xu (PhD Classics) with her supervisor Assoc. Prof. Philip de Souza
Dr Hong Xu (PhD Classics) with supervisor Assoc. Prof. Philip de Souza and husband Fiachra Keegan
Congratulations to Dr Eoghan Finn
Congratulations to Dr Eoghan Finn who successfully defended his PhD thesis viva on the 22nd August 2019. Dr Finn is pictured below with Dr Jon Coulston.
UCD Festival 2019
The UCD Festival was held on the 8th of June this year. A big thank you to the Roman soldiers who returned this year and had a great presence outside O'Reilly Hall. Many thanks to Dr Jo Day who organised the 'Greeks, Romans and Egyptians' event in the Classical Museum. Thanks also to everyone who helped out on the day. We look forward to next year's festival.
Very Many Thanks to Tasneem
The School bid farewell to Interim School Manager, Tasneem Filaih. We would like to express our deepest gratitude and appreciation, and wish Tasneem great success in her future endeavours.
UCD Classical Society Inaugural Lecture
The Inaugural lecture was held on the 25th April 2019 and was attended by many of our alumni, students and staff. Prof. Andrew Wallace-Hadrill (University of Cambridge) gave a very interesting lecture entitled 'Arcana imperii: soft power and the secrets of the Augustan Revolution'.
Congratulations to Lisa Murnane and Oscar McHale
The Bachelor of Arts Stage 2 Scholarship and Patrick Semple Medal were awarded to
Lisa Murnane for Greek and Roman Civilisation and to Oscar McHale for Latin. Both were invited to the University awards ceremony in the O'Reilly Hall on the 8th March. Congratulations to Lisa and Oscar!
Access Classics
We were excited to launch our new initiative Access Classics this term. The programme allows academic staff from UCD's School of Classics to offer workshops/indicative talks to secondary schools and institutions for further adult education. The aim of Access Classics is to work closely with each school to determine and deliver the best option for working with teachers and students to grow the discipline, delivering support to teachers and students, by helping to create teaching resources and talks on topics in Ancient History, Classical Civilisation, Greek and Latin languages, and the on-going impact of Greek and Roman civilisation on the modern world. We also can arrange visits to the UCD School of Classics Museum or even bring parts of our museum collection to your school.
Special thanks to the team who pioneered the pilot programme for Access Classics this semester, Dr Bridget Martin, Ms Tasneem Filaih and Dr Christopher Farrell.
The Classical Museum Seminar Series
The Classical Museum Seminar Series continued in 2019. The themes that were explored during the semester ranged from Latin funerary inscriptions to the First Scientific Mummy Unwrapping Ceremony. Many thanks to our former Assistant Curator Kaylin Bednarz who has continued to co-ordinate this event.
2018

Conflicting Chronologies in the Pre-modern World Conference

The Conflicting Chronologies in the Pre-modern World: Measuring Time from Antiquity to the Middle Ages and Renaissance was held on the 4th and 5th of October 2018. The conference was co-organised by Dr Helen Dixon & Dr Rebecca Stephenson (UCD School of English, Drama, Film & Creative Writing) & sponsored by the UCD College of Humanities, Humanities Institue, and the School of Classics.
Further information on the conference and keynote speakers, Professor Stephen Heyworth (University of Oxford) & Professor Roy Liuzza (University of Tennessee), can be found on the website.
The International Ancient Warefare Conference 2018
The conference took place in University College Dublin from 27-29 June 2018. Keynote Speaker: Nick Sekunda, University of Gdansk.
Further information available on the website
A full list of participants and abstracts is also available on the conference blog
‌
Museum News

We are always delighted to have visitors to our Classical Museum. Our Curator, Dr Joanna Day welcomed Kaylin Bednarz who joined her as assistant curator last term. Dr Day has completed her exhibition, Daily life in Rome, which is open to visitors. Congratulations to Kaylin whose article, which is based on the Loom Weights in the museum, was published in Trowel entitled, "Fruit of the Loom: Five Weights in the UCD Classical Museum".
We welcomed Phoebe Nolan as our new assistant curator in Semester 2 who extended our Ancient Egypt exhibition within our museum which has allowed for the inclusion of a bronze figurine, a ceramic scarab, and the section of mummy linen.
UCD HR's Culture and Engage's Paul Fitzgerald produced this wonderful virtual tour of our museum after attending a tour with museum curator Dr Stephen O'Brien.
The Classical Museum Seminar Series began this term. Co-ordinated by our former assistant curator Kaylin Bednaz with the support of Dr Stephen O'Brien, which aims to increase research witin the museum and the UCD School of Classics with series of presentations on topics that range from museum artifacts to cultural heritage.
Student News
Pictured above Dr Alexander Thein, Denise Griffin & Dr Martin Brady.
We were happy to join Classics' student Denise Griffin who was awarded the Callaghan Scholarship awarded to the highest preforming student in the languages of Greek or Latin. The School would like to extend our many congratulations to her.
IIHSA Study Tour 2018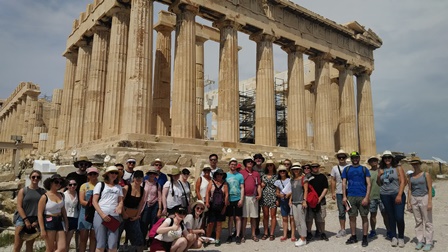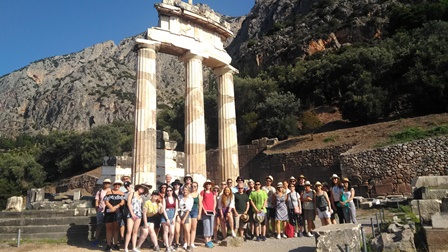 In 2018 were delighted to have a fully subscribed tour to the Irish Institute of Hellenic Studies, Athens, Greece. For more information on the Study Tour to Greece please click here.
UCD Open Day
We welcomed prospective students at the University's Open Day, Saturday, 4th, Novemeber. We joined our colleagues across the College of Arts and Humanities in O'Reilly Hall where we provided advice and guidence on the wonderful courses we have to offer in the School of Classics. We were joined by staff and students from the School who were able to give first hand advice on the day. Thank you to those who supported us on the day.
Classical Society Inaugural Lecture 2018
This year we had the pleasure of welcoming our Alumni, students and the staff to our wonderful inaugural lecture. It took place on the 19th, April hosting 163 people. We were joined by Prof. Paul Cartlege who gave a lecture entitled Gender & Sexuality in Ancient Sparta: An other view?
UCD Festival 2018
Our brave Roman warriors were out in full force for UCD's Festival that took place June 9th. The University hosted over 15,000 people at this wonderful event that took place under a canopy of spectacular weather. Our museum was also open to guests to take shade and view our magnificent collection.
Congratulations to Eleanor Kellett
‌
C‌ongratulations to School of Classics' Eleanor Kellett on winning a BA Stage 2 Scholarship for her excellent performance in Greek and Roman Civilization.
Many congratulations to School of Classics' PhD student Suzanne Lynch on the award of a travel bursary to carry out research at the Irish Institue of Hellenic Studies at Athens and a second bursary to attend the annual meeting of the UK Classical Association in Leicester.
2017
Publication News
Congratulations to School of Classics Adjunct Professor Theresa E Urbainczyk on the publication of her new book, Writing about Byzantium: The History of Niketas Choniates, 2017.
National University of Ireland Dr Henry Hutchinson Stewart Literary Scholarship, 2017.

Congratulations to School of Classics student Denise Griffin on receiving the first prize for Latin in the NUI Dr H H Stewart Literary Scholarship & Prizes, 2017.
Dr Maurice Manning Chancellor of the Nationl University of Ireland, presented award to Denise Griffin.
School of Classics Dr Martin Brady with Student Denise Griffin attending NUI Dr H H Stewart Literary Scholarship & Prizes reception.
Congratulations to all those awarded a prize on the night.
Other News 2017
Heritage Week opening hours for the UCD Classical Museum are:

Wednesday 23rd August 2017: 10.00-17.00
Thursday 24th August 2017: 16.00-20.00
Saturday 26th August 2017: 10.00-14.00
Congratulations to Dr Jo Day for the news that her innovation and excellence in teaching and module design has been recognised with a College-level 'Outstanding Contribution to Student Learning Award' (for approaches to teaching and learning that engage, motivate and inspire students to learn).
Assoc. Prof. Philip de Souza was Antiquity co-editor for the Océanides Research project La Mer dans l'Histoire/The Sea in History, an impact-focused historical research project (260 collaborators from 40 countries) based at the École militaire, Paris, and aiming to demonstrate the political, commercial and social importance of maritime activities, so as to enhance and influence global and French maritime policy. The four volumes were launched at the Sénat de France on 30 March 2017.
Assoc. Prof. Philip de Souza's book on Seafaring and Civilisation was published in 2016 in Chinese translation.
The UCD Classical Society Inaugural Lecture: 'How cosmopolitan was imperial Rome', presented by Prof. Greg Woolf, was held on Thursday 6th April 2017. Many thanks to Prof. Woolf, the Classical Society, and all who attended the event.
Open Learning: The School of Classics offer Open Learning modules. UCD Open Learning gives you the opportunity to study a range of undergraduate modules in UCD. There are no entry requirements and the Open Learning modules are open to everyone. You can take any combination of modules for interest only (audit) or you can complete the course assessment (credit). For more information, please click here.
Congratulations to Hazel Byrne: The UCD School of Classics would like to congratulate Hazel Byrne (Stage 3, Greek & Roman Civilization and Latin major) who has been awarded the Richmond Prize.

The Ninth Celtic Conference in Classics was held at University College Dublin from 22-25 June 2016.

Further information can be found on the Celtic Conference in Classics 2016 website.

Organising Committee:

Douglas Cairns (douglas.cairns@ed.ac.uk)
Anton Powell (powellanton@btopenworld.com)
Alan Ross (alan.ross@ucd.ie)
Alexander Thein (alexander.thein@ucd.ie)