News
2017
Heritage Week opening hours for the UCD Classical Museum are:

Wednesday 23rd August 2017: 10.00-17.30
Thursday 24th August 2017: 16.00-20.30
Friday 26th August 2017: 10.00-14.00

Congratulations to Dr Jo Day for the news that her innovation and excellence in teaching and module design has been recognised with a College-level 'Outstanding Contribution to Student Learning Award' (for approaches to teaching and learning that engage, motivate and inspire students to learn).
Assoc. Prof. Philip de Souza was Antiquity co-editor for the Océanides Research project La Mer dans l'Histoire/The Sea in History, an impact-focused historical research project (260 collaborators from 40 countries) based at the École militaire, Paris, and aiming to demonstrate the political, commercial and social importance of maritime activities, so as to enhance and influence global and French maritime policy. The four volumes were launched at the Sénat de France on 30 March 2017.
Assoc. Prof. Philip de Souza's book on Seafaring and Civilisation was published in 2016 in Chinese translation in a beautiful paperback: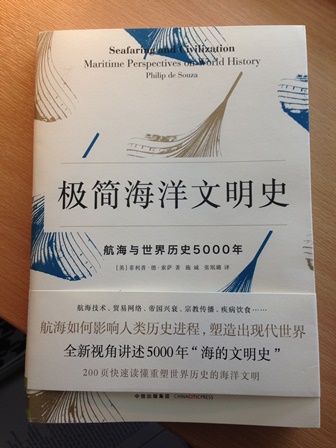 The UCD Classical Society Inaugural Lecture: 'How cosmopolitan was imperial Rome', presented by Prof. Greg Woolf, was held on Thursday 6th April 2017. Many thanks to Prof. Woolf, the Classical Society, and all who attended the event.
Open Learning: The School of Classics offer Open Learning modules. UCD Open Learning gives you the opportunity to study a range of undergraduate modules in UCD. There are no entry requirements and the Open Learning modules are open to everyone. You can take any combination of modules for interest only (audit) or you can complete the course assessment (credit). For more information, please click here.
Congratulations to Hazel Byrne: The UCD School of Classics would like to congratulate Hazel Byrne (Stage 3, Greek & Roman Civilization and Latin major) who has been awarded the Richmond Prize.