Dr Ariane Watson wins 2018 UCD Conway Festival gold medal
Postdoctoral researcher, Dr Ariane Watson has won the 2018 UCD Conway Festival gold medal for her work to identify cross-talk between epigenetic (chemical alternations to DNA) and cell signalling pathways in cancer.

Dr Watson is part of a research team based in Systems Biology Ireland under the joint supervision of Conway Fellow, Professor Walter Kolch in UCD School of Medicine and Dr Colm Ryan, Assistant Professor in UCD School of Computer Science.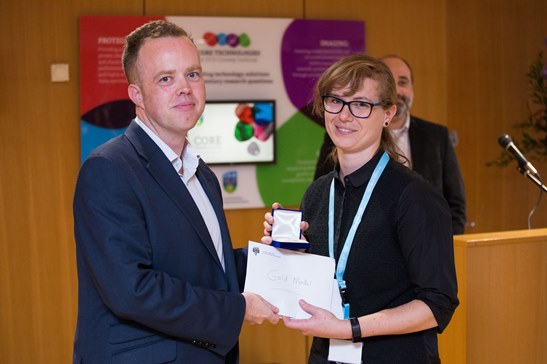 Pictured: Professor William Gallagher, Director, UCD Conway Institute; Dr Ariane Watson, 2018 UCD Conway Festival gold medal winner.
Ariane has been studying the patterns by which mutations in cancer genes occur; either two mutations always appearing together (co-occurrence) or when certain mutations never appear together (mutual exclusivity). This can indicate that there is an important biological relationship between the genes involved.

For example, co-occurring mutations often identify gene pairs whose mutations in combination result in a greater effect than each mutation alone. Mutually exclusive mutations can identify gene pairs that operate in common signalling pathways (e.g. BRAF and KRAS) or genes whose alteration in combination is lethal.

"I found statistically significant genetic interactions by analysing patterns of co-occurrence and mutual exclusivity between genetic alterations in 22 cancer studies from the Cancer Genome Atlas (TCGA), which can indicate meaningful biological relationships", explains Ariane Watson.

Ariane was awarded the gold medal sponsored by Cruinn Diagnostics at the closing ceremony of the 2018 UCD Conway Festival of Research & Innovation. Professor William Gallagher, Director, UCD Conway Institute congratulated Ariane and nearly one hundred other early career researchers from across UCD Conway Institute who presented their research during the two day event.
"There have been many examples over the past two days within the poster and oral research presentations of high quality research findings that will undoubtedly become valuable additions to the international body of scientific knowledge; and may ultimately positively impact our society into the future", according to Professor Gallagher.
The judging panel for the 2018 UCD Conway Festival gold medal comprised plenary speakers, Alfred Wittinghofer, Emeritus Professor from the Max-Planck-Institute; Meinrad Gawaz, Professor & Medical Director of Cardiology and Cardiovascular Diseases, University of Tuebingen; Janet Iwasa, Research Assistant Professor, University of Utah and Professor William Gallagher, Director, UCD Conway Institute.
Ariane competed against five other early career researchers who were category winners in the moderated poster presentations. They are Matthew Whelan (PIs: Dr Tadhg Ó Cróinín, School of Biomolecular and Biomedical Science & Professor Jeremy Simpson, School of Biology and Environmental Science); Niamh Morgan (PI: Professor Jeremy Simpson, School of Biology and Environmental Science); Dr Fiona McCarthy (PI: Professor David Brayden, School of Veterinary Medicine); Siobhán Devlin (PI: Professor Paul McLoughlin, School of Medicine).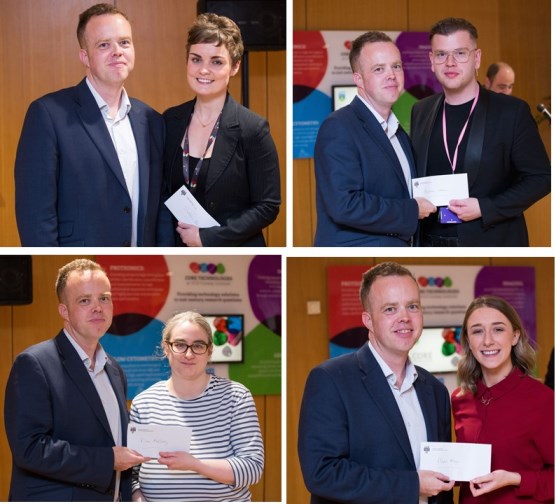 Pictured with Professor William Gallagher, Director, UCD Conway Institute (left-right, top); Siobhán Devlin, Matthew Whelan (left-right, bottom) Dr Fiona McCarthy, Niamh Morgan.
For the first time, the annual event also featured a session for early career researchers on public and patient involvement (PPI) in research, which included a keynote lecture from Dr Bettina Ryll, founder of the Melanoma Patient Network Europe.
During the PPI discussion forum, Marie Ennis-O'Connor, a digital strategist with extensive experience in patient involvement, facilitated a lively debate on the challenges and benefits of embedding PPI in research. The panel providing insight on the topic included Wendy Costello, Chair, iCAN Irish Children's Arthritis Network; Dr Avril Kennan, CEO, Medical Research Charities Group; Sinead Quinn (assoc. with Irish Sarcoma Group); Dr Emma Dorris, UCD; Dr Emmanuelle Vire, University College London and plenary speaker, Dr Bettina Ryll.
Also within this session, early career researcher and their patient mentors spoke about the experience of working together to improve the written communication of lay research abstracts. The original and revised versions of these lay abstracts formed part of the inaugural UCD Conway Engagement Badge poster competition. PhD students, Rebecca Ward (patient mentor: Gerard Eastwood) and Stephanie McKenna (patient mentor: Pat Fahey) won prizes for best poster presentation.
The 2018 UCD Allergan Innovation Award competition took place on the first day of the Festival. Dr Nicky Bertollo won first prize and a research bursary of €7000 to enable him to develop a new microneedle patch design to improve drug delivery through the skin. Microneedle patches (MNPs) have enormous potential for painless drug and vaccine delivery through the skin and for health monitoring. Dr Bertollo intends to use the bursary to carry out drug-coating and elution studies that will inform how his microneedle patch design can be brought to the next stage of development.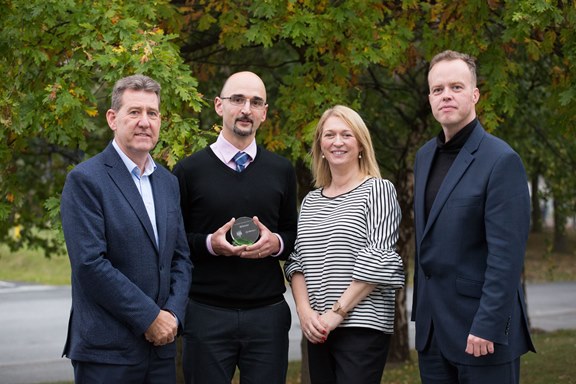 Pictured (left-right): Francis Bates, Allergan; Dr Nicky Bertollo, 2018 UCD Allergan Innovation award winner; Barbara Hughes (runner-up); Professor Wiliam Gallagher, Director, UCD Conway Institute.
A second bursary prize of €1000 was presented to Barbara Hughes, a doctoral candidate working with Professor Sabine Koelle, UCD School of Medicine and Fellow, UCD Conway Institute. Barbara's research aims to create new strategies for increasing fertility in couples as well as maintaining fertility in patients affected by gynaecological cancer. She intends to further develop a live cell imaging technology that will track the development of sperm inside the human fallopian tube.